Italian Pizza Bianca, this Best Easy White Pizza is made with pancetta, mozzarella, parmesan flakes and arugula. So good,  one of the best Pizzas! You will never miss the Sauce.

Since I've been living in Italy Pizza is probably one of the most delicious dishes around. Ok,  I can't even count how many amazing dishes there really are around here…
Whenever I made pizza, ate it in a restaurant or ordered take out  it was always red pizza with olives or a classic Margherita. Never white, why? I have no idea!
So what exactly is a White Pizza / Pizza Bianca?
In Italy pizza bianca means "white pizza", which is a Pizza drizzled with olive oil and salt and of course no Tomato Sauce.
Sometimes topped with Mozzarella or Parmesan Cheese.
Some people like to top their White Pizza's with roasted veggies, seafood or even greens.
And one of my favourites Potato.
Just never Tomato Sauce.
One day I was out shopping with my sister-in-law and I noticed her buying arugula and parmesan. At that time I wasn't really impressed with Rugula/Rocket (arugula) and I asked her what she was planning to do with it.
More White Pizza Recipes
Italian Sausage Artichoke Cheese Pizza
Grilled Zucchini Pizza with Arugula
And if you want to make your own dough, this Pizza Dough Recipe is perfect.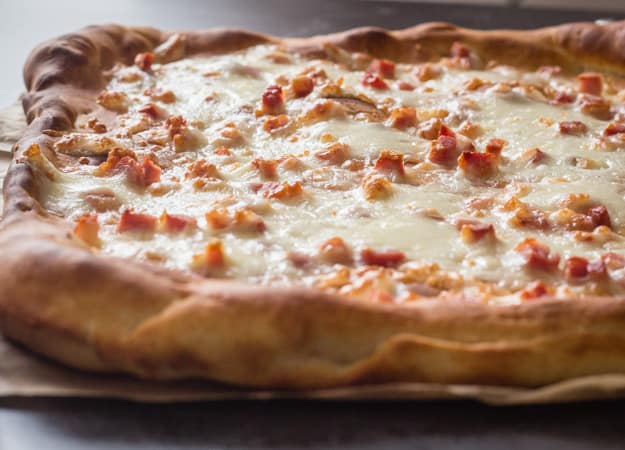 She told me she made pizza with it. We discussed how I had never really used arugula and then she told me about one of the most scrumptious pizzas ever.
How to make the Best White Pizza
Bake your pizza dough with the pancetta first, don't add the cheese or the arugula.
After the amounted time, then add the shredded firm Mozzarella and bake just until the cheese melts.
Remove the Pizza from the oven and then top it with the Arugula / Rocket and flaked Parmesan.
It's best to flake your own Parmesan, packaged cheese never tastes as good.
You won't even miss the Tomato Sauce!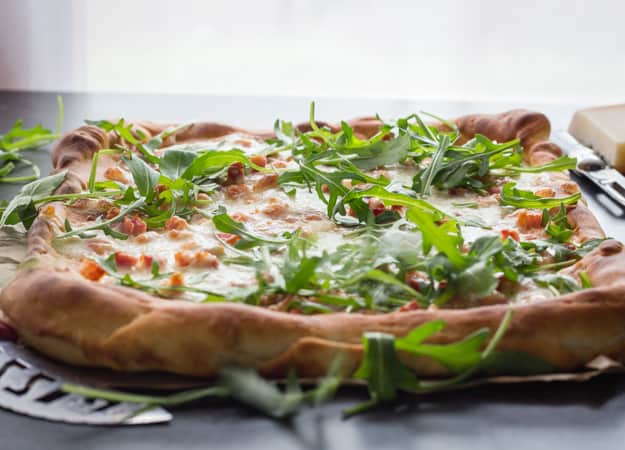 So I think it is her fault that I never come home from shopping without a bundle of arugula nowadays!
Now for every Red Pizza I make I will make 2 White Pizzas, so give  it a try, nothing beats a great and tasty White Pizza Recipe. Buon Appetito!
Italian Pizza Bianca/White
A delicious Italian Pizza Bianca (white Pizza), made with 2 cheeses, bacon (pancetta) and arugula. No sauce needed! A must try.
Follow me on Youtube!
Watch the videos and don't forget to subscribe on Youtube!
Ingredients
1

ready made pizza dough crust

(or my Best Pizza Dough Recipe)

3/4

cup

chopped pancetta

80 grams

1

cup

shredded firm mozzarella

120 grams

1

tablespoon

flaked fresh parmesan cheese (flake with a potato peeler)

5 grams

1

cup

fresh arugula ( I cut them in half)

20 grams

1

tablespoon

olive oil

13 grams
Instructions
Pre-heat oven to 450° (250°) (that's as hot as mine goes). Lightly oil a 12 inch pizza pan (30 centimeters).

Place dough on pizza pan and top with pancetta, bake in oven for 10-12 minutes, remove from oven and top with grated mozzarella cheese, bake for approximately 3 minutes or until cheese melts. Remove from oven and top with arugula and sprinkle with flakes of parmesan. Serve immediately, Enjoy!
Nutrition
Calories:
328
kcal
|
Carbohydrates:
47
g
|
Protein:
17
g
|
Fat:
7
g
|
Saturated Fat:
1
g
|
Cholesterol:
7
mg
|
Sodium:
955
mg
|
Potassium:
48
mg
|
Fiber:
2
g
|
Sugar:
6
g
|
Vitamin A:
255
IU
|
Vitamin C:
0.7
mg
|
Calcium:
294
mg
|
Iron:
2.8
mg