Grilled Zucchini Pizza is a simple delicious easy pizza,  made with mozzarella and fresh Arugula. Make it with either homemade or store bought pizza dough.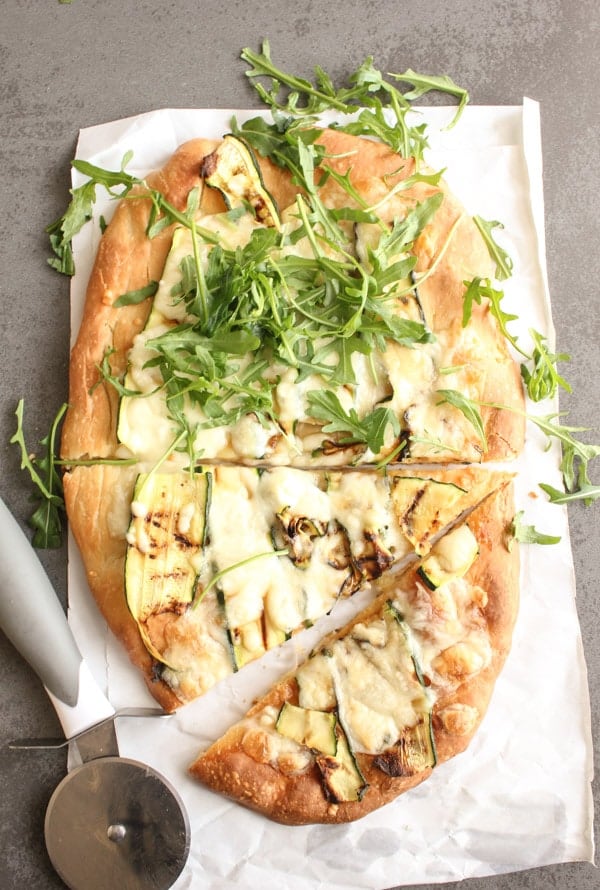 Well, I can now say that the Christmas Holidays after today are finished. Today is another big holiday in Italy The Epiphany (Befana).
This day was the visit of the Three Kings to the Christ child. This is also the day that children in Italy receive their stocking filled with small gifts and chocolates, delivered not by Santa Claus but by a witch named "La Befana", legend has it, that she flies around looking for the baby Jesus and that is why she brings gifts to children. Or another good excuse to eat.
Although in Italy you never need an excuse to eat, especially a Grilled Zucchini Pizza.Tomorrow everything is back to normal and kids go back to school (my daughter not happy but mother is!). But today we will share a meal with family and friends.
It's almost what you could call a mini Christmas, but more relaxed. The usual Baked Pasta or Lasagna, a Meat Dish and of course Dessert will be served.
It's amazing sometimes how much can change in a year. Last year we were four under one roof. This year with our eldest daughter in Canada we are three.
Last year my mother-in-law was in perfect health, this year not so much. So we will eat together with a few friends and family members.
Grilled Zucchini Pizza With Arugula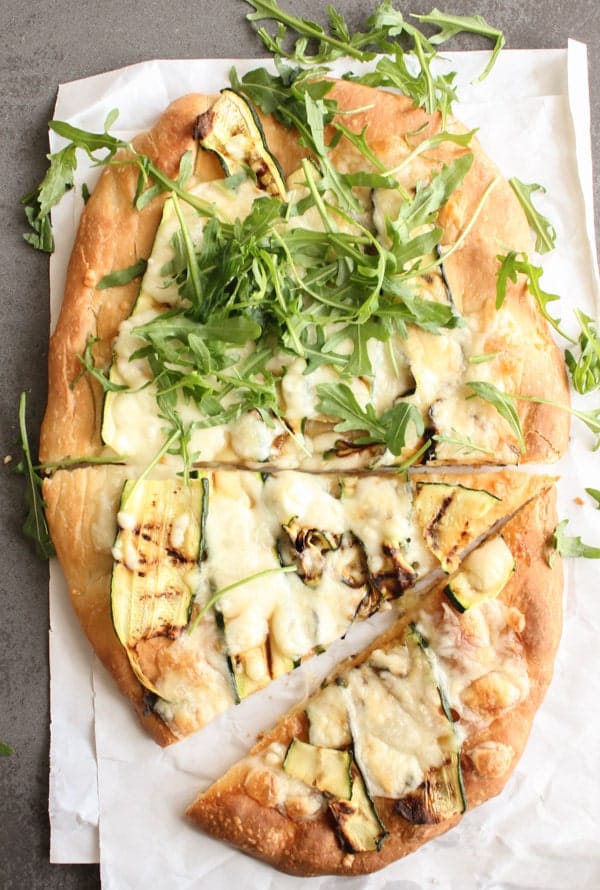 A lighter lunch will be served. Before I came to Italy when I thought of Pizza it was always Pizza with a tomato sauce base.
Since I have been in Italy I have come to love a White Pizza, which means no tomato sauce, just mozzarella cheese. White pizza or what we love to eat, which is a Grilled Zucchini Pizza, a favourite here.
A delicious Pizza Dough   drizzled with a little olive oil, baked until golden, then topped with slices of grilled zucchini and shredded mozzarella and returned to the oven until the cheese is melted to perfection.
When it is finished baking I love to top it with some shredded raw rucola (rocket salad.) It's a very yummy pizza, a must try. Buon Appetito!
Grilled Zucchini Pizza
Makes 2-3 pizzas depending on size, PRE-MADE STORE BOUGHT OR BAKERY/PIZZERIA PIZZA DOUGH CAN BE USED.
Follow me on Youtube!
Watch the videos and don't forget to subscribe on Youtube!
Ingredients
PIZZA DOUGH

2

cups

warm water

472 grams

pinch sugar

1 1/2

tablespoons

dry yeast

12 grams

2

tablespoons

olive oil

26 grams

5

cups

and 4 tablespoons flour

671 grams

1 1/2

tablespoons

salt

25.5 grams

TOPPING

2-4

small zucchini grilled

grill on pan grill or bbq

1

cup

shredded firm mozzarella

or more if required, 113 grams

shredded rucola

rocket salad if desired

tablespoons

approximately 2 olive oil

26 grams
Instructions
Pre heat oven to 450° (250° celsius)

In a large bowl add warm water then add yeast and sugar, let sit for 2-3 minutes, then stir to combine. Add the olive oil, flour and salt, with a fork mix till dough starts to come together. On a lightly floured surface remove dough from the bowl and knead until dough is smooth and elastic approximately 10 minutes (if dough is really sticky add a little extra flour). Place in a lightly oiled bowl and cover with a folded up tablecloth (tea towels are too small), leave in a warm draft-free place till doubled in bulk, approximately 1-2 hours. Punch dough down a few times and divide into pizza pans, without rolling it out, let it sit for 10 minutes, then roll or using hands form into desired shape (round,oblong,square).(If using pre-made dough place directly on greased cookie sheet and continue ) Place on lightly greased cookie sheet drizzle with olive oil and bake for approximately 12 minutes or until golden, remove from oven and top with grilled zucchini, and shredded cheese, continue to bake for another 3-5 minutes or until cheese has melted, top with shredded rucola (rocket) if desired, slice and serve immediately. Enjoy!
Nutrition