Strawberry Bread a delicious Homemade sweet loaf made with fresh strawberries and topped with a creamy strawberry glaze. The perfect Summer Quick Bread.
Fresh Strawberry Bread
I made this Strawberry Sweet Bread a few months ago back in Italy when Strawberries had just come out. Since I had already posted a few Strawberry Recipes this year,  I thought I would hold onto this one until next summer.
More Strawberry Recipes
Homemade Strawberry Liqueur Two Ways
But after being in Toronto for the past month, and walking all over the city and checking out farmer's Markets and outdoor fruit grocers I decided that Strawberries were still very much on everyones minds and food lists.
So therefore, I give you a Homemade Fresh Strawberry Bread Recipe.
So needless to say this moist Strawberry Bread also has mascarpone as an ingredient, because as you know I love Mascarpone! But don't forget,  last week I posted a recipe on how to make your own Homemade Mascarpone that is not only delicious but saves money too!
By the way this Quick Bread recipe is more along the lines of an Italian Plum Cake, which I know is a strange name, but that is what Italians actually call a sweet bread and no there are no plums involved. So where that name came from is a good question and no one really knows the answer to it! 🙂
More Delicious Sweet Breads
Creamy Vanilla Frosted Coconut Pound Cake
Surprise inside Canada Day Bread
Sweet Breads make a great quick dessert, snack and why not have a slice for breakfast? I didn't want one that was over loaded with strawberries, but just enough to give it flavour and moisture. I knew the cream cheese and strawberry frosting would add the perfect touch. The Italian and our friends thought so too.
How to Make Strawberry Bread
Beat Mascarpone and sugar
Beat in eggs one at a time
add oil and beat
then add the flour and baking powder and combine
Fold in the chopped strawberries
Bake for about 50 minutes, let cool and frost or dust with powdered sugar and serve. So good.
If you aren't crazy about frosting, this Strawberry Bread is delicious just as is or do as the Italians and add a dusting of powdered sugar.
My husband is normally not a frosting lover but this Strawberry Frosting went over big. Not too sweet and with that little bit of tangy taste from the cream cheese and the pureed strawberries it was so good.
Whether you have it for dessert, snack or a slice with your morning coffee I hope you enjoy it!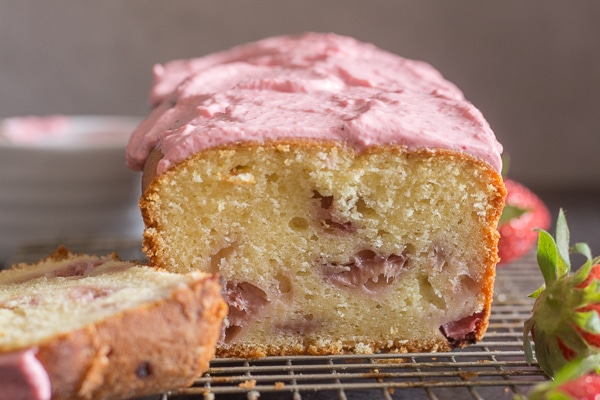 Homemade Fresh Strawberry Bread
Strawberry Bread a delicious Homemade sweet loaf made with fresh strawberries and topped with a creamy strawberry glaze. The perfect Summer Quick Bread.
Ingredients
STRAWBERRY BREAD
1

cup

mascarpone

1/2

cup

+ 2 tablespoons sugar

3

eggs

(remove from fridge 30 minutes before using)

1/2

cup

vegetable oil

(I use corn or sunflower)

1 1/2

cups

all purpose flour

1 1/2

teaspoon

baking powder

1 1/4

cups

chopped strawberries
STRAWBERRY FROSTING
1/3

cup

pureed strawberries

(approximately 3 large strawberries)

1/3

cup

cream cheese

(room temperature)

2

tablespoons

powdered sugar
Instructions
STRAWBERRY BREAD
Grease and flour an 8-8 1/2 inch (20-22 centimeter) loaf pan. Pre heat oven to 350F (180C).

In a large bowl beat mascarpone and sugar until creamy, then add the eggs one at a time and beat, add oil and beat to combine. Add flour, beat then add baking powder and beat until smooth (1 minute), fold in chopped strawberries.

Spoon into loaf pan and bake for approximately 45-55 minutes, test for doneness with a toothpick. Let cool completely before frosting or dusting with powdered sugar.
STRAWBERRY FROSTING
In a blender puree the strawberries and sugar then whisk in the cream cheese, combine until creamy, if you want a thinner frosting then add a little more strawberry puree or a little cream or milk. Frost cooled Strawberry Bread. Enjoy.
Nutrition
Calories:
361
kcal
Carbohydrates:
28
g
Protein:
5
g
Fat:
25
g
Saturated Fat:
17
g
Cholesterol:
79
mg
Sodium:
56
mg
Potassium:
144
mg
Sugar:
13
g
Vitamin A:
490
IU
Vitamin C:
13.4
mg
Calcium:
78
mg
Iron:
1.3
mg