Blueberry Streusel Loaf, the perfect way to bake with blueberries, a delicious blueberry filled sweet loaf, with a yummy Streusel Topping, perfect anytime.
Blueberry Streusel Loaf
May 1st  in Italy is the equivalent to Labour day in Canada and the United States,  so needless to say it is considered a biggie here.
We have been invited to spend the day with friends at their "country house" , it is basically an old Italian  house that needs work, but has so much Italian personality, and is great for get-together, lots of space and of course a vineyard included.
So naturally with the invite, came the "can you make a dessert?" and whenever my friend says that, she means something Canadian, so since I was dying to make this Blueberry Loaf with a Buttery Streusel Topping and a hint of cinnamon for a while now.
I thought this would be the perfect occasion to make it again.
I made 2,  one to take and 1 for us to have for breakfast in the morning, delicious with a cup of coffee or cafe latte.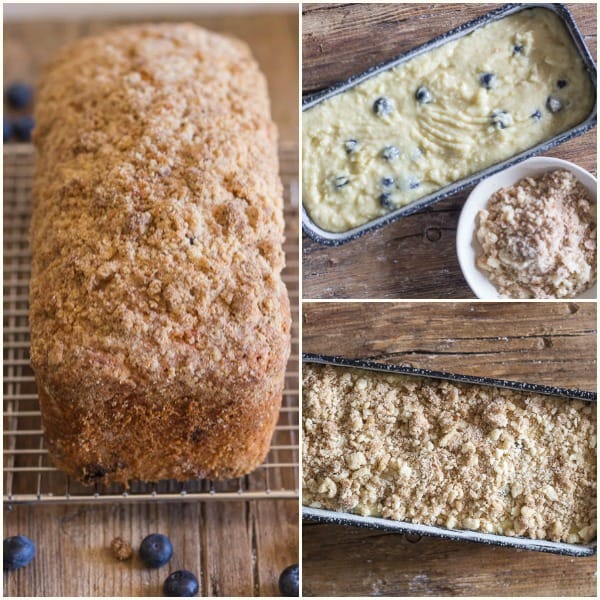 And did I mention how easy it is to make this Sweet Loaf?  If you would prefer muffins instead no problem.  That works too.
So since this is a  big Italian holiday, and I decided to make this amazing and I mean,  seriously amazing moist Blueberry Sweet Loaf,  I also baked some Chocolate Chip Cookies.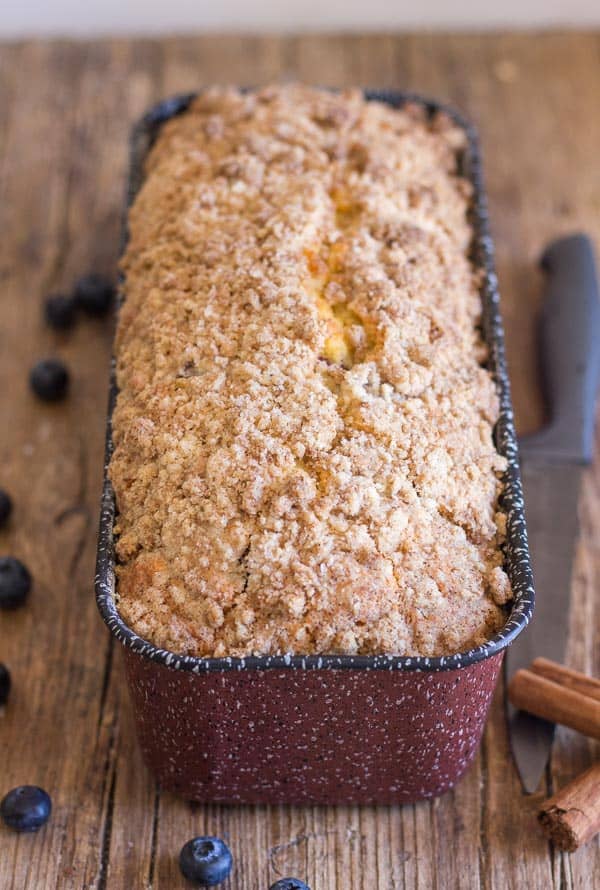 More Blueberry Recipes you may enjoy!
Streusel Topped Blueberry Chocolate Chip Muffins
Easy Italian Blueberry Crostata
No Bake Summer Mixed Berry Cheesecake
Lemon Glazed Blueberry Baked Donuts
Italians are right when they say it's always better to have too much food than not enough. You can never really over do it.  That is one of the things I learned in Italy, my husband says I learned how to eat pasta really well too.
Blueberry Streusel Loaf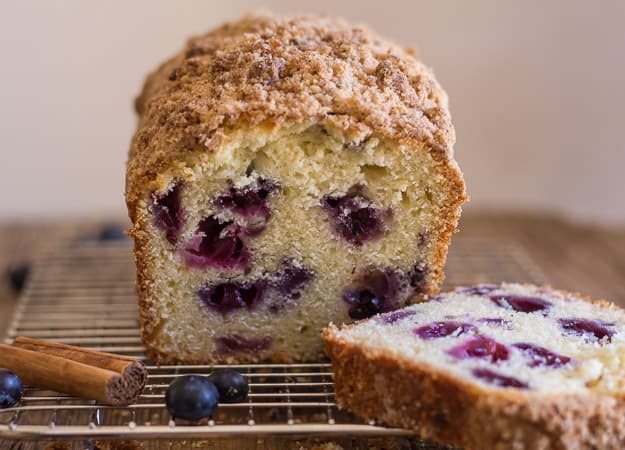 I've also learned, as I was reminded today, if I could teach the Italians one thing and only one thing I swear it would be how to park a car!
They take two spaces, no they even  take three spaces, oh wait!  They don't take any spaces because there is no parking space there, but hey what the hell there is now.
But thank God this loaf is a good thing.   Delicious, moist and that topping.. next time I'm looking for a parking space I should bring a slice with me.  Enjoy!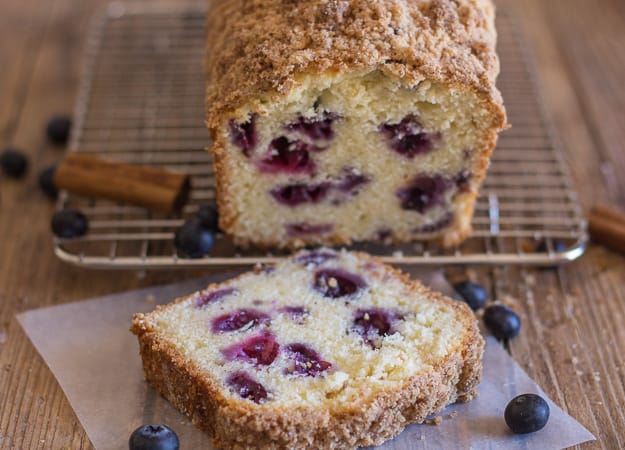 Blueberry Streusel Loaf
Blueberry Streusel Loaf, an easy sweet bread, filled with blueberries and topped with a crunchy buttery topping,breakfast,snack or anytime.
Total Time
1
hour
5
minutes
Ingredients
2 1/2

cups

flour

1 1/4

cups

sugar

1 1/2

teaspoons

baking powder

1

cup

butter

1/2

teaspoon

cinnamon

3/4

cup

milk

2

eggs

1

teaspoon

vanilla

2

cups

frozen or fresh blueberries **
Instructions
Pre-heat oven to 375° (190°), and grease 2 medium loaf pans or 1 large (9x5 inches). (you decide)

In a large bowl with a whisk combine flour, sugar and baking powder, cut in butter until it becomes crumbly ( using a pastry blender), remove 3/4 cup (100 grams) of this crumbly mixture to a small bowl, stir in cinnamon (this will be your topping). In a medium bowl beat with a fork, milk, eggs and vanilla till combined (approximately 1 minute), add this mixture to the flour mixture (in the large bowl). Stir just until moistened, gently fold in blueberries. Spoon batter into 2 medium prepared loaf pans, and sprinkle both (1/2 each) with the topping. Bake for 45 to 50 minutes (check with toothpick for doneness, depending on the size of your loaf pan, you may need more or less time). Let cool before serving. Enjoy.

**You can also use a mixture of berries if you prefer.
Nutrition
Calories:
260
kcal
|
Carbohydrates:
34
g
|
Protein:
3
g
|
Fat:
12
g
|
Saturated Fat:
7
g
|
Cholesterol:
52
mg
|
Sodium:
115
mg
|
Potassium:
136
mg
|
Fiber:
1
g
|
Sugar:
18
g
|
Vitamin A:
8.3
%
|
Vitamin C:
2.2
%
|
Calcium:
5.6
%
|
Iron:
6.2
%
Replubished from May 3, 2014.