Blueberry Chocolate Chip Muffins, the perfect anytime muffin stuffed with blueberries and chocolate chips, and topped with a yummy Crumb Topping!
As I was driving my daughter to visit her cousin and her grandparents the other day, she mentioned to me about our last visit and how my sister-in-law remarked to her friend that I was a really good baker.
Italians tend to be brutally honest no sugar coating for them, they will certainly tell you if something is not up to par. So I was touched to know my baking is appreciated.
Needless to say half of what I bake I take to them. From my Lemon Tiramisu Cake to a yet to be released Mascarpone Cake and a Baked Donut Recipe, and of course to these fabulous Streusel Topped Blueberry Chocolate Chip Muffins.
My daughter also let me know that I was a pretty good cook too.
These two compliments left me thinking: That I used to love to cook more than bake, but since I started An Italian in my Kitchen, I find myself enjoying baking more.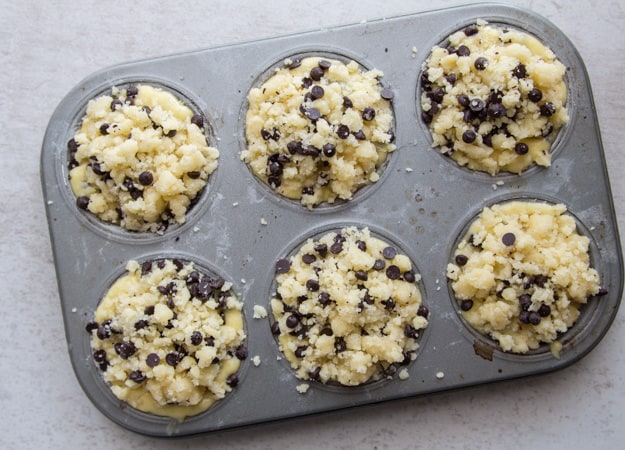 Why? Well I have come to the conclusion that baking from Cookies to Sweet Breads to Cakes and everything in between makes people happy. And goodness knows we need happy people!
Yeah I love a good Lasagna too, but no matter what is on my plate, I'm always thinking "I wonder what there is for dessert"?
As far as I am concerned anything (sweet or semi sweet) can basically be called Dessert, even these Streusel Topped Blueberry Chocolate Chip Muffins.
Easy and quick to make, Chocolate Chip Muffins are one thing but add some blueberries and a Crumb Topping and yeah that's Dessert, or Breakfast or Snack!
So if you are as crazy for muffins as I am, I hope you give these Streusel Topped Blueberry Chocolate Chip Muffins a try. Enjoy!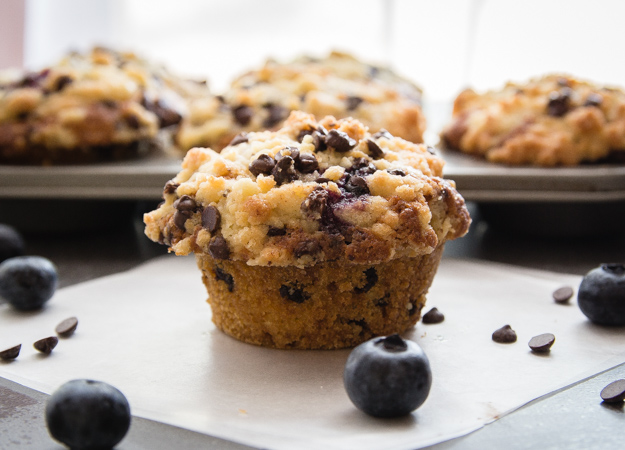 Other Fabulous Muffin Recipes You may enjoy!
Blueberry Chocolate Chip Muffins
Streusel Topped Blueberry Chocolate Chip Muffins, these fast, easy and delicious muffins are the perfect snack, breakfast treat or dessert.
Ingredients
BLUEBERRY CHOCOLATE CHIP MUFFINS
1/2

cup

butter (melted)

(125 grams)

1/2

cups

mini semi-sweet chocolate chips

(75 grams)

3/4

cup

sugar

(150 grams)

1

egg lightly beaten

1

cup

sour milk (to make sour milk add 1 tablespoon lemon juice to 1 cup measure and top off with milk, let sit for about 10 – 15 minutes)

(250 ml)

1

teaspoon

vanilla

(5ml)

2

cups

flour

(250 grams)

1

teaspoon

baking soda

(5 ml)

3/4

cup

fresh or frozen blueberries (thawed)

(131 grams)
STREUSEL TOPPING
1

cup

flour

2/3

cup

sugar

1/2

cup

butter (melted)

1/3

cup

mini chocolate chips
Instructions
Pre-heat oven to 375° (190° celsius), Grease and flour well a 12 cup muffin pan.

In a medium pot over medium heat melt the butter, remove from heat and let cool slightly, stir in sugar, egg, sour milk and vanilla until

combined.

Fold in the flour and soda gently, just until combined. Remember do not over blend. Then fold in the berries and chocolate chips.

Fill the muffin tin with the mixture almost to the top. Top with Streusel mixture (if desired) and bake 25-30 minutes, (check for doneness with a toothpick).

Let muffins cool slightly before removing from pan to wire rack, cool completely before serving. Enjoy!
STREUSEL TOPPING
In a medium bowl mix together flour and sugar add melted butter and stir with a fork until mixture resembles small crumbs (the size of peas), stir in chocolate chips.
Nutrition
Calories:
446
kcal
Carbohydrates:
58
g
Protein:
5
g
Fat:
21
g
Saturated Fat:
13
g
Cholesterol:
57
mg
Sodium:
245
mg
Potassium:
128
mg
Fiber:
1
g
Sugar:
32
g
Vitamin A:
545
IU
Vitamin C:
0.9
mg
Calcium:
46
mg
Iron:
2.2
mg