These  Easy Banana Crumb Muffins make the perfect Breakfast or Snack treat. Fast and easy and no mixer needed. Make it as muffins or even quicker make it into one of the best Banana Bread Recipes you will ever eat.

These delicious Muffins have become my new favourite muffin! Everyone loves them, not just me! I l have to admit I love muffins, they are so quick and easy to put together. Some of my favourites are these Big Double Chocolate Chip to Orange Streusel to even Lemon Muffins.
But one thing is for sure, I like Big Muffins. So needless to say I am always on the lookout for a good one. The last few mornings as I glanced at the fruit bowl and saw two very ripe bananas just sitting there, I knew it wouldn't take the Italian long to give me a hint that baking up my Banana Cake may be a good idea.
To tell the truth I wanted to try something else, I am pretty well Banana Caked out. As I was reading one of my favourite Food Blogger's Blogs, and in all honesty I only read a handful. My daughter of Course,  What Erika Wears, a couple of others and a woman who has become a good friend,  April, from Girl Gone Gourmet.
I love how she writes, she shares herself and her life so perfectly and needless to say her recipes are pretty awesome too! So when she posted a recipe for Peanut Butter Banana Bread and I saw these Banana Nut Muffins, I knew where those 2 bananas of mine were going to end up! Hello Muffins, although the Banana Bread sounded really good too.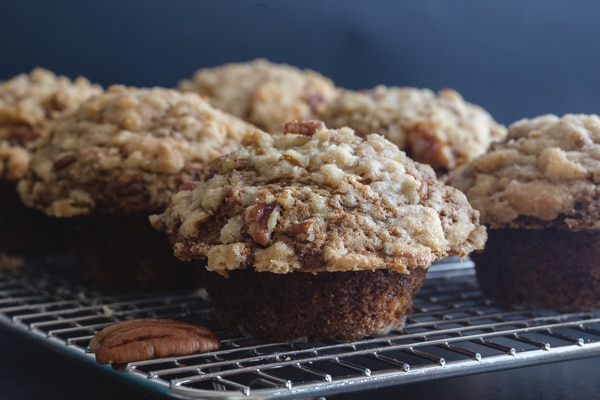 What nuts are good in Banana Muffins?
Here in Italy you can't find walnuts until Christmas, so I thought Pecans would be a good substitute, since I had a bag in the freezer. Although you can also use hazelnuts, macadamia nut and even peanuts.
My daughter who is not a nut fan, requested "no nuts, please", so I decided those Pecans would make the best Crumble Topping, and they did, although if adding some in the batter would be a great idea. I would probably add about 1/2 cup of chopped nuts.
How to Make Banana Muffin Recipe:
Make sure to use ripe to very ripe bananas (never green, black spots are good) and mash them with either a fork or a potato masher.
There is no need to use an electric mixer in this recipe, muffins should be mixed as little as possible. Over mixing will make a tough and heavy muffin.
When mixing the batter I like to stir about 15-17 times. That way I know I haven't over done it.
Make sure to grease and flour the whole muffin tin, inside and on the top of the pan. You don't want to leave behind any of that tasty Streusel topping.
Don't over bake, use a toothpick to test for doneness. When the toothpick comes out clean or with a few crumbs attached they are ready.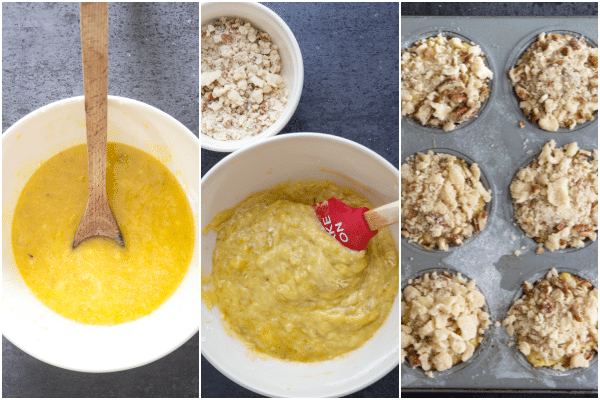 If you prefer Banana Bread then this recipe makes an amazing loaf also, just spoon the batter into a 9 inch loaf pan and bake. It will take a bit longer to bake but it is just as good as the muffins.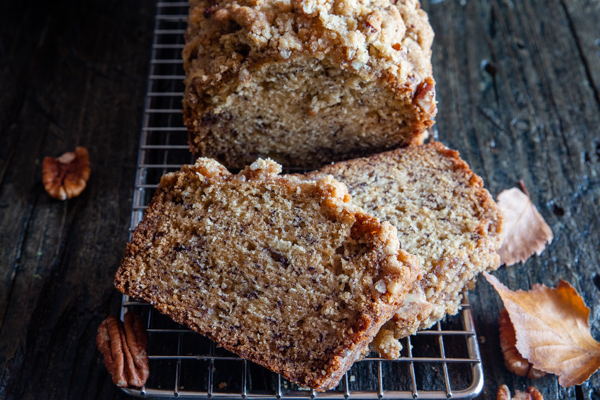 How to Store Baked Muffins
Let the muffins cool completely then store in an airtight container or bag, store them at room temperature. Muffins should last up to 2-3 days or 7 days in the fridge.
Freshly baked cooled muffins can also be stored in the freezer, be sure to place in an air tight container or freezer bag. They will keep up to 3 months.
More Banana Recipes to try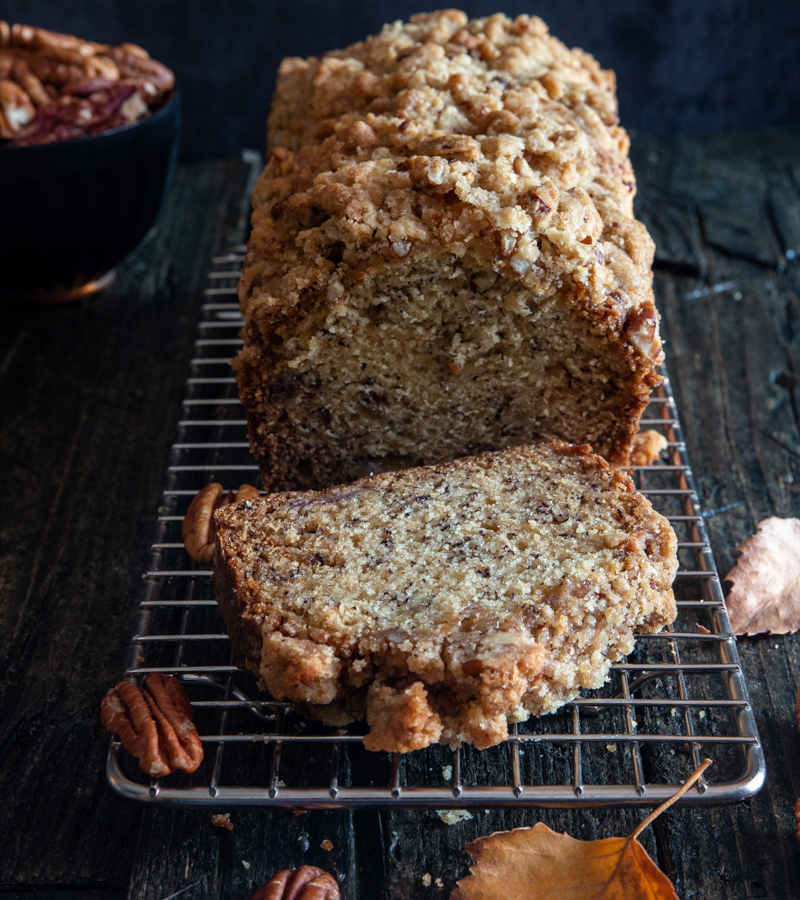 How many Muffins does the Recipe make?
This recipe will make about 9-10 medium muffins or 5 extra large, and it makes a delicious loaf too. You decide.
I'm telling you, these are definitely the Banana Muffin Recipe to try. Easy, moist and that Pecan Crunchy Topping is to die for. Enjoy!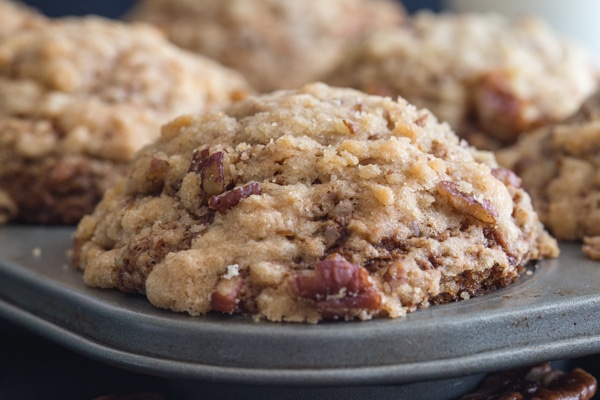 Easy Banana Crumb Muffins
These  Easy Banana Crumb Muffins make the perfect Breakfast or Snack treat. Fast and easy and no mixer needed. Make it as Muffins or Bread.
Ingredients
BANANA MUFFINS OR LOAF
2

ripe bananas (room temperature mashed)

⅓

cup

butter* (melted and cooled)

(75 grams)

1

large

egg (room temperature)

¾

cup

sugar

(150 grams)

1

teaspoon

vanilla

1 ½

cups

all purpose flour

(195 grams)

1

teaspoon

baking soda

1

pinch

salt
PECAN STRUESEL TOPPING
⅓

cup

brown sugar (lightly packed)

(60 grams)

¼

cup

all purpose flour

(32 grams)

2

tablespoons

butter (soft)

¼

cup

finely chopped pecans

(30 grams)
*If you use unsalted butter then add ¼ teaspoon salt.
Instructions
BANANA MUFFINS OR LOAF
Pre-heat oven to 350°F  (180°C), grease and flour a large or medium sized muffin tin or 9 inch (25 cm) loaf pan.

In a large bowl mix together with a whisk or spatula, the mashed bananas, melted cooled butter, egg, sugar and vanilla, until well combined.

In a medium bowl whisk together flour, baking soda and salt.

Add dry ingredients to wet mixture and mix just until combined (I usually stir approximately 15-17 times)

Spoon into prepared muffins cups (a little more than 3/4 full) or loaf pan, top with the streusel topping. Bake for approximately 20-25 minutes (depending on the size of the muffin tin) or 30-35 for the loaf, check for doneness with a tooth pick.  Let cool in pan.  Enjoy.
PECAN STREUSEL TOPPING
In a small bowl mix together with a fork brown sugar, flour and pecans then add the butter and combine with a pastry blender or fork until it resembles coarse crumbs.  

For the muffins I got 5 large muffins so I assume you could get 10 medium.
Nutrition
Calories:
586
kcal
Carbohydrates:
97
g
Protein:
5
g
Fat:
21
g
Saturated Fat:
11
g
Cholesterol:
45
mg
Sodium:
405
mg
Potassium:
282
mg
Fiber:
2
g
Sugar:
58
g
Vitamin A:
560
IU
Vitamin C:
4.1
mg
Calcium:
34
mg
Iron:
4.2
mg
Updated from April 29, 2017.