Big Double Chocolate Chip Muffins, a rich decadent full of chips Bakery Style Muffin. The perfect Breakfast, Snack or Dessert Treat.
Nothing better than a jumbo Chocolate Chocolate Muffin to get your chocolate fix! Fast and easy and full of chips!

I am a big Muffin fan, always have been always will be. So I am telling you these Big Double Chocolate Chip Muffins have to be the Best and I am not kidding the best muffins I have ever made or tasted.
If you are a muffin lover and a chocolate lover then these moist and full of chocolate and chips muffins are perfect for you. Nothing goes better with a big cup of coffee or tea than a huge muffin!
Be sure to watch the Video!
I consider Muffins on the same level as Cake Donuts. A delicious breakfast treat that also works as a snack or dessert. And they both bake up so quickly.
I made 6 large muffins, but 12 medium or even some mini muffins would work also or a few of each. And of course those little ones are just so easy to pop right into your mouth!
Muffins are just starting to become popular in Italy, but believe me you won't be able to find Big Double Chocolate Chip Muffins like these ones here or as I might humbly add anywhere else either.
Chocolate Chocolate Chip Muffins
I knew there was a good reason for bringing back a large muffin tin from Canada.
And of course there is also a good reason for Double Chocolate Chip Muffins, it's almost Easter and at Easter you know you have to eat chocolate, so why not eat it in a muffin?
Just remember when you make muffins, do not over stir!
18 turns just about does it. Nothing worse than a tough muffin.
Or you could always make these muffins with any left over Easter chocolate. But does anyone ever have leftover Easter chocolate?
Chocolate Chip Muffins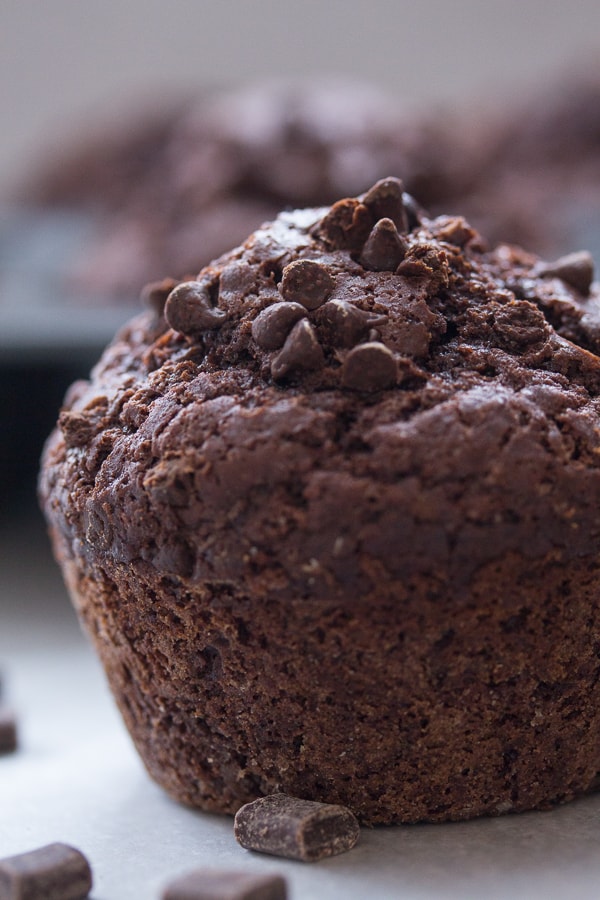 Naturally I had to include a little Greek yogurt in the batter, makes it so moist. I also added 3/4 cup mini chocolate chips to the muffin batter.
But if you want to really live dangerously why not sprinkle some on top before baking. I did!
Nothing beats chocolate in my opinion. Ok maybe Pasta and Pizza come close! Enjoy!
Big Double Chocolate Chip Muffins
Big Double Chocolate Chip Muffins, moist and easy, a bakery style jumbo muffin recipe, extra chocolatey and so delicious.
Ingredients
3/4

cup

sugar

3/4

cup

mini dark chocolate chips

1/4

cup

+ 3 tablespoons cocoa (good quality)

1

teaspoon

baking soda

3/4

teaspoon

baking powder

pinch

salt

1

egg

3/4

cup

greek yogurt **

1/4

cup

+ 1 tablespoon milk

1

teaspoon

vanilla

1/4

cup

coffee

1/2

cup

vegetable oil

2

cups

flour (all purpose)
** if you don't have greek yogurt substitute with 1/2 buttermilk (make your own - in a half cup measurement add 1/2 tablespoon lemon juice and top up (to remaining half cup) with milk, let sit 15 minutes.
Instructions
Pre-heat oven to 400° (200° celsius), grease and flour a 6 or 12 muffin tin.

In a large bowl whisk together flour, sugar, chocolate chips, cocoa powder, baking soda, baking powder and salt until combined.

In a medium bowl whisk together egg, yogurt, milk, vanilla, coffee and oil until combined.

Pour wet mixture into dry mixture and stir just until combined (stir approximately 18 times).

Fill muffin tins almost to the top. Sprinkle with a few extra chips if desired.

Bake at 400° (200° celsius) for 5 minutes, then lower heat to 350° (175° celsius) and continue to bake for approximately 15 minutes or until toothpick comes out dry and clean. Let cool completely. Enjoy!
Nutrition
Calories:
416
kcal
|
Carbohydrates:
41
g
|
Protein:
6
g
|
Fat:
26
g
|
Saturated Fat:
22
g
|
Cholesterol:
29
mg
|
Sodium:
231
mg
|
Potassium:
306
mg
|
Fiber:
2
g
|
Sugar:
34
g
|
Vitamin A:
1.1
%
|
Calcium:
13.8
%
|
Iron:
5.3
%