Banana Chocolate Chip Crumb Cake, the perfect coffee cake, a delicious combination of bananas and chocolate. A yummy snack or dessert cake.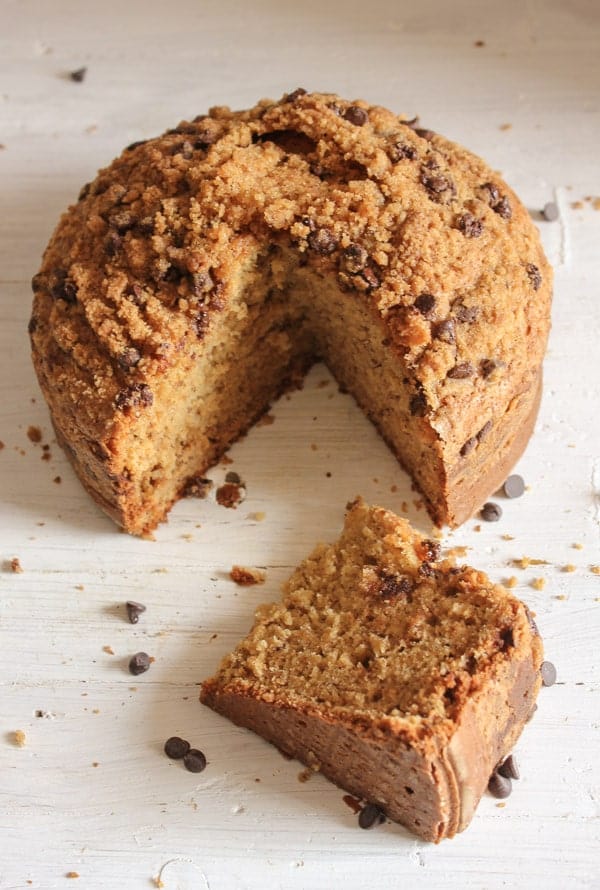 Do you ever buy too much of something on purpose? Well sometimes I buy too many bananas on purpose, (ok sometimes chocolate too!) just because I know I will have 2 or 3 that will become too mature and nobody will eat them.
That's when I get to make this amazingly delicious banana cake with a crumb topping. For me a crumb topping is the next best thing to frosting.
I absolutely love cake and I mean cake, a cake with 2 or 3 layers and with a creamy buttery icing, and lots of it. But unfortunately in my home I am the only one.
The Italian "too sweet" as he gobbles up 2 ice cream cones, "not the same thing" he continually proclaims. Ok, sure. My daughters, "too fattening".
So one of these days I am going to make myself one of those made for one cakes with that buttery icing I so love and deserve.
For now I will be content with this Banana Crumb Cake. I have only known 2 people in my life so far who willingly eat bananas with the skin as black as night.
My mother was one and I suppose that is one of the reasons she rarely made this cake.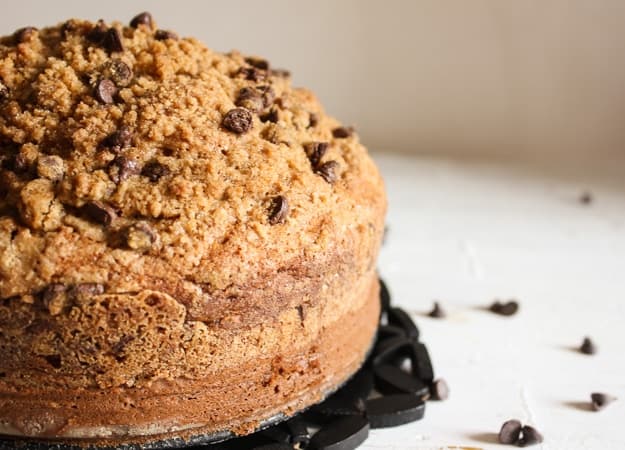 This Banana Chocolate Chip Crumb Cake is so moist, it must be my new favourite ingredient: Greek Yogurt.
If you noticed, I made it sky-high. I found myself a super, cute, deep  spring form cake pan. If you don't have a spring form cake pan a normal 8 inch cake pan will work.
Either way a sunny summer day,  a cup of coffee or tea and a piece of Banana Chocolate Chip Crumb Cake and life is good! Enjoy!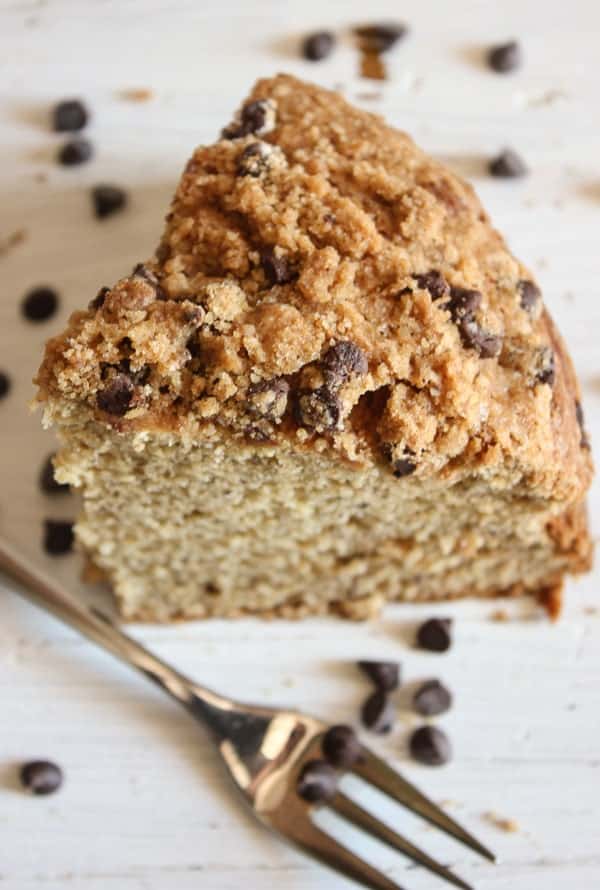 Banana Chocolate Chip Crumb Cake
Banana Chocolate Chip Crumb Cake, delicious banana crumb cake recipe, made with brown sugar, chocolate. Kids will love it!
Ingredients
FOR THE CAKE
⅓

cup

butter

¾

cup

brown sugar

½

teaspoon

vanilla

1

large

egg well beaten

2

ripe bananas mashed

1 1/2

cups

flour (all purpose or cake/pastry flour)

1

teaspoon

baking powder

1/2

teaspoon

baking soda

1

pinch

salt

2

tablespoons

Greek yogurt
FOR THE CRUMB TOPPING
2

tablespoons

chocolate chips (mini or regular)

⅓

cup

brown sugar

2

tablespoons

all purpose flour

¼

teaspoon

cinnamon

1

tablespoon

butter (soft)
Instructions
Pre-heat oven to 375° (190° celsius). Lightly grease an 8 inch cake pan
FOR THE CRUMB TOPPING
In a medium bowl mix together chocolate chips, brown sugar, flour and cinnamon cut in the butter until it resembles coarse crumbs. Set aside.

In a medium bowl whisk together flour, baking powder, baking soda and salt. Set aside.

In a mixing bowl cream until light (3-5 minutes) the butter, sugar and vanilla, then add the egg and mashed banana, combine.

Add the whisked ingredients alternately with the Greek yogurt, starting and ending with sifted ingredients, beat until smooth.

Pour into the prepared cake pan, sprinkle with the crumb topping and bake for approximately 45-60 minutes (check for doneness with a toothpick). Let cool before serving. Enjoy!
Nutrition