Chocolate Chip Crumb Cake is so full of chocolates, from the inside to the outside. So good it will be gone in seconds.
Chocolate Chip Crumb Cake
Have you ever eaten such a delicious cake that it is so good it doesn't even need icing? If not then this will be your first.
This loaf cake not only has a streusel topping but is also loaded with mini chocolate chips.
For me there aren't many things better than Chocolate, especially when it comes in a Cake or Cookie form, and these Nutella Chocolate Peanut Butter Bars were full of chocolate chips too!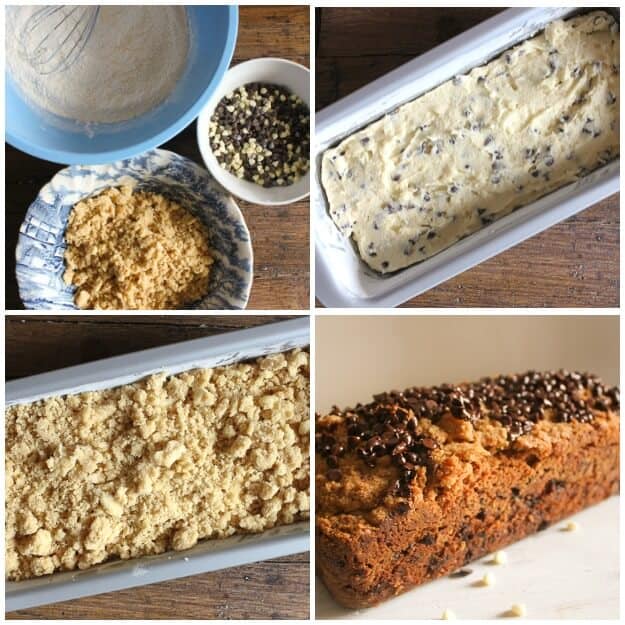 I first started making this cake about 5 years ago. But to tell you the truth,  lately I have really started getting into baking with greek yogurt and loving it,  and white chocolate chips aren't so bad either. So I decided to change it up a bit and it has become one of my favourites.
It is also wonderful served as a Breakfast Cake, Snack or as a Dessert when you have a get together.
When I make it,  I usually make it in a loaf form but I am sure cupcakes or even a small cake form would work well also. I'm sure any fomr you decide to bake this cake it will be delicious. How could it not be with all those chocolate chips!
Chocolate Chip Crumb Cake
Just make sure you start to watch it at about 50 minutes into baking because you don't want an over done Chocolate Chip Crumb Cake.
I would also advise you to let it cool before cutting and if it lasts long enough it is even better the day after. Now I am off to brew another cup of coffee and yeah why not eat another slice. Enjoy!
Chocolate Chip Crumb Cake
Chocolate Chip Crumb Cake, a delicious cake filled with chocolate chips and topped with an amazing chocolate chip crumb topping.
Follow me on Youtube!
Watch the videos and don't forget to subscribe on Youtube!
Ingredients
CAKE BATTER

1 1/4

cups

flour

(175 grams)

1/4

cup

cake flour

(35 grams)

1/2

cup

butter

(113 grams)

3/4

teaspoon

baking powder

(3 grams)

1/4

teaspoon

baking soda

3/4

cup

sugar

(150 grams)

1

egg

1

teaspoon

vanilla

(5 grams)

1/2

cup

+ 1 tablespoon greek yogurt (I used 0% fat), or sour milk or buttermilk

(151 grams)

1/3

cup

mini unsweetened chocolate chips

(60 grams)

1/3

cup

mini white chocolate chips

(60 grams)

CRUMB TOPPING

1/2

cup

flour

(70 grams)

1/2

cup

brown sugar

(85 grams)

1/4

cup

butter

(56 grams)

EXTRA TOPPING

1/2

cup

mini unsweetened chocolate chips

(90 grams)
Instructions
Pre-heat oven to 375° (190° celsius). Lightly grease and flour a 9x4" (23 x 10 centimeter) loaf pan.

CRUMB TOPPING

In a medium bowl mix together flour and sugar, add butter and mix until it becomes coarse crumbs. Set aside.

CAKE BATTER

In a medium bowl whisk together flours, baking powder and baking soda.

In a small bowl toss together chocolate chips and 1 tablespoon of whisked flour mixture. Set aside.

In a medium bowl cream butter till creamy about 3 minutes, add sugar and beat well, add egg and beat for 30 seconds then beat in vanilla.

Add the flour and greek yogurt alternatively, starting and ending with flour to the creamed mixture (3x flour and 2x yogurt). Scrape down the sides of the bowl after each addition.

Stir in the chocolate chips.

Spoon the batter into the prepared loaf pan, smooth the top. Sprinkle crumb topping evenly on top of the loaf.

Bake the loaf for 50-60 minutes or until tooth pick comes out clean.

Remove from oven and immediately sprinkle with 1/2 cup unsweetened chocolate chips. Let cool completely before serving. Enjoy!
Notes
Be sure to watch the Video at the top of the post!
Nutrition
Adapted from Brown Eyed Baker via Piggy's Cooking Journal