Thick Peanut Butter Chocolate Chip Cookies, the best Peanut Butter Cookies you will make or eat. Made with loads of chocolate chips and deliciously thick. Everyone will love them, not just the kids!
Thick Peanut Butter Chocolate Chip Cookies
I love cookies,  you are probably saying "what doesn't this woman love to eat"? Well, not much I have to admit. Ok maybe lima beans. But cookies, pretty well all of them.
But especially this one! My favourite don't-make-too-many-because-I-will-eat-them-all Thick Peanut Butter Chocolate Chip Cookies. And I mean thick!
Don't you just love thick cookies?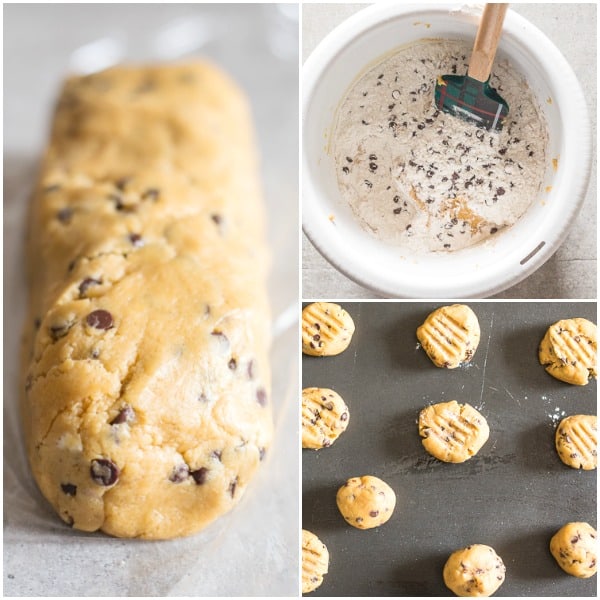 Never mind those skinny mini ones, give me these incredible Peanut Butter Cookies, filled with mini Chocolate Chips.
My mother besides making the most amazing Christmas Cookies, she would make the best peanut butter cookies and her Thick Chocolate Chip Cookies came right up behind these cookies.
Peanut Butter Cookies
How to make Homemade Peanut Butter Cookies.
In a medium bowl cream together the peanut butter, butter and brown sugar.
Beat in the egg and combine well.
Whisk together the dry ingredients.
Add the dry ingredients to the creamed mixture and combine with a spatula or wooden spoon.
Form the dough into a log and wrap in plastic, refrigerate for at least 1 hour or even over night if you want.
Cut 1/4 inch slices with a sharp knife, place on prepared cookie sheets.
Flatten with a fork and bake for approximately 12 minutes. Let cool and then sit back and enjoy!
Why does the cookie dough need to be refrigerated?
I always recommended refrigerating the dough for at least 8 hours, and then my cousin made them and only refrigerated the dough for an hour, so that works too.
Although the longer you refrigerate the dough the deeper the flavour intensifies. Of course if you don't have time to bake them the dough will hold in the fridge for up to 2 days.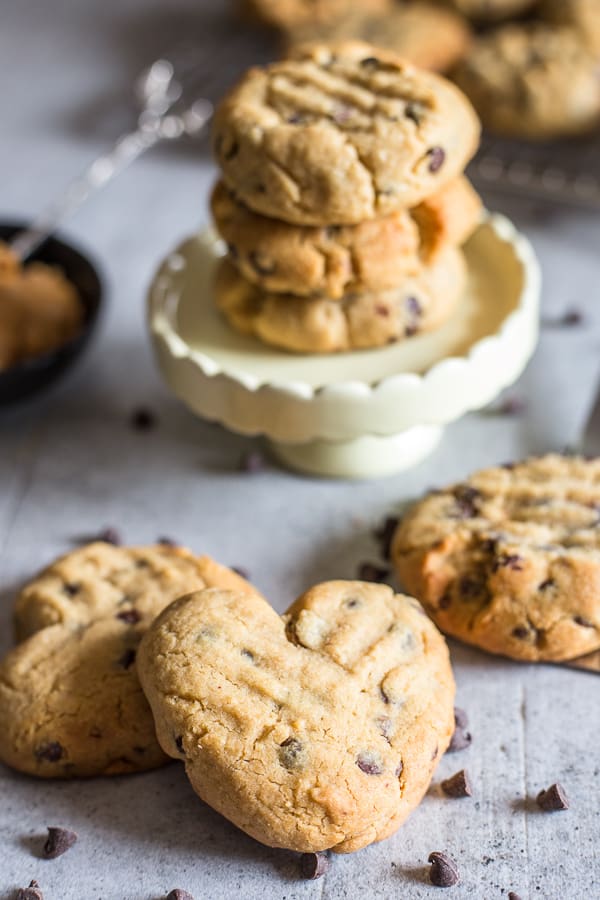 What are the best Chocolate chips to add?
I added mini dark chocolate chips, but even milk or a mixture would work too. Or how about regular size rather than mini or even chunks. Italians actually prefer to chop up a good quality chocolate bar rather than use chips.
I also use regular Peanut butter (such as Skippy) rather than Natural. Because of the extra oil in the peanut butter it can cause the cookies to spread too much and not bake properly.
I think one of the happiest days of my life in this country was when I found peanut butter at my local grocery store and the 2nd was when I found barbecue sauce, now every store I go into has these and a lot of other products.
How to Store Peanut Butter Cookies
Before storing the cookies they should be completely cooled. Store them in an airtight container between layers of parchment paper, adding a slice of bread will keep them fresher.
They can be stored at room temperature for up to five days. These cookies should not be stored in the refrigerator as they will become staler faster (although I have to confess I love cold cookies, therefore they never have time to get stale)!
You could even leave the dough in the fridge over night and whip them up in the morning!
No one's going to know you are having these  Peanut Butter Chocolate Chip Cookies for breakfast unless you tell them, and I won't talk.
How to freeze Peanut Butter Cookies
You can freeze them either baked or unbaked. I think it is best to freeze the sliced cookies. Place the slices on a parchment paper lined cookie sheet and freeze until firm about an hour.
Then place the slices in an airtight container or freezer bag. Let the slices thaw for about 15-20 minutes then continue with the baking instructions.
If you are freezing the baked cookies then make sure they are completely cooled. Then place them in an airtight container or freezer bag. Properly stored the cookies will last for about 2 to 3 months.
I made these last weekend for a get together with friends. Most Italians have never tasted peanut butter, but these cookies were well received and yes they finished my cookies!
So I'm off to bake up another batch. Enjoy alone or with a big glass of milk or cup of tea or coffee. Enjoy!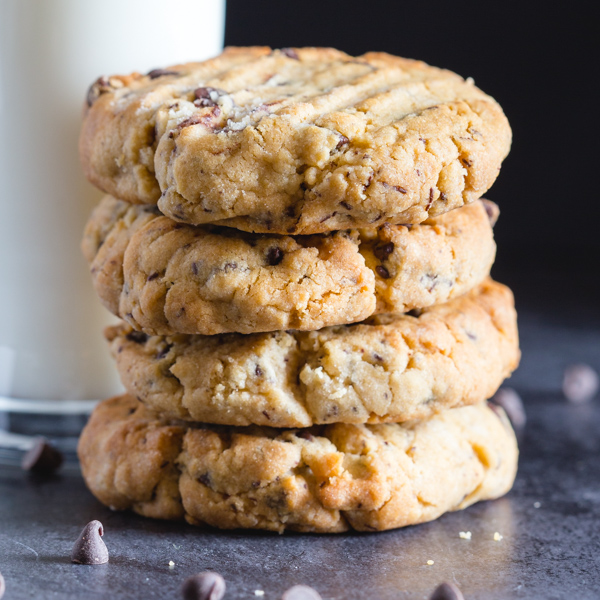 Thick Peanut Butter Chocolate Chip Cookies
Big and Thick Peanut Butter Chocolate Chip Yummy Cookies.
Ingredients
1/2

cup

peanut butter

1/4

cup

butter (salted) softened

1/2

cup

brown sugar lightly packed

1

egg room temperature

1

cup

flour

1

pinch

salt*

1/2

teaspoon

baking soda

3/4

cup

mini semi sweet chocolate chips
*If you use unsalted butter then add 1/4 teaspoon of salt instead of a pinch.
Instructions
In a medium bowl, cream until light peanut butter, butter and sugar, add egg and mix well.

In a medium bowl whisk together flour, salt and baking soda then add chocolate chips.

Add whisked ingredients to the creamed mixture and mix well with a wooden spoon.

Shape into a log, approximately 8 x 2 1/2 inches (20 x 6 cm) and wrap with plastic, refrigerate at least 1 hour or even over-night. Or you can form into golf ball size dough balls (or larger if you want) and place on cookie sheets and refrigerate.

Remove the log or balls from the fridge, and cut the log into 1/4 inch slices with a sharp knife (the knife may push down on the dough, so just reshape into circles). Place on parchment paper lined cookie sheets (you can also make fork marking like the dough balls if you wish, just lightly indent), flatten the dough balls with a fork (dip fork lightly in flour so the dough doesn't stick).

Place either in the fridge for 15 minutes.

Pre-heat oven to 350° (180° celsius) while the cookies are in the fridge.

Bake for approximately 10-12 minutes. Let cool completely before eating. Enjoy!
Nutrition
Calories:
223
kcal
Carbohydrates:
22
g
Protein:
4
g
Fat:
13
g
Saturated Fat:
5
g
Cholesterol:
21
mg
Sodium:
121
mg
Potassium:
156
mg
Fiber:
1
g
Sugar:
13
g
Vitamin A:
125
IU
Calcium:
22
mg
Iron:
1.5
mg
I found the easiest way to make heart shaped Peanut Butter Cookies, check it out at the Semisweet Sisters.
Re posted from June 27, 2015.