These Easy Chocolate Chip Whipped Shortbread cookies are the absolute melt in your Mouth Shortbread Cookie. Fast, Easy and they will be gone in seconds.
We are big lovers of Shortbread Cookies and a couple of our favourites are My Mom's Shortbread Cookies and these delicious Lemon Shortbread Cookies.
Easy Chocolate Chip Whipped Shortbread
We are getting closer and closer to Christmas, well it is October, and isn't that close enough? People who know me, know how much I love Christmas. So I thought why not start sharing some of the wonderful Christmas cookies I grew up with.
My Mom's Christmas Cookies were the best on the block. Including these Whipped Shortbread Cookies. These literally  melt in your mouth! My kids actually prefer these over the Classic Shortbread.
How to make Whipped Shortbread
The the bowl of the mixer cream the butter and icing sugar until very fluffy.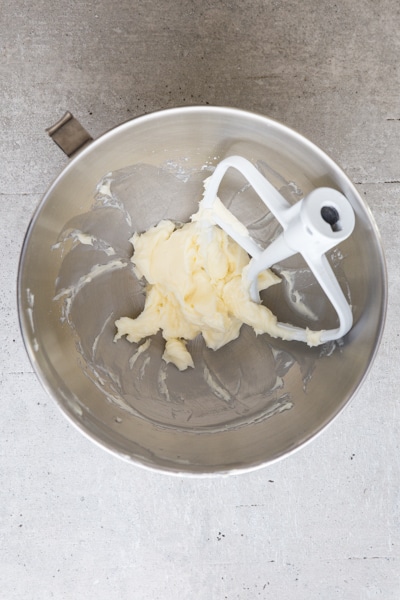 Add the salt, cornstarch, vanilla and flour and beat until very light.
Add the mini chocolate chips and combine on low or stir to combine.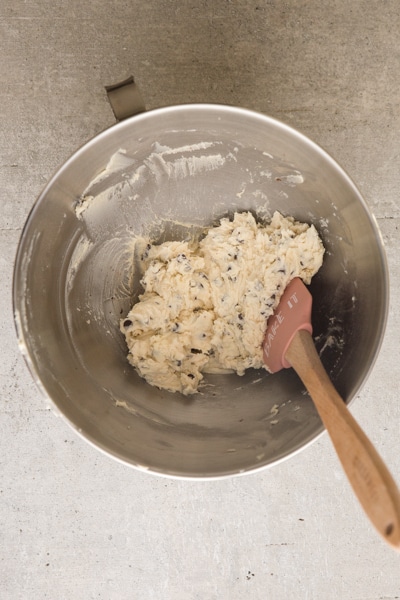 Drop by teaspoon fulls, or roll into balls the size of a golfball and lightly flatten with a fork prepared cookie sheet.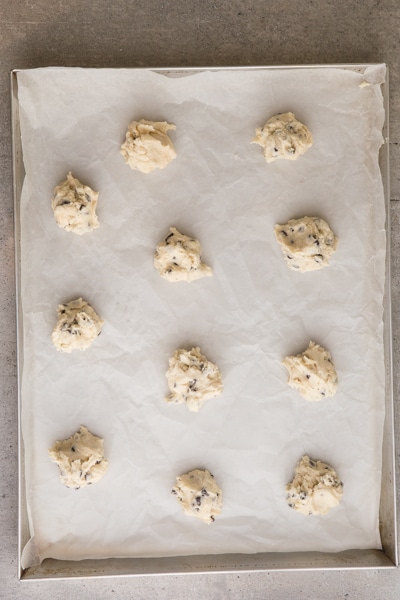 Bake for approximately 15-20 minutes or until very lightly golden (almost white) never browned.
Let cool completely.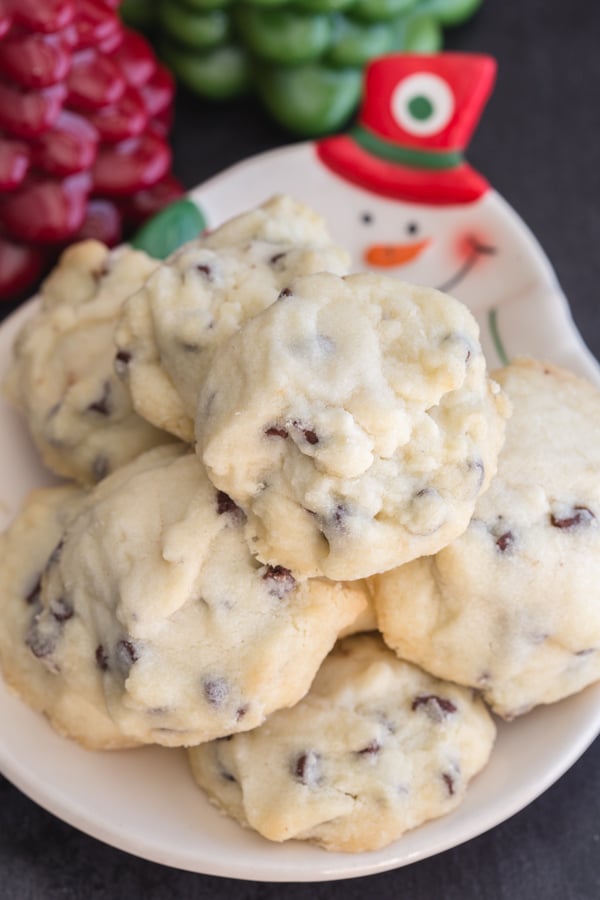 What does cornstarch do for shortbread?
Cornstarch is used to make the cookie more tender. I have made these without cornstarch and I personally prefer them with.
Why are the cookies flat?
When I started to make these here in Italy I noticed that they were always flatter than my Moms'. I knew it probably had something to do with the flour,  I even tried refrigerating the dough for a few hours.
But nope, flat they stayed. They still tasted the same, but I really wanted them to look like my Moms'. So when I was in Toronto I made some at my sister's and Yup, they came out all puffy and glorious looking.
What Flour to use for the cookies
So now I know Canadian Flour and Italian Flour are different. But how are they different? It turns out that you need a flour with a protein percentage of 13 or more to prevent flat cookies.
The one I use in Italy has 13 1/2% and the one in Canada has 14%. As you can see the cookie on the right is how it should be.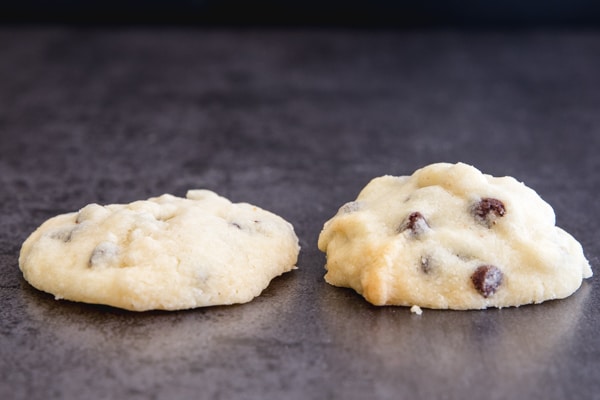 Luckily enough the Italians never minded them flat and as a friend of mine always say,  "I can't wait for Christmas just to receive your delicious cookies".
I usually make 4 or 5 different types, but these Whipped Shortbread are so good that I keep making them every year.
How to Freeze Shortbread Cookies:
And of course these can be made in advance and frozen too for up to 2 months. It was quite a risk this week when I asked my youngest daughter to put them in the freezer for me! Although she did eat  a couple on her way to the freezer.
Make sure to let the cookies cool completely, then freeze the cookies on cookie pans that are lined with parchment paper once they have frozen, then place them in air tight freezer bags or containers. You don't want the cookies to stick together!
You can also freeze the dough, make the dough balls and place them on a parchment paper lined cookie sheet, once they are frozen place in an airtight container or bag.
The cookies can be baked frozen, just be sure to add an additional couple of minutes to the baking time.
How to Store Shortbread Cookies:
Your baked cookies should be left to cool then store them in an airtight container at room temperature they will last up to 5 days. I like cold cookies so I actually store mine in the fridge, they will last up to 10 days in the fridge.
More Delicious Shortbread Cookies:
Chocolate Hazelnut Shortbread Cookies
Shortbread Cookies one dough two ways
Nobody can resist these Chocolate Chip Whipped Shortbread! I hope you enjoy them as much as we do. Enjoy!
Easy Chocolate Chip Whipped Shortbread
One of the best Christmas Cookies, melt in your mouth shortbread.
Follow me on Youtube!
Watch the videos and don't forget to subscribe on Youtube!
Ingredients
1

cup

butter* (softened)

(210 grams)

1/2

cup

icing sugar/powdered sugar/confectioners sugar (sifted)

(60 grams)

1/4

cup

corn starch

(34 grams)

1/2

teaspoon

vanilla

1 1/2

cups

flour all purpose**

(190 grams)

1/2

cup

mini semi sweet chocolate chips

(90 grams)

1

pinch

salt
*If you use unsalted butter then add a 1/4 teaspoon of salt.
**If you are in Italy substitute all purpose with Manitoba Flour, flour should have at least 13% protein.
Instructions
Pre-heat oven to 325° (160° celsius). Line one or two cookie sheets with parchment paper.

In the bowl of the mixer add butter and icing sugar and on medium speed cream until very fluffy. Then add the salt, cornstarch, vanilla and flour. Beat until very light approximately 2-3 minutes. Stir in chocolate chips or beat on low for 10-15 seconds.

Drop by heaping teaspoon, or roll into balls the size of a golfball and lightly flatten with a fork,  place prepared cookie sheets. Bake for approximately 15-20 minutes** until very lightly golden, almost white never browned. Let cool for 5 minutes then carefully move to a wire rack, cool completely before serving. Enjoy!

** Start to check the cookies after 10-12 minutes, depending on the size they may take less time to bake.
Nutrition
Calories:
139
kcal
|
Carbohydrates:
12
g
|
Protein:
1
g
|
Fat:
9
g
|
Saturated Fat:
5
g
|
Cholesterol:
20
mg
|
Sodium:
92
mg
|
Potassium:
38
mg
|
Sugar:
4
g
|
Vitamin A:
240
IU
|
Calcium:
6
mg
|
Iron:
0.7
mg
Reposted from October 5, 2016, because they are so worth it!