The Best Simple Two Way Shortbread Cookies, these are a delicious easy to make Shortbread Recipes, a melt in your mouth cookie that you will make year after year. Choose the traditional Shortbread or Brown Sugar Shortbread.  Both delicious.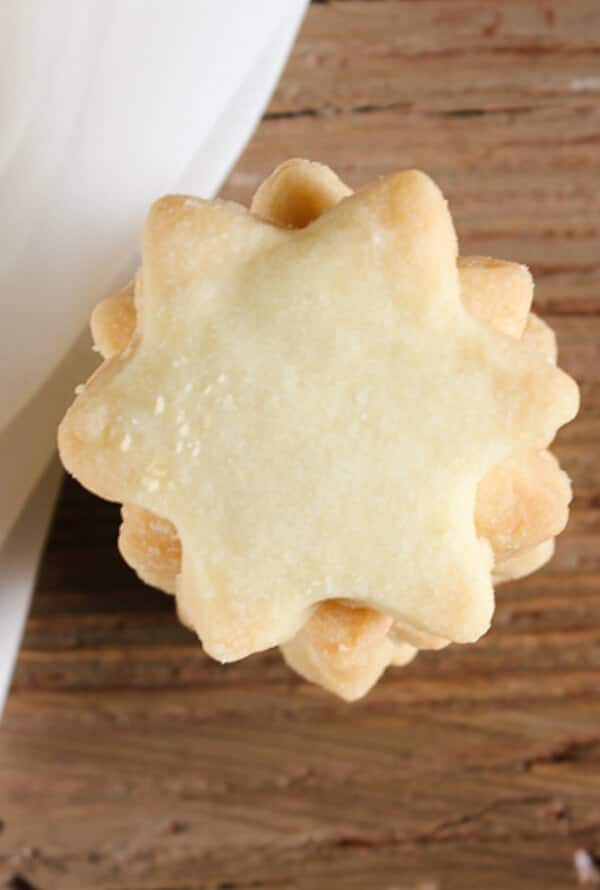 I dedicated today to baking Shortbread Cookies.  In my house shortbread cookie making always marks the start of Christmas.  
Doesn't matter if I make another type of Christmas cookie, a  bar cookie or even  a sugar cookie, shortbread is Christmas for us.  So to really get in the mood I slipped a little Christmas music into the cd player.
I must say no one better than Michael Bublè to croon out a few holiday tunes!  So sing-along I did. Unfortunately I can only dream about a white Christmas.
I love  Simple Shortbread Cookies, they practically melt in your mouth.  I always had a friend who said that her shortbread was the best and  made exactly how it should be made with only 3 ingredients,  butter, sugar and flour.
I would argue that my Mom made the best and her's had five ingredients. And yes I still stand by my Mom's.
But to make her happy I would make her Brown Sugar Shortbread cookies, and I have to admit she did have a good argument, they are pretty yummy.
The Best Simple Two Way Shortbread Cookies
I have recently discovered that a lot of people add corn starch (my Mom's  fourth ingredient) to cookie and cake recipes,  they say for adding softness.  So I guess my Mom knew what she was doing.  Sorry my friend, I win!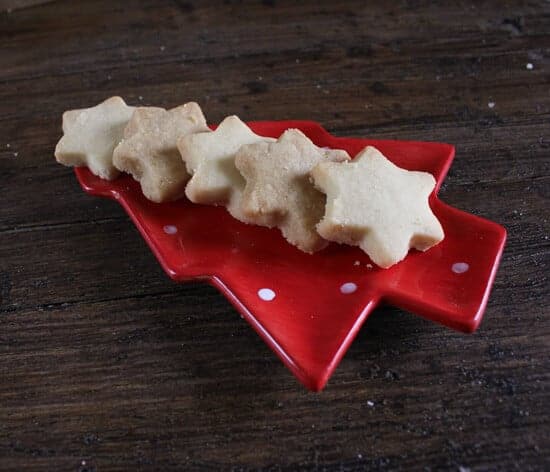 This dough is so easy to work with you don't even have to roll it out, just pat to your desired thickness, (I tend to like them  thicker, more cookie for the bite you could say).
To add a twist I even topped a couple of big stars with some Nutella and one with jam, then put some  crumbled up dough on top.
So grab your favourite Christmas cookie cutters and start cutting, 10 minutes in a low oven is all they need.  Let cool on a wire rack.
If you are like me and make your cookies ahead of time these freeze perfectly.  And if you have cookie lovers in your house a lock on the freezer might be a good idea.
So let me know, which Shortbread Cookie do you prefer?  Enjoy!
The Best Simple Two Way Shortbread Cookies
Ingredients
MY MOM'S SHORTBREAD

1

cup

butter softened

250 grams

1/2

cup

icing sugar

62 grams

1/2

cup

corn starch

62 grams

1/2

teaspoon

salt

2.8 grams

2

cups

flour

260 grams

MY FRIEND'S SHORTBREAD

1

cup

butter softened

250 grams

1/2

cup

brown sugar

100 grams

2 1/2

cups

flour

325 grams
Instructions
Pre-heat oven to 325° (160 celsius).

MY MOM'S SHORTBREAD

Beat butter until creamy. Sift icing sugar, corn starch, salt and flour 4 times (I know, but it is worth it) add to creamed butter a little at a time and work in with a wooden spoon as long as possible, then move to a lightly floured flat surface and knead till mixture cracks slightly. Pat gently to 1/3" thickness. Cut with Christmas cutters and place on ungreased cookie sheets and bake in pre-heated oven for approximately 10-12 minutes, don't let them brown. Let cool on cookie sheets.

Approximately 30 cookies (depending on size of cutters)

MY FRIEND'S SHORTBREAD

Cream butter until fluffy, add sugar and cream together, then add flour gradually and mix with a wooden spoon as much as you can. Move the mixture to a lightly floured flat surface and with your hands work the dough until it comes together and forms a ball. If it is too sticky, wrap in plastic and refrigerate for approximately 20 minutes. On a lightly floured surface roll to 1/2 - 1/3 thickness. Cut out with desired shapes, place on ungreased cookie sheets and bake in pre-heated oven for approximately 10-12 minutes. Let cool on cookie sheets and then remove to wire racks.

Yield approximately 30 cookies (depending on size of cutters)