Chocolate Hazelnut Shortbread Cookies, a delicious melt in your mouth shortbread, the perfect Cookie Recipe addition to your Christmas Baking List.
Chocolate Hazelnut Shortbread Cookies
These will be gone in minutes. Dipping them in Chocolate and a little sprinkle of ground nuts makes them the Best Holiday Cookie.
Now that Halloween is over we can start getting into the heavy-duty stuff and by that I mean Christmas Cookies. From a simple Shortbread to a Hello Dolly and don't forget the perfect Delicious Bar.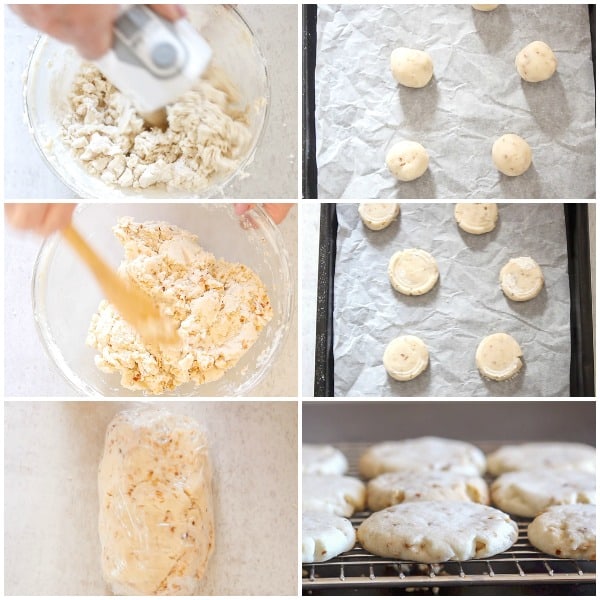 Don't you just love cookies? Especially Christmas Cookies. With all that Chocolate and Caramel, from simple cut out cookies to a little more gooey and decadent Bar Cookie. Something for everyone.
More Delicious Christmas Cookies to Bake.
Chocolate Chip and Nut Fruitcake Cookies
Easy Chocolate Chip Whipped Shortbread
Well I do and one of my favourites are these Chocolate Hazelnut Shortbread Cookies. Before you ask, yes these were another of my Mom's amazing Christmas Cookies.
She would usually make them plain but I decided to dress them up a bit. I dipped them in some chocolate, either milk or dark works well, you decide.
Then I sprinkled some more ground hazelnuts on top of the dipped chocolate. So delicious!
Simple and plain they are the perfect melt-in-your-mouth shortbread cookie, fancied up and they are a delicious rich cookie dessert.
These yummy cookies were also on a very popular Christmas Cookie Post on Buzzfeed a couple of years ago! 🙂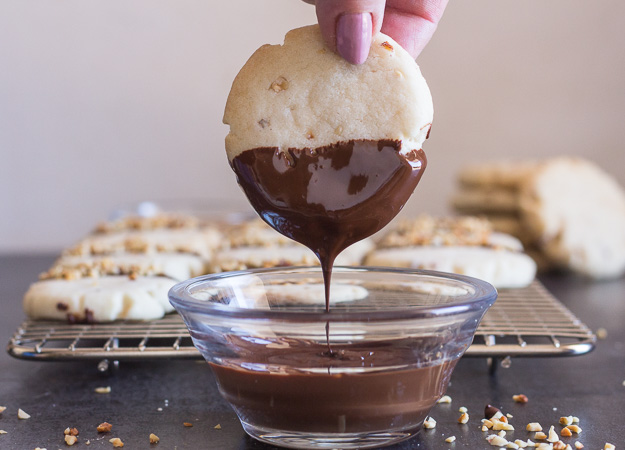 When I make these Chocolate Hazelnut Shortbread Cookies, I like to make them on the thicker side, place them in the fridge for about 30 minutes, I find they are easier to dip or spread with the chocolate.
They also freeze really well. You could probably freeze them plain and then dip and sprinkle before serving. This is one cookie everyone will love. Enjoy!
Chocolate Hazelnut Shortbread Cookies
Chocolate Hazelnut Shortbread Cookies, a simple, easy melt in your mouth Christmas shortbread cookie, perfect plain or dipped in chocolate.Depending on size of cookie, makes approximately 3-4 dozen cookies.
Follow me on Youtube!
Watch the videos and don't forget to subscribe on Youtube!
Ingredients
2 1/4

cups

all purpose flour

(281 grams)

pinch

salt

1 1/4

cups

butter softened*

(262 grams)

1 1/3

cups

icing / powdered sugar

(160 grams)

1

teaspoon

vanilla

1/2 -2/3

cup

finely chopped hazelnuts or walnuts

(62-83 grams)

TOPPING

melted chocolate

finely chopped hazelnuts**

(1/2 cup more less depending if you plan on sprinkling them on all the cookies)
*If using unsalted butter than add 1/4 - 1/2 teaspoon salt.
**If you can't but finely chopped hazelnuts, then toast them first for about 5-6 minutes in a pre-heated 350F (180C) oven (remove from pan immediately to stop the baking) and finely chop.
Instructions
In a large bowl whisk together flour and salt.

In a large bowl cream butter, then slowly add sugar and vanilla and beat, then slowly add the flour mixture and beat, stir in ground hazelnuts. Refrigerate for approximately 30 minutes.

Pre-heat oven to 325°.

Remove from fridge and form small balls, place on parchment paper lined cookie sheets, lightly flatten with the bottom of a glass (lightly floured so dough doesn't stick)**.

Bake for approximately 10-12 minutes or until lightly golden. Cool on wire racks. Refrigerate for approximately 30 minutes if dipping in chocolate. If not can be frozen or eaten at this point. Or frozen and dipped in chocolate later.

Melt chocolate and either dip half of the cookie or spread half of cookie with chocolate (I spread the top half of the cookie), sprinkle with ground hazelnuts. If you prefer plain then you could also sprinkle with powdered sugar before serving. Enjoy!

**Make balls a little larger and flatten to a thicker size, if you want thicker cookies.
Nutrition
Calories:
89
kcal
|
Carbohydrates:
9
g
|
Fat:
5
g
|
Saturated Fat:
3
g
|
Cholesterol:
15
mg
|
Sodium:
94
mg
|
Potassium:
9
mg
|
Sugar:
3
g
|
Vitamin A:
175
IU
|
Calcium:
3
mg
|
Iron:
0.3
mg
.
Republished from November 2, 2015.