Chocolate Hazelnut Shortbread Cookies, a delicious melt in your mouth shortbread, the perfect Cookie Recipe addition to your Christmas Baking List.
Chocolate Hazelnut Shortbread Cookies
These will be gone in minutes. Dipping them in Chocolate and a little sprinkle of ground nuts makes them the Best Holiday Cookie.
Now that Halloween is over we can start getting into the heavy-duty stuff and by that I mean Christmas Cookies. From a simple Shortbread to a Hello Dolly and don't forget the perfect Delicious Bar.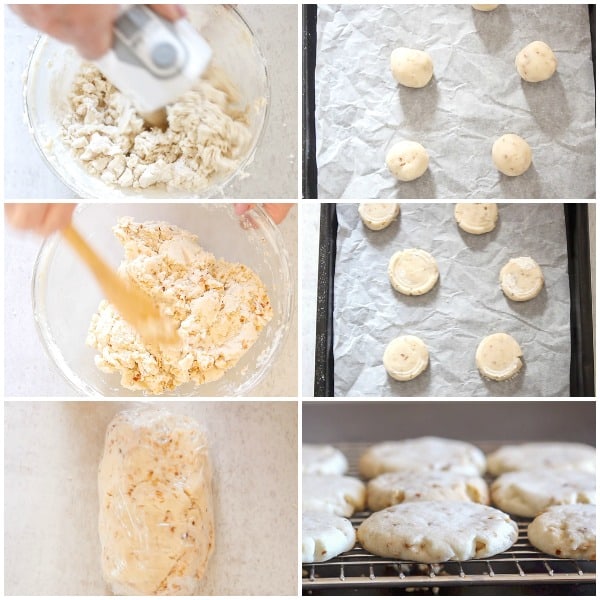 Don't you just love cookies? Especially Christmas Cookies. With all that Chocolate and Caramel, from simple cut out cookies to a little more gooey and decadent Bar Cookie. Something for everyone.
More Delicious Christmas Cookies to Bake.
Chocolate Chip and Nut Fruitcake Cookies
Easy Chocolate Chip Whipped Shortbread
Well I do and one of my favourites are these Chocolate Hazelnut Shortbread Cookies. Before you ask, yes these were another of my Mom's amazing Christmas Cookies.
She would usually make them plain but I decided to dress them up a bit. I dipped them in some chocolate, either milk or dark works well, you decide.
Then I sprinkled some more ground hazelnuts on top of the dipped chocolate. So delicious!
Simple and plain they are the perfect melt-in-your-mouth shortbread cookie, fancied up and they are a delicious rich cookie dessert.
These yummy cookies were also on a very popular Christmas Cookie Post on Buzzfeed a couple of years ago! 🙂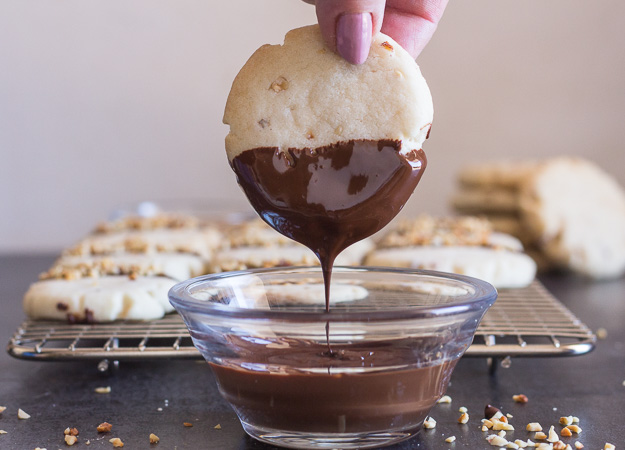 When I make these Chocolate Hazelnut Shortbread Cookies, I like to make them on the thicker side, place them in the fridge for about 30 minutes, I find they are easier to dip or spread with the chocolate.
They also freeze really well. You could probably freeze them plain and then dip and sprinkle before serving. This is one cookie everyone will love. Enjoy!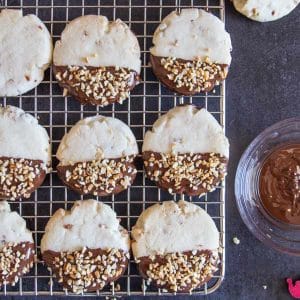 Chocolate Hazelnut Shortbread Cookies
Chocolate Hazelnut Shortbread Cookies, a simple, easy melt in your mouth Christmas shortbread cookie, perfect plain or dipped in chocolate.Depending on size of cookie, makes approximately 3-4 dozen cookies.
Ingredients
2 ¼ - 2 ½

cups

all purpose flour (at least 11% protein)

1

pinch

salt

1 ¼

cups

butter softened*

1 ⅓

cups

icing / powdered sugar

1

teaspoon

vanilla

½ -⅔

cup

finely chopped hazelnuts (or even walnuts or pecans)**
*If using unsalted butter then add ¼ teaspoon salt.
**If you can't but finely chopped hazelnuts, then toast them first for about 5-6 minutes in a pre-heated 350F (180C) oven (remove from pan immediately to stop the baking) and finely chop.
TOPPING
4

ounces

melted chocolate (or more if needed)

½

cup

finely chopped hazelnuts (walnuts or pecans)**

(1/2 cup more less depending if you plan on sprinkling them on all the cookies)
Instructions
In a large bowl whisk together the flour and salt. Start with 2 ¼ cups of flour, once the dough is combined if needed add more flour 1 tablespoon at a time.

In a the mixing bowl or stand mixer with the paddle attachment cream the butter, then slowly add the sugar and vanilla, beat to combine, slowly add the whisked flour and continue to beat, stir in the ground hazelnuts, mix until combined.

Move to a lightly floured surface and bring the dough together. Wrap in plastic wrap and refrigerate for approximately 30-60 minutes.

Pre-heat oven to 325F (160C). Line 1-2 cookie sheets with parchment paper.

Remove the dough from the fridge and form into golf ball size balls, place on the prepared cookie sheets, lightly flatten (not too thin) with the bottom of a glass (lightly floured so dough doesn't stick)**. It is also a good idea to chill the cookies while the oven is pre-heating approximately 15-20 minutes.

Bake for approximately 10-12 minutes or until lightly golden. Let cool 5 minutes on the cookie sheets, then move to wire racks to cool completely before dipping or drizzling with melted chocolate.

Melt the chocolate either bain marie or with the microwave, either dip half of the cookie or spread half of cookie with chocolate (I spread the top half of the cookie), or drizzle with the chocolate if you prefer, sprinkle the ground hazelnuts on top of the chocolate. If you prefer plain then you could also sprinkle with powdered sugar before serving. Enjoy!

**Make balls a little larger and flatten to a thicker size, if you want thicker cookies.
Notes
If you decide to drizzle or dip in melted chocolate then it is best to refrigerate the cookies for approximately 30 minutes to help firm them up.
Store the baked cooled cookies in an airtight container. They will keep in a dry cool area for up to 1 week or up to 10 days in the fridge.
They can also be stored in the freezer for up to 3 months in a freezer safe bag or container, if you dip them in chocolate first then separate with parchment paper between the layers. Allow them to come back to room temperature before serving.
Nutrition
Calories:
167
kcal
Carbohydrates:
18
g
Protein:
2
g
Fat:
10
g
Saturated Fat:
5
g
Polyunsaturated Fat:
1
g
Monounsaturated Fat:
4
g
Trans Fat:
0.3
g
Cholesterol:
17
mg
Sodium:
52
mg
Potassium:
58
mg
Fiber:
1
g
Sugar:
6
g
Vitamin A:
199
IU
Vitamin C:
0.2
mg
Calcium:
10
mg
Iron:
1
mg
.
Republished from November 2, 2015.