This really is a Bloody Good Double Chocolate Halloween Cake, a deliciously moist chocolate cake, a creamy butter cream filling and an amazing white chocolate Ganache. Halloween, scary but yummy!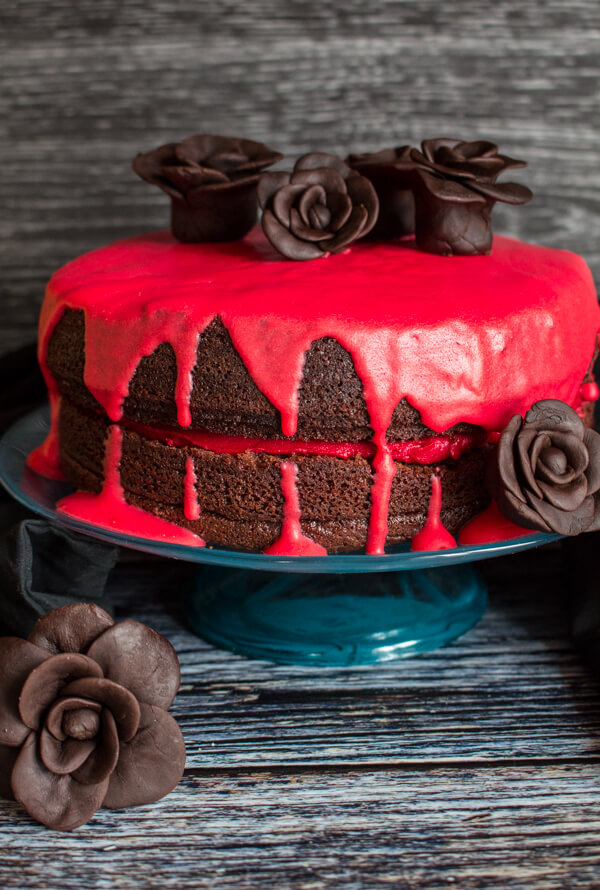 I love Halloween so needless to say when I got the opportunity to take part in Alison from Cupcake Diaries' 30 days of Halloween series, I jumped at the chance!
This is my first year participating in the Series and I am really excited to be sharing my Double Chocolate Halloween Cake.
 I wanted to make a classier Halloween Cake, you know the kind the "Count" might have liked to serve. When I think about how many times I watched Dracula movies with my Dad and how many times I read the book I just knew it had to be Bloody Good and really Red!
 I actually got the idea after I did a Cake Decorating Course at Sugartiers a Bake Shop just outside of Toronto. We were taught how to decorate with Fondant and to tell the truth I was totally intrigued by these gorgeous roses.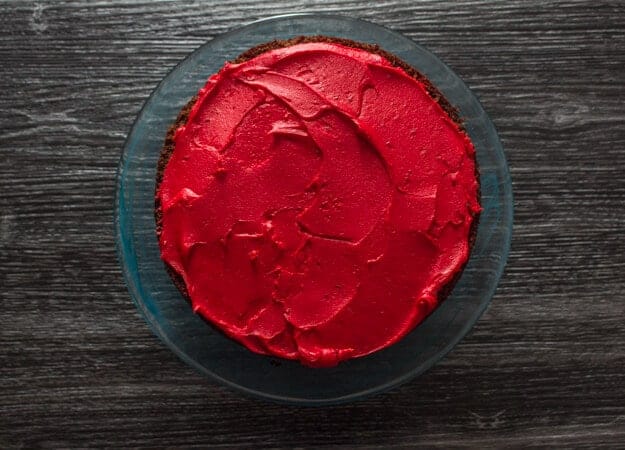 I knew I had to somehow include them in a dessert, considering this was the first time my usual non-existent decorating skills actually surprised me! On my way home after the course I got this Halloween Cake Idea in my head.
 I decided I was going to make a Dark Chocolate Cake with a Butter Cream Filling and a White Chocolate Ganache which I was going to colour both a Deep Blood Red. And my new skill, five or six Black Roses were going to decorate this Double Chocolate Halloween Cake.
Isn't it wonderful when something you imagine actually comes out the exact same way, or sometimes if you are lucky even better. Especially when it tastes amazing too!
Bloody Good Double Chocolate Halloween Cake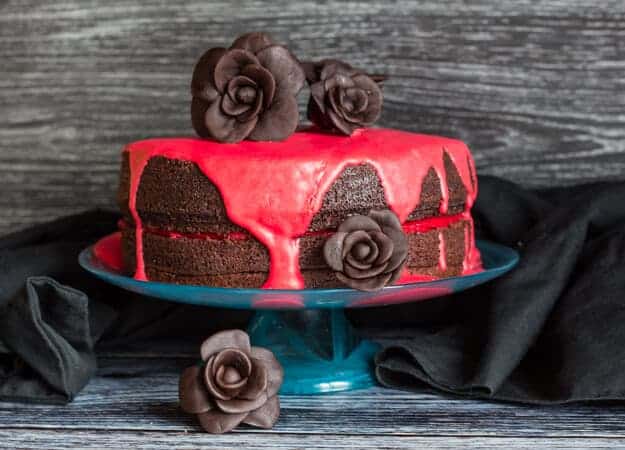 This Chocolate Cake was really easy to put the together. But I just loved the Rose idea and I didn't want you thinking "oh no too difficult for me", because trust me if I can do it so can you.
 So in order to help you with your Fondant Roses I decided to make a DIY video with the help of my wonderful cousin Janet,  and yes she also had a hand in making this cake.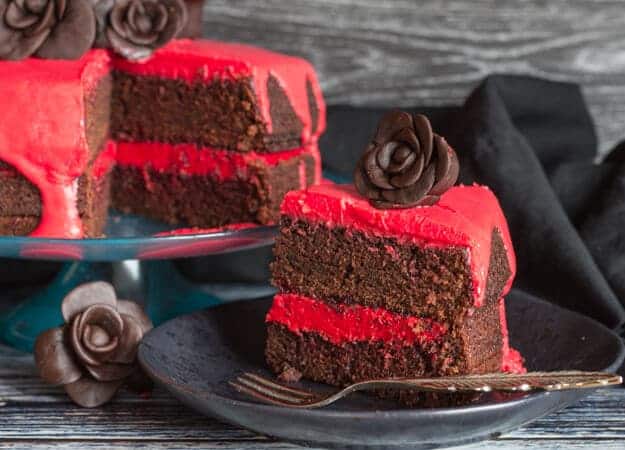 From making the delicious Butter Cream Filling to getting the Ganache to drip the way it was suppose too and of course to lending her hands in the video, this was her first try too. Thanks xoxo.
This Halloween if you want something to serve the kids you could make my Halloween Mummy  Giant Chocolate Chip Cookie and the adults could have a slice of this Bloody Good Double Chocolate Halloween Cake. Enjoy!
Remember to keep your Fondant covered in plastic so it doesn't dry out!
Bloody Good Double Chocolate Halloween Cake
A Delicious, Decadent, Easy Double Chocolate Halloween Cake, Chocolate Butter Cream filling and Ganache makes this cake the Ultimate Dessert.
Follow me on Youtube!
Watch the videos and don't forget to subscribe on Youtube!
Ingredients
FOR THE CHOCOLATE CAKE
2

cups

sugar

1 3/4

cups

flour

3/4

cups

unsweetened cocoa powder

1 1/2

teaspoons

baking powder

1/2

teaspoon

baking soda

1

teaspoon

salt

2

eggs

1

cup

milk

1/2

cup

vegetable oil

2

teaspoons

vanilla

1

cup

boiling water
FOR THE BUTTER CREAM FILLING
2

cups

icing sugar

1/2

teaspoon

vanilla

1/4

cup

butter

1

teaspoon

milk or cream

(more if needed)

red food colouring
FOR THE WHITE CHOCOLATE GLAZE
1/2

cup

cream

1/4

cup

milk

4 1/2

ounces

white chocolate

(good quality)

red food colouring
Instructions
Pre-heat oven to 350°, grease and flour 2 - 9 inch cake pans.
FOR THE CHOCOLATE CAKE
In a large bowl whisk together sugar, flour, cocoa, baking powder, baking soda and salt then add the eggs, milk, oil and vanilla beat for 2 minutes on medium speed, then add boiling water and stir to combine (do not beat, batter will be thin). Pour into prepared cake pans and bake for approximately 30-35 minutes. Remove from oven and let cool 10 minutes in cake pans then remove to a wire rack to cool completely before frosting.
FOR THE BUTTER CREAM FILLING
Beat together sugar, vanilla, butter and milk until fluffy. Add red food colouring while beating to reach desired colour.
FOR THE WHITE CHOCOLATE GLAZE
Place chopped white chocolate in a heat proof bowl, heat cream and milk until hot but not boiling, pour over white chocolate and mix until smooth, mix in red food colouring to reach desired colour. Let cool and thicken.
PUTTING THE CAKE TOGETHER
Level off the tops of the cake to make them flat **, fill the middle with the butter cream filling, top with second cake and pour cooled and thickened chocolate glaze over top to drizzle (if ganache is too thick add a little warmed milk to thin), decorate with Fondant Roses. Enjoy.
Nutrition
Calories:
519
kcal
|
Carbohydrates:
78
g
|
Protein:
5
g
|
Fat:
22
g
|
Saturated Fat:
15
g
|
Cholesterol:
56
mg
|
Sodium:
310
mg
|
Potassium:
233
mg
|
Fiber:
2
g
|
Sugar:
60
g
|
Vitamin A:
350
IU
|
Calcium:
93
mg
|
Iron:
1.8
mg