Easy Italian Fresh Peach Crumb Cake, made with fresh or canned Peaches, a deliciously buttery crumb bottom and topping, filled with an amazing Peach filling.  This Italian Fresh Peach Crumb Cake is  the perfect anytime Dessert!
Easy Italian Fresh Peach Crumb Cake
Do you ever go to the bakery because you are obsessed with one or two of their Baked Goods?  Well that was me for years.  
I would buy this amazing Italian Crumb Cake, or better known in Italian as La Torta Sbriciolata.  I would usually get the Nutella Crumb Cake because I gotta tell you that is one of the best!  
Be sure to watch the Video!
And then summer rolled around and we had an over abundance of peaches so why not an Easy Italian Fresh Peach Crumb Cake? I am lucky to  have a few friends, like me who like to bake.  
One day, over coffee, I was served my bakery favourite.  Believe me it was even better homemade.  After I raved about how much I loved this Italian Crumb Cake and how I could never get enough of it.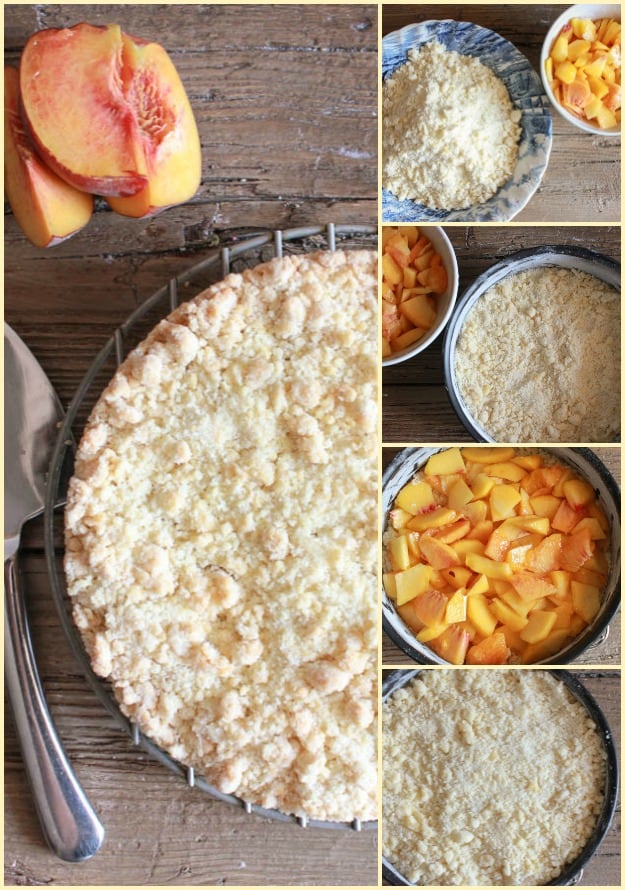 She told me the recipe, I say told because it always amazes me how Italians just have all these recipes on the tip of their tongue.
Needless to say I'm nowhere near as efficient as that, so I never leave home without a pen and small notepad.  You wouldn't believe some of the amazing recipes I have over heard in the grocery store.
 Peach Crumb Cake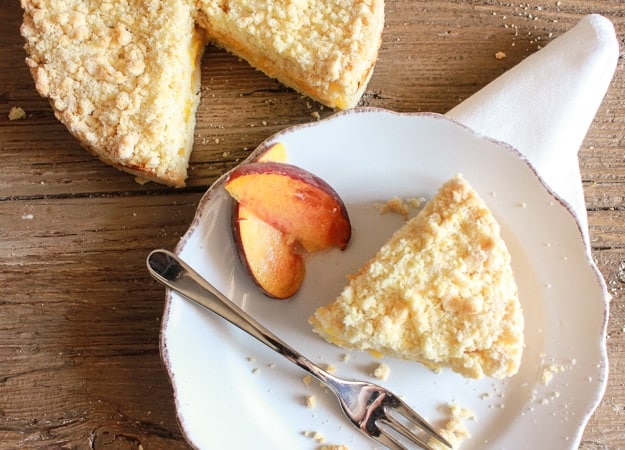 So since I had all those peaches hanging around, I thought I would give this Crumb Cake a summer feel by filling it with peaches.
Easy Italian Fresh Peach Crumb Cake is probably one of the fastest cake to make.  It's all crumbs, seriously.
Two thirds of the crumbs go on the bottom of the pan, then add the sliced fresh peaches, top with the rest of the crumbs and into the oven it goes.
I served mine with a little vanilla ice cream but why not warm from the oven with a cup of coffee? Now that's a tasty Summer Dessert.  Enjoy!
Other Delicious Crumb Cakes you may enjoy!
 Banana Chocolate Chip Crumb Cake
Italian Fresh Peach Crumb Cake
A fast and easy and so delicious Italian Crumb Cake.
Ingredients
CRUMB CRUST

2 1/2

cups

flour

(375 grams)

1/2

cup

sugar

(100 grams)

2

teaspoons

baking powder

pinch salt

1/3

cup

+ 3 tablespoon butter

(cold), 100 grams

1

egg

PEACH FILLING

2 1/2

cups

sliced peaches

(peeled, sliced then halved peaches (can substitute canned peaches drain well) (650 grams)

1 1/2

tablespoons

sugar
Instructions
Pre-heat oven to 350° (180° celsius). Grease and flour an 8" cake pan (20 centimeter). A spring form pan is my recommendation.

In a medium bowl mix together peaches and sugar, set aside.

In a large bowl whisk together flour, sugar, baking powder and salt, add butter using a pastry blender or fork combine to form a crumbly mixture, add egg and continue to mix only until still crumbly.

Add approximately 2/3 of the crumbly mixture to the cake pan, spoon peach mixture on top and sprinkle with remaining crumb mixture.

Bake for approximately 30-40 minutes or until lightly golden on top. Let cool. Serve with vanilla ice cream if desired. Enjoy!
Nutrition
.