Cinnamon Crumb Coffee Cake, I don't know about you but as far as I'm concerned this is one of my favourite cakes,  an easy Fall Cinnamon Cake, with the perfect topping! Made with leftover cake!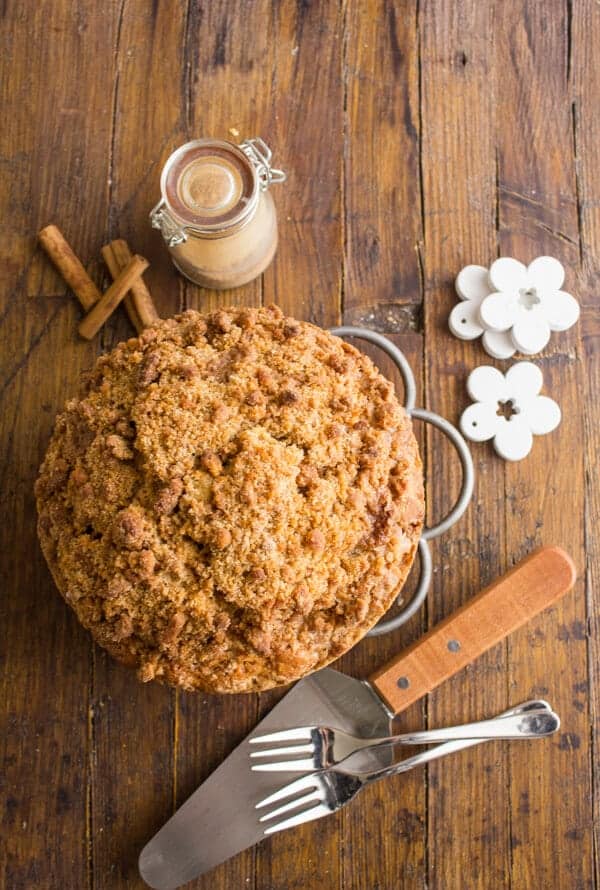 If you remember last Friday I made an Italian Mimosa Cake and I said that I was keeping the left-over cake cuttings to use as a crumb topping. Well, my friends this is it.
I have made a number of Crumb Cakes in my baking life but this Cinnamon Crumb Coffee Cake is one of my favourites.
I don't know about you but whenever I would make a cake and I would have to trim the cake, that extra cake would always find its way into my mouth. Can't waste a good thing.
Or even better I would frost it and then eat it! Haha.But now I try to control myself and in the freezer it goes waiting to become a crumb topping.
Cinnamon Coffee Crumb Coffee Cake is so easy to make, no need for the electric beaters. And for the crumb topping I used cane sugar.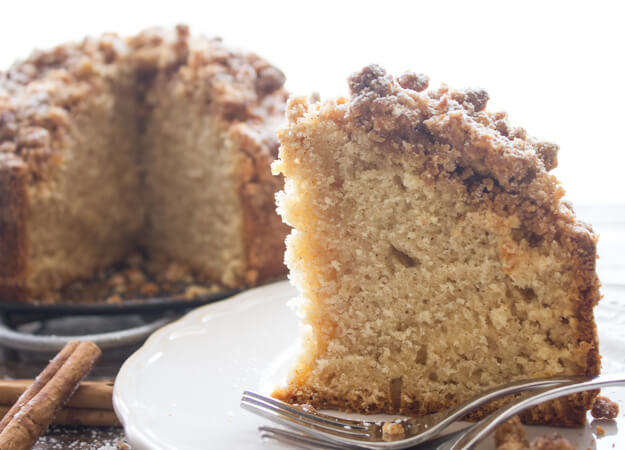 I usually make my own brown sugar (sugar and molasses) since you can't find that type of brown sugar in Italy, but I ran out of it and I was too lazy to make it.
The other day at the grocery store I found very fine cane sugar that I thought the Italian would like in his espresso, so I used that. Worked perfectly. So you can use either cane sugar or regular brown sugar, whichever you prefer.
Cinnamon Crumb Coffee Cake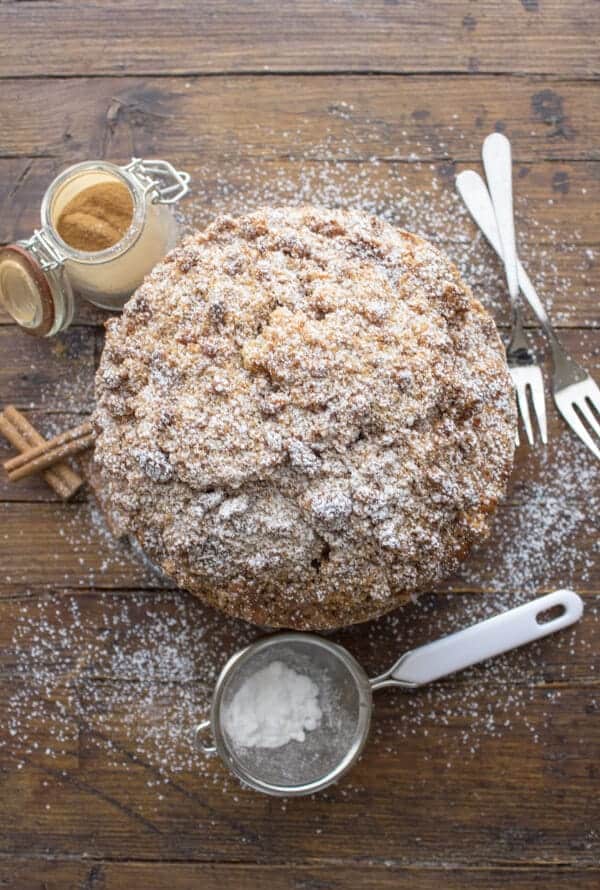 I usually make this Cinnamon Crumb Coffee Cake in a 9 inch cake pan but this time I made it in a 7 1/2 x 3 inch pan, which means the cake was smaller but taller, I love that cake pan.
So while the cake is cooling I would advise you to get the coffee or tea going because you are really going to want to sit back and enjoy this Coffee Cake.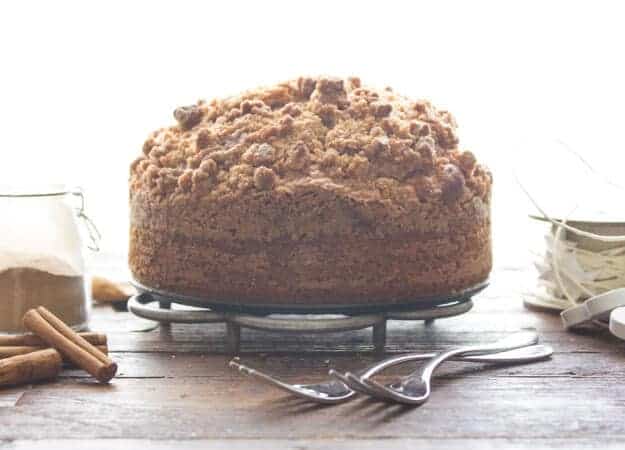 Cinnamon Crumb Coffee Cake
Cinnamon Crumb Coffee Cake, an easy delicious Coffee Cake recipe. A delicious crumb topping using leftover cake. Snack or Dessert.
Follow me on Youtube!
Watch the videos and don't forget to subscribe on Youtube!
Ingredients
CAKE BATTER

2

cups

flour

3/4

cup

sugar

2

teaspoons

baking powder

1/2

teaspoon

salt

1/2

teaspoon

cinnamon

1/3

cup

butter

1

cup

milk

2

eggs

1/2

teaspoon

vanilla

TOPPING

1 1/2

cups

cake crumbs )

left-over cake broken into crumbs(not large crumbs

2

tablespoons

flour

2/3

cup

brown sugar

1

teaspoon

cinnamon

3 1/2

tablespoons

butter
Instructions
Pre-heat oven to 320° (160° celsius) Grease and flour a 9 inch cake pan.

TOPPING

In a medium bowl mix together cake crumbs, flour, sugar and cinnamon, cut in butter and combine to form crumbs. Set aside.

CAKE

In a small pot add butter and milk, heat until butter is melted, remove from heat and let cool.

Whisk together flour, sugar, baking powder, salt and cinnamon.

Whisk together cooled butter/milk mixture, eggs and vanilla, then fold into flour mixture and continue folding until combined (there will be some lumps), spoon into prepared cake pan, top with topping and bake approximately 40-60 minutes or until toothpick comes clean and dry. Enjoy!
Nutrition