Cinnamon Walnut Coffee Cake, the perfect fall Comfort Cake. Full of the taste of Cinnamon and Walnuts. Eat it for Breakfast, Snack or even Dessert. This is a Cake everyone will love.
Cinnamon Walnut Coffee Cake
As I write this there is only five more days till Christmas. And I still have so much to do. I still have to wrap, get my cookie plates together to give to friends and family members and who knows how many other things I have to do and you too I imagine!
With the mild weather here in Italy I find it really hard sometimes to even believe it is Christmas. If I could only have one day of snow it would be on Christmas.
As a child Christmas is presents, Santa, hoping it is going to snow and a really cute outfit to wear. Now as an adult it's the buying of the presents and of course feeding the hungry  guests (they always seem hungrier on Christmas).
I remember my family  Christmases  in Canada as  being a continual eat-a-thon. There was food everywhere, we started in the morning and didn't stop till midnight, ok maybe a slight exaggeration but you get my drift.
One of my favourite parts was brunch. Do you still do brunch? It is actually becoming quite the thing here in Italy.
We would eat bacon, eggs and a couple of quick breads and a wonderful delicious coffee cake. And this my friends is one of the best ones I have ever made or eaten.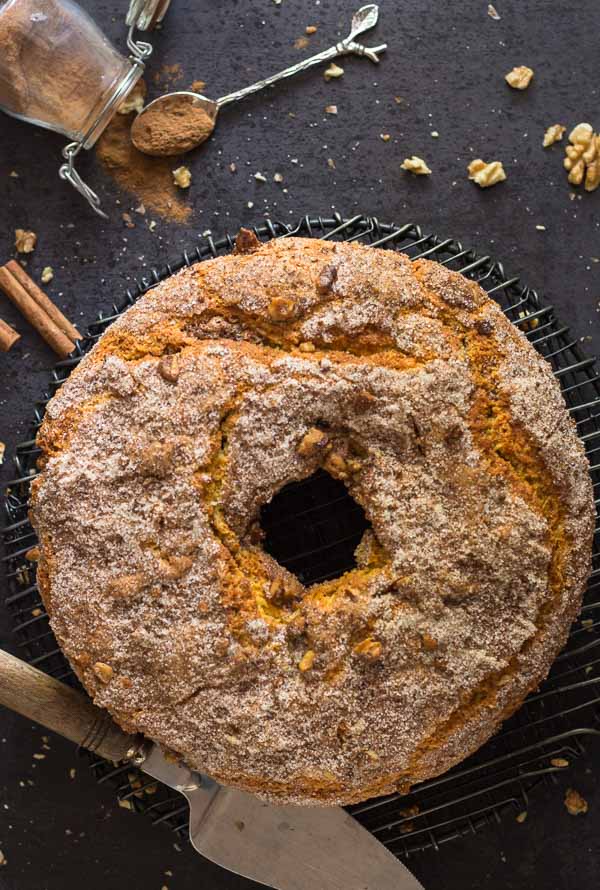 I love the combination of nuts and cinnamon and it really is moist and don't you just love when a cake rises so high that you need to take two bites from one fork full of cake. Don't forget the yummy centre filling and streusel topping.
Oh how I love cinnamon,  as far as I am concerned nothing beats cinnamon, ok maybe Chocolate. So if you are looking for a tasty Coffee Cake to make you won't be disappointed with this Cinnamon Walnut Coffee Cake. Enjoy!
Cinnamon Walnut Coffee Cake
Cinnamon Walnut Coffee Cake
The delicious combination of walnuts and cinnamon make this the perfect coffee cake.
Ingredients
TOPPING

3/4

cup

sugar

(155 grams)

1

tablespoon

cinnamon

3/4

cup

chopped walnuts

(80 grams)

BATTER

3

cups

flour

(375 grams)

1 1/2

teaspoons

baking powder

1 1/2

teaspoons

baking soda

1

teaspoon

salt

3/4

cup

butter

(153 grams)

1 1/4

cups

sugar

(250 grams)

3

large

eggs

1 1/2

cups

greek yogurt

(365 grams)

1 1/2

teaspoons

vanilla
Instructions
Pre-heat oven to 350° (180° celsius), grease & flour a 10" (4 liter) tube pan.

In a small bowl combine topping ingredients and set aside.

In a medium bowl with a whisk combine flour, baking powder, baking soda and salt.

In a large bowl cream butter and sugar at medium speed until fluffy, add eggs, one at a time, beating until light and creamy.

Add dry ingredients alternately with the greek yogurt and vanilla to the creamed mixture, mix with a wooden spoon until smooth.

Spread half the batter in the prepared tube pan, spoon 3/4 of the topping over batter. Cover with remaining batter and top with remaining topping.

Bake for approximately 60-65 minutes or until inserted toothpick comes out clean. After 50 minutes if it is not done but is becoming too brown cover with foil until baked. Cool. Enjoy!
Nutrition
Re published from December 2014.