A Simple Easy Cinnamon Cake, fast, easy and delicious, a soft full of cinnamon cake recipe. The perfect anytime cake, from Breakfast, to Snack or Dessert.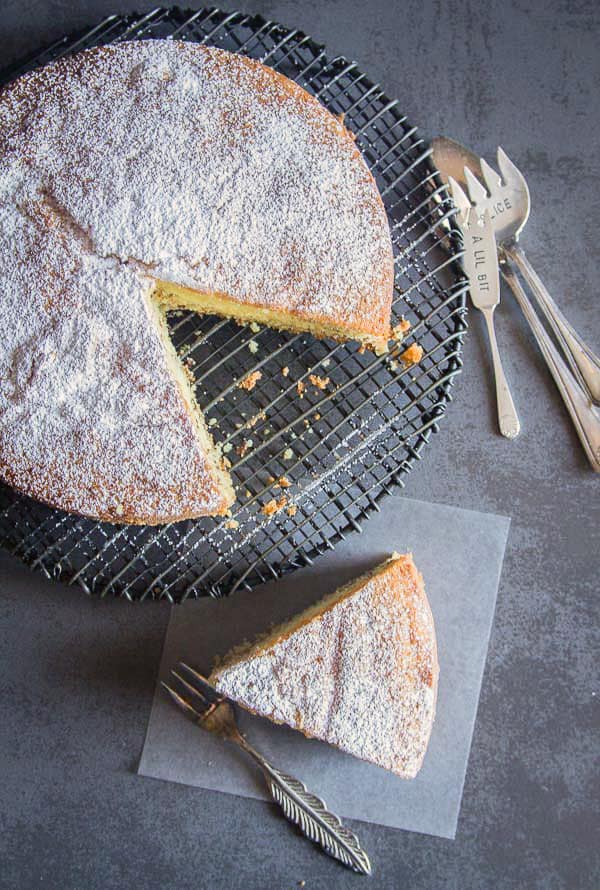 Cinnamon Cake
I must admit I have been dying to post this recipe. I've been making this cinnamon cake for at least 20 years! And where did I get it from?
Obviously my mother, she was and still is with me  through the handwritten recipes she left me. My mother is probably my  main source for my Non Italian dessert recipes, because holy cow could my mother bake!
I remember coming home from school when I was a kid and there would be cookie sheets filled with all her wonderful Christmas Cookies and bars just waiting to be eaten during the holidays. Nobody could make those cookies like my Mom could.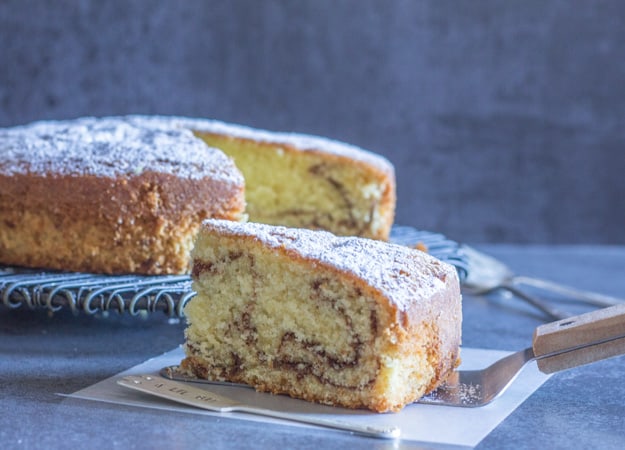 She would fill cookie tins full of these delicacies and put them in the freezer. But that never stopped us, I used to think if I sneaked down and took a few who would notice? But seriously, who are we kidding?
We are talking about mothers, they notice everything. My husband even admits to sneaking down and taking a  few himself. Good times and good memories.
Cinnamon Cake
Moving on to this Simple Easy Cinnamon Cake. Ahhh the smell of cinnamon baking in the oven has to be one of my favourite aromas.
More Cinnamon Recipes to enjoy!
Crunchy Cinnamon Sugar Cookies
Homemade Cinnamon Apple Strudel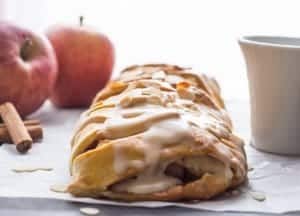 Cinnamon Apple Puff Pastry Squares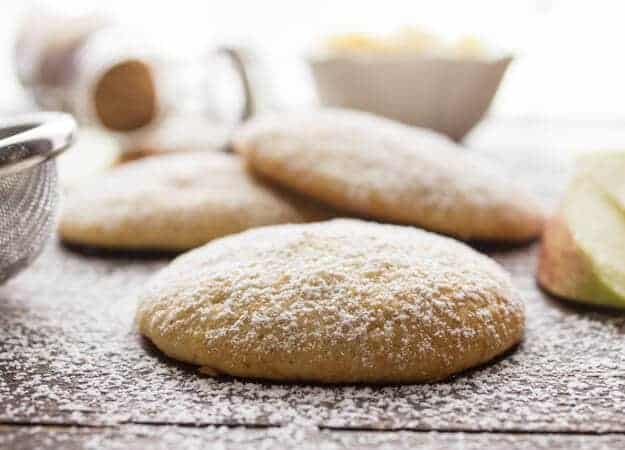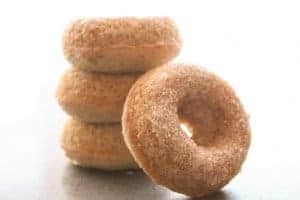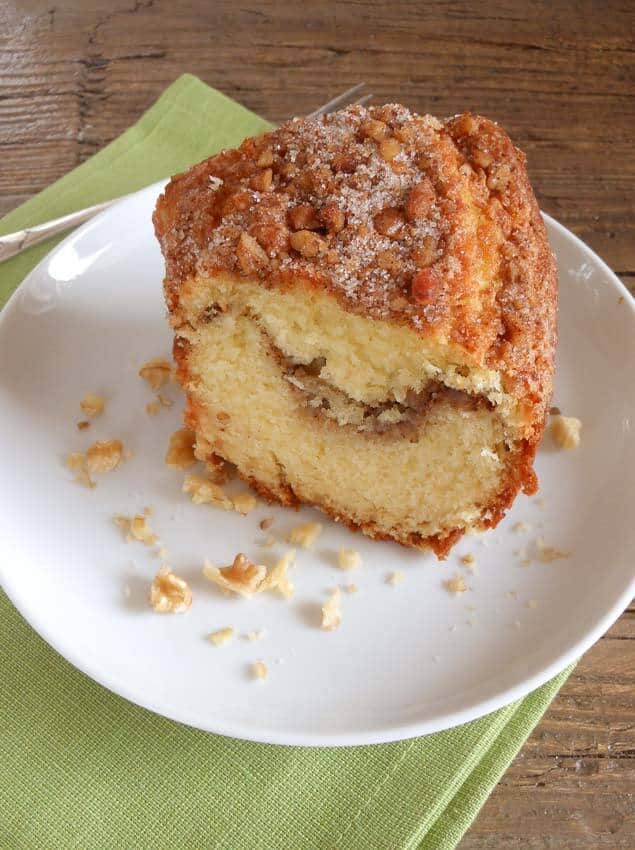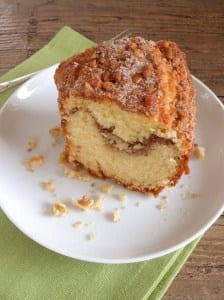 If there was one cake that I could eat all by myself this would be the one, Cinnamon Cake. I can't tell you how delicious this cake really is.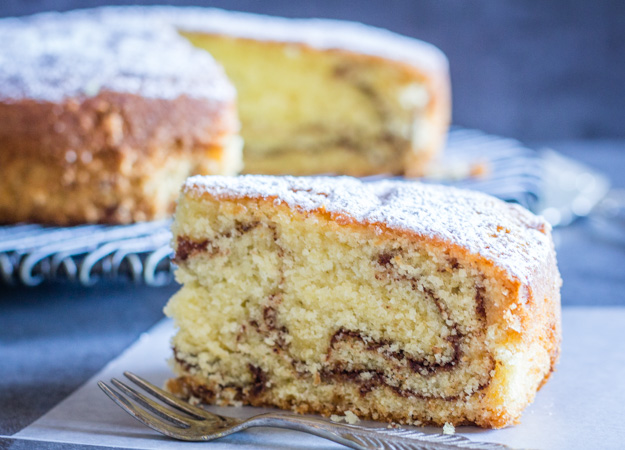 Easy and fast to put together and that amazing smell wafting through the house. Soft, moist and cinnamony and so totally perfect with a cup of tea or coffee, one slice, two or three slices, who cares, who's counting? Enjoy!
Simple Easy Cinnamon Cake
Simple Easy Cinnamon Cake, a soft, delicious and moist Cake Recipe. Perfect for snack, dessert or even Breakfast. Everyone will love it.
Ingredients
3

tablespoons

brown sugar

(38 grams)

1

tablespoon

cinnamon

(6 1/4 grams)

3/4

cup

butter softened*

(168 grams)

1

cup

granulated sugar

(200 grams)

2

eggs

2

cups

all purpose flour

(250 grams)

1

teaspoon

baking powder

(5 grams)

1/2

teaspoon

baking soda

(2.5 grams)

¼

teaspoon

salt

(2 grams)

1

cup

sour milk (to make sour milk add 1 tablespoon lemon juice or white vinegar to 1 cup measure and top off with milk, let sit for about 10 - 15 minutes)

(245 grams)

1

teaspoon

vanilla

(5 ml)
*If using unsalted butter then add ½ teaspoon of salt.
Instructions
Pre-heat oven to 325° (160° celsius)

In a small bowl mix together brown sugar and cinnamon, set aside.

In a large bowl cream butter and sugar, then add the eggs, beat until fluffy.

In a medium bowl sift together flour,baking powder, baking soda and salt.

Add dry ingredients alternately with sour milk, ending with sour milk to creamed mixture. Add vanilla and mix well.

Spoon 1/3 of the batter into a greased 8" (20.5 centimeter) springform pan. Sprinkle with 1/2 of the cinnamon mixture. Spoon another 1/3 of the batter on top, then remaining cinnamon mixture and then top with the remaining batter. Bake for approximately 50-60 minutes or until toothpick comes out clean and dry. Remove from oven and let cool. Enjoy!
Nutrition
Calories:
335
kcal
Carbohydrates:
44
g
Protein:
4
g
Fat:
15
g
Saturated Fat:
9
g
Cholesterol:
71
mg
Sodium:
317
mg
Potassium:
120
mg
Fiber:
1
g
Sugar:
24
g
Vitamin A:
515
IU
Calcium:
69
mg
Iron:
1.4
mg
Updated from October 5, 2014.