Chocolate Cake with Mocha Frosting is the perfect Sunday Dinner Dessert, a moist chocolate cake with a creamy rich Mocha Frosting. Two layers makes it even better.
Chocolate Cake with Mocha Frosting
I have been thinking a lot about starting a Dessert Blog!
As a matter of fact a couple of years after An Italian in my Kitchen got started I had mentioned to my daughter that I was thinking of changing it to an All Dessert Blog.
Well that didn't go over big. My daughter thought it was the most ridiculous idea and I shouldn't even be thinking of it! So there.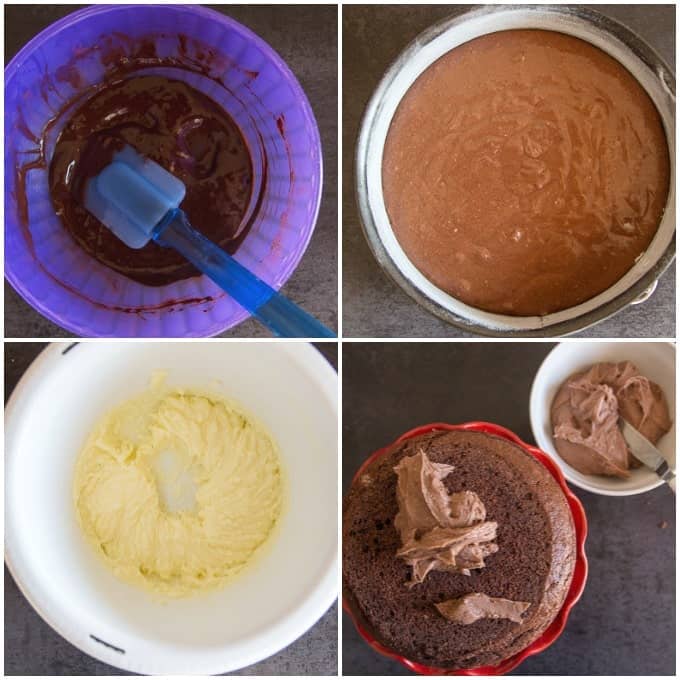 So time passed and I got an amazing Book Deal (which I still can't believe happened) to write and photograph 75 Authentic Italian Desserts.
I had a lot of taste testers and my wonderful cousin Janet helping me recipe test them. A lot of work to say the least, but a lot of fun too.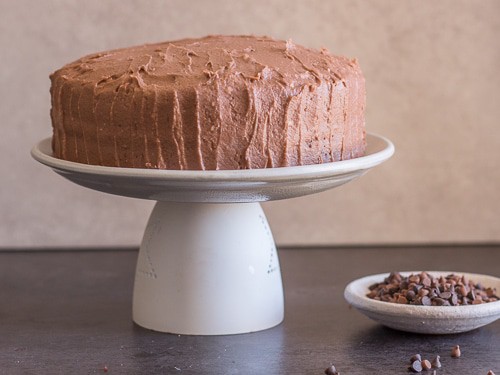 So at the spur of the moment I decided why not start a dessert blog? So I did. And this is it.
I plan on sharing desserts I grew up with, desserts my Mom made and just all kinds of delicious desserts, from cupcakes to muffins and everything in between.
More Delicious Desserts.
My Scientific Italian Chocolate Cake
I hope you enjoy it.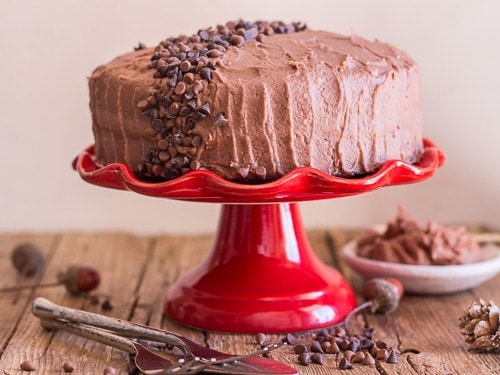 And yes again I have been baking up a storm thinking I should have at least a dozen recipes on here before I launched.
But as my good blogger friend, April from Girl Gone Gourmet (who by the way also has a book coming out) said, just go live and get it out there. So here we go.
Today I thought I would go live with a Cake that my Mom would make almost every Sunday and that we all loved. Her delicious Chocolate Cake with Mocha Icing. I also included a simple Milk Chocolate Frosting if you prefer.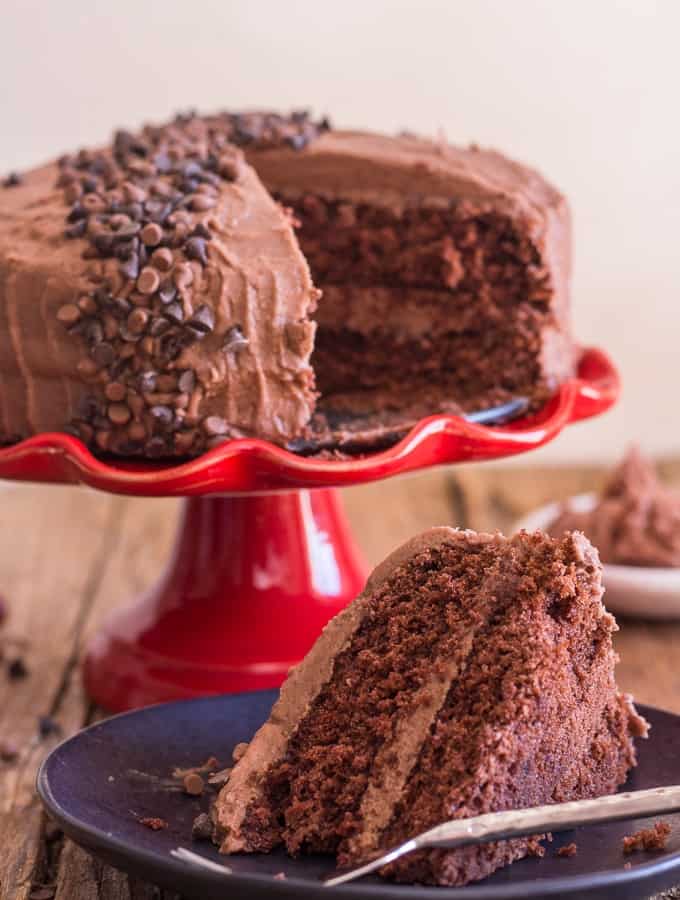 I loved this Chocolate Cake and Frosting so much that one Sunday after she had finished frosting it, she left it on the kitchen table, so I got on the chair (I was only 4) and I ate all the frosting off that cake! Enjoy!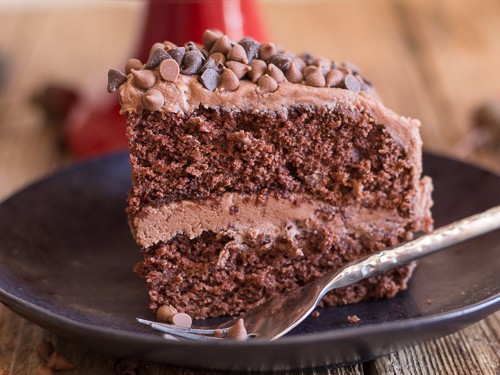 So I guess you are wondering so where has this Dessert Blog gone? Well a few days ago I woke up and I thought I need to take the day off, in 4 years of blogging I have never once thought that.
Yes I have taken days off, mostly because I wanted to not because I felt for personal reasons I had to. And that really bothered me. Keeping up with 2 blogs is exhausting, so I decided to close the dessert blog and bring everything over to An Italian in my Kitchen.
And let me tell you just making the decision to do that, made me feel 100% better, so I am back to being a one blog blogger!
Chocolate Cake with Mocha Frosting
Chocolate Cake with Mocha Frosting is the perfect Sunday Dinner Dessert, a moist chocolate cake with a creamy rich Mocha Frosting. Two layers makes it even better.
Ingredients
CHOCOLATE CAKE
1/4

cup

cocoa

1/4

boiling water

1/3

cup

butter

3/4

cup

white sugar

1

egg

1 1/4

cups

cake flour

pinch salt

1

teaspoon

baking powder

1/4

teaspoon

baking soda

1/2

cup

sour milk **

(mix 1/2 tablespoon lemon juice with 1/2 cup of milk and let sit 15 minutes)
MOCHA FROSTING
2/3

cup

butter

(softened)

3

cups

icing / powdered sugar

2

tablespoons

cocoa (sifted)

4 1/2

tablespoons

strong coffee
MILK CHOCOLATE FROSTING
3 1/2

tablespoons

butter (soft)

1 3/4

cups

powdered / icing sugar

(210 grams)

2 1/2

tablespoons

milk (I used 2 %)

2 1/2

tablespoons

unsweetened cocoa

1

teaspoon

vanilla
Instructions
Pre-heat oven 350°. Grease and flour 2 8 inch cake pans.
CHOCOLATE CAKE
In a small bowl mix together the cocoa and boiling water until completely combined. Let sit 5 minutes.

In a large bowl cream the butter, sugar and egg until fluffy approximately 5 minutes.

Add the cocoa mixture to the butter mixture and beat to combine.

Sift the flour, salt, baking powder and soda into a medium bowl.

Then alternately add the dry ingredients and the sour milk to the creamed mixture. Pour into the prepared cake pans and bake for approximately 20-30 minutes or until toothpick comes out clean. Let stand 5 minutes before removing from pans. Cool completely before frosting. Enjoy!
MOCHA FROSTING
Cream butter, add sifted cocoa, then add the sugar 1/2 cup at a time, beat in the coffee one tablespoon at a time until you reach the desired constituency. Frost cooled cake. Decorate if desired.
MILK CHOCOLATE FROSTING
In a medium bowl over a pot of boiling water (make sure the bowl does not touch the water) or microwave, melt the butter, remove from the heat and stir in the cocoa until smooth. Add the remaining ingredients and combine until smooth and thick (if you want it thicker then add more powdered sugar). Spread over the cooled cake.
Nutrition
Calories:
438
kcal
|
Carbohydrates:
64
g
|
Protein:
3
g
|
Fat:
19
g
|
Saturated Fat:
12
g
|
Cholesterol:
66
mg
|
Sodium:
203
mg
|
Potassium:
129
mg
|
Fiber:
1
g
|
Sugar:
50
g
|
Vitamin A:
610
IU
|
Calcium:
45
mg
|
Iron:
0.7
mg