Nothing better than a One Pan Chocolate Pudding Cake, fast, easy and sooo chocolatey. The perfect anytime dessert recipe.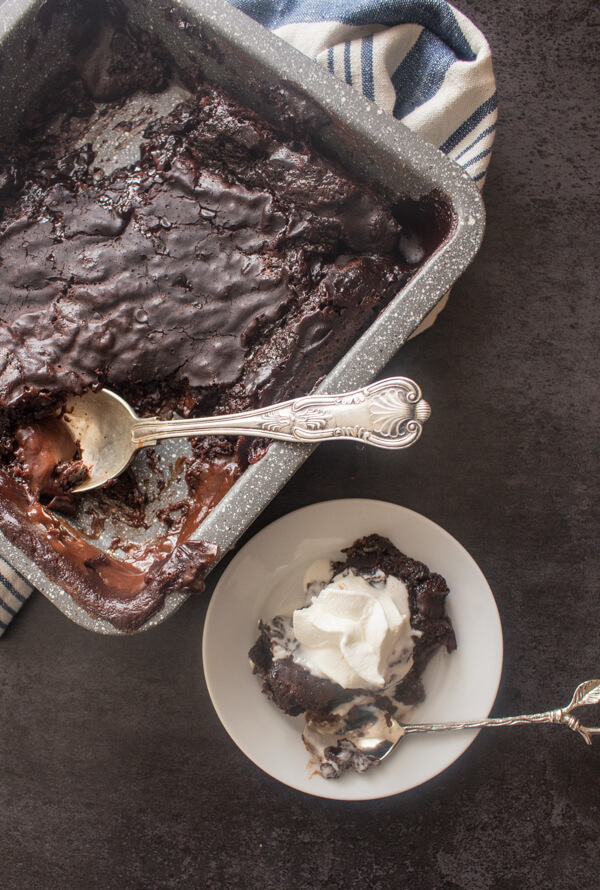 The other day I was talking to my daughter about Valentine's Day and should we or should we not make the Italian a Special Dessert? 😉
Be sure to watch the Video!
After we went back and forth with what we like, compared to what her father likes, which unfortunately are always two different things. We love chocolate him not so much.
Speaking of chocolate, my daughter has always been intrigued with Lava Cakes and so have I for that matter. Should we make it Chocolate or Fruit or go for something completely different?
And then I remembered my Mom's One Pan Chocolate Pudding Cake. Looking at the recipe I realized that it is very much like a Lava Cake? Just easier and faster. And what's better than using just one pan for a dessert?
This Chocolate Pudding Cake is baked just until the sides start to pull away from the pan and the top starts to crack slightly.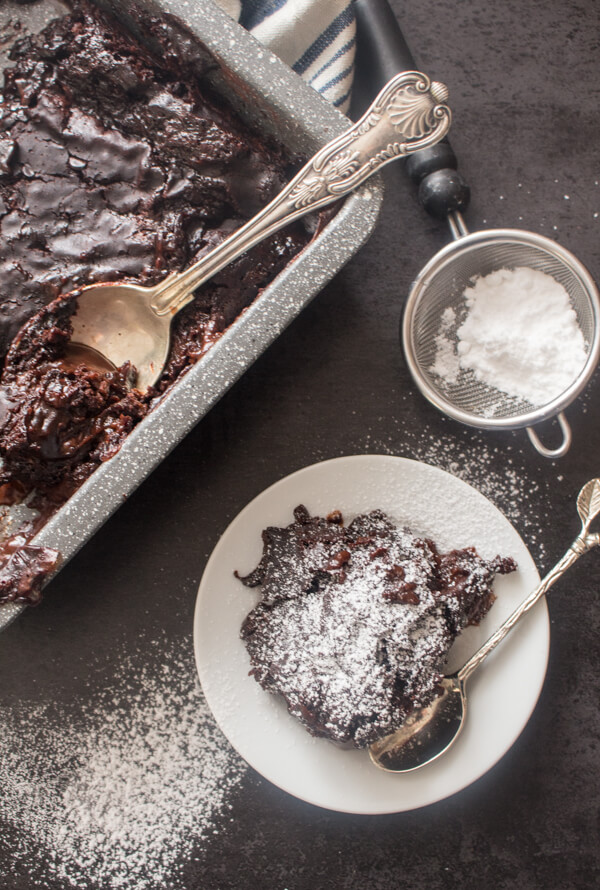 So we got the ingredients together, baked it up and what is the best thing about this Dessert besides being a delicious, chocolatey, decadent wonderful dessert? You get to eat it warm.
And what's even better is when you top this Pudding Cake with some thick creamy whipped cream or even a big scoop of Vanilla Ice Cream. My daughter loved it and so did I.
One Pan Chocolate Pudding Cake
Desserts like this bring back good memories of when I was a kid and sometimes a vintage recipe is all you need. Especially if it's chocolate. Her father is still waiting for his fruit dessert. Enjoy!
Print Recipe
One Pan Chocolate Pudding Cake
One Pan Chocolate Pudding Cake, a fast and easy Chocolate Dessert Recipe. So yummy, eat warm with a little ice cream.
Ingredients
3/4

cup

flour

2/3

cup

white sugar

1/2

cup

cocoa powder sifted (divided)

1 1/2

teaspoons

baking powder

1/2

teaspoon

salt

1/2

cup

milk

3

tablespoons

vegetable oil

2/3

cup

brown sugar

1/4

cup

mini dark chocolate chips

1

teaspoon

vanilla

1 1/4

cups

very hot water
Instructions
Pre-heat oven to 350°F (180°C) In a 8x8 inch square cake pan, stir together flour, white sugar, 1/4 cup cocoa, baking powder and salt. Add milk and oil and mix well.Sprinkle on top first brown sugar, then cocoa (remaining 1/4 cup), then chocolate chips.In a medium bowl add vanilla to the hot water and 1. Pour directly over mixture without stirring (this gives it more pudding) OR 2. Stir the mixture and then pour the hot water over.Do not stir the hot water into the mixture, it must sit on top.Bake for approximately 30 minutes, just until the sides start to pull away from the pan and the top starts to crack slightly, the middle will be a little jiggly. Enjoy!
Nutrition
Calories:
368
kcal
|
Carbohydrates:
68
g
|
Protein:
4
g
|
Fat:
11
g
|
Saturated Fat:
8
g
|
Cholesterol:
2
mg
|
Sodium:
220
mg
|
Potassium:
333
mg
|
Fiber:
3
g
|
Sugar:
49
g
|
Vitamin A:
0.7
%
|
Calcium:
12.1
%
|
Iron:
11.5
%