This Strawberry Chocolate Cake is so easy and moist. Nothing better than the combination of chocolate and strawberries.
Simple which means it is perfect on it's own or fancy it up with a dollop of whipped cream.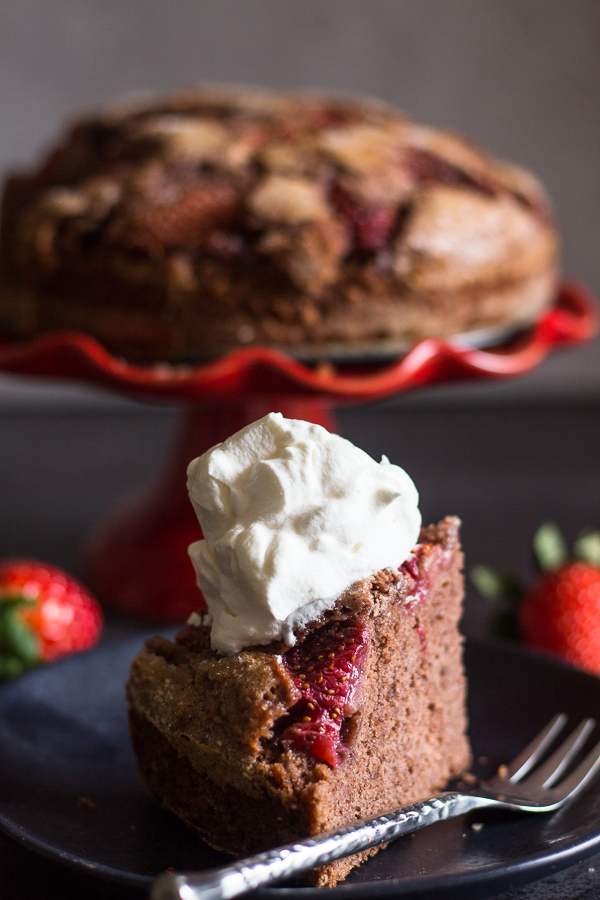 I think I probably made this cake for my daughter and the Italian, their love for strawberries has no bounds.
Especially my daughter, no strawberry is safe in this house, especially Chocolate Cake made with strawberries!
More Strawberry Dessert Recipes you may enjoy!
Strawberry Cream Cheese Strudel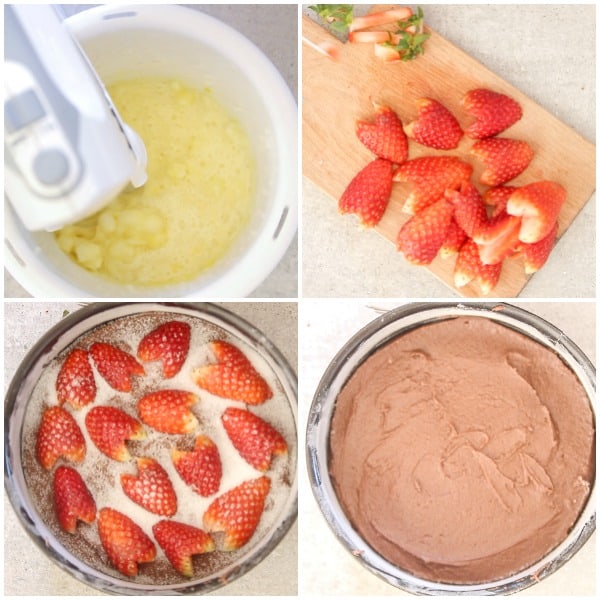 I actually found this cake recipe on Martha Stewart's site, I liked the sound of the Strawberry Cake Recipe. And I thought it would be perfect as a Valentine's Day Recipe.
Although I did change a few things.
I used cake flour instead of all purpose because I like how cake flour adds a softness to cakes.
I used salted butter instead of unsalted because I can never find unsalted here in Italy, so I cut back on the added salt.
I added cocoa to make it a chocolate cake because as my daughter said "If it's Valentine's Day it's got to be Chocolate and Strawberries".
I used less strawberries although they were enough to fill the top of the cake.
I changed the cake pan size to 8 inches because I wanted a higher cake.
And of course I topped it off with a little Chantilly Cream.
Strawberry Chocolate Cake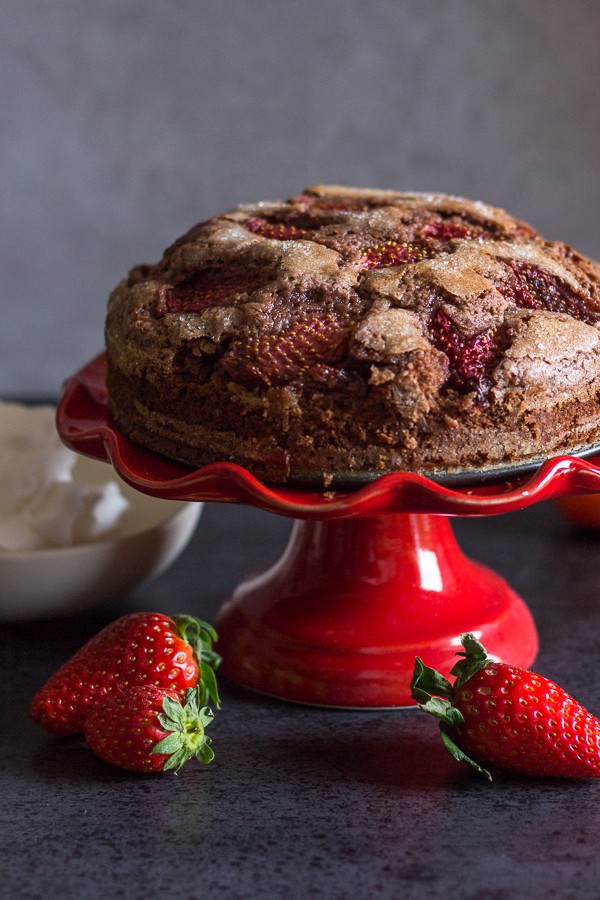 If you are like me and not the greatest cake decorator although everyone knows how hard I try! Then this is the cake for you.
I always seem to imagine something a little different then it turns out. For example I cut the strawberries into hearts thinking it was going to look amazing!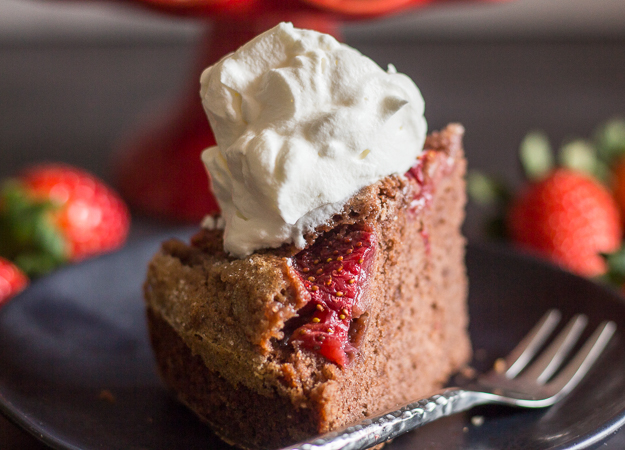 All I can say it, it's a darn good thing it tastes so amazing.
So if you are looking for a simple, easy and moist Chocolate Cake with Strawberries, then this is it. Add a little Chantilly cream and  make it extra special! Enjoy!
Easy Strawberry Chocolate Cake
This Strawberry Chocolate Cake is so easy and moist. Nothing better than the combination of chocolate and strawberries.
Ingredients
CHOCOLATE CAKE
1 1/2

cups

cake flour

1 1/2

teaspoons

baking powder

pinch

salt

2

tablespoons

unsweetened cocoa

6

tablespoons

butter

1

cup

sugar

1

egg

(large)

1

teaspoon

vanilla

(optional)

1/2

cup

milk

(I used 2%)

1/2

pound

strawberries

(hulled & cut in half)
CHANTILLY CREAM
1

cup

whole / whipping cream

1/2

teaspoon

vanilla

2

tablespoons

sifted icing / powdered sugar
Instructions
Pre-heat oven to 350°F (180°C), grease and flour an 8 inch springform pan.
CHOCOLATE CAKE
In a medium bowl whisk together flour, baking powder, salt and cocoa.

In a medium bowl beat until light and fluffy the butter and sugar, approximately 5 minutes, reduce speed to medium low and add the egg, milk and vanilla beat to combine.

Gradually add the dry ingredients and beat to combine.

Spoon into prepared cake pan. Place cut strawberries on top and sprinkle with 1 - 1 1/2 tablespoons of sugar. Bake for 10 minutes, then reduce heat to 325°F (160°C) and bake for approximately one hour. Let cool completely before serving. Serve with Chantilly Cream and fresh strawberries if desired. Enjoy.
CHANTILLY CREAM
In a medium bowl beat cream until soft peaks appear, then add the vanilla and sifted sugar, beat until stiff.
Nutrition
Calories:
399
kcal
Carbohydrates:
48
g
Protein:
5
g
Fat:
21
g
Saturated Fat:
12
g
Cholesterol:
85
mg
Sodium:
102
mg
Potassium:
211
mg
Fiber:
1
g
Sugar:
29
g
Vitamin A:
755
IU
Vitamin C:
16.8
mg
Calcium:
84
mg
Iron:
0.7
mg