The Perfect fast and easy breakfast, Homemade No Pectin Strawberry Jam is so delicious especially when you top one of these yummy Best Biscuits. Try it for Breakfast some time or even snack.

Today I am doing something different, I am posting on Saturday instead of Sunday because tomorrow I will be up (as my father used to say) at the crack of dawn.
I am embarrassed to admit that after living in the Eternal City for over 20 years I will be visiting the Vatican Museum for the first time.
Off to see Michelangelo's masterpiece, or one of his masterpieces, the Sistine Chapel and it doesn't end there, then we are off to an Exhibition presented by Louis Vuitton, since my eldest daughter the journalist, who blogs over at What Erika Wears loves fashion.
Since it will be a get up early, really early Sunday we won't have much time to worry about breakfast. I thought I should have a fast, less dishes as possible, almost on-the-go-breakfast recipe ready to go.
That's where this Homemade No-Pectin Strawberry Jam comes in. It can be made a day or two before. Be sure to keep the jam in the fridge and I put the best biscuits in a plastic bag and they'll keep 3 or 4 days, if they last that long!
If you prefer no butter biscuits take a look at these simple biscuits. My Mother-in-law would make a no pectin jam recipe with plums from her garden tree, so I decided to just substitute the strawberries for plums and of course cut out half the sugar.
Gosh was her jam sweet, too sweet for my liking.
So now I ask myself is there anything better with jam than a buttery biscuit? I didn't think so. If you are on the run or just because it's strawberry season this Homemade No Pectin Strawberry Jam and Best Biscuits is so worth it.
What are the ingredients for No Pectin Strawberry Jam
Strawberries
Sugar
Lemon Juice
And remember don't let anyone tell you that jam without pectin won't thicken, not true at all. Might take a little bit more time, but definitely worth it! And don't forget to serve the Strawberry Jam with some Biscuits. Enjoy!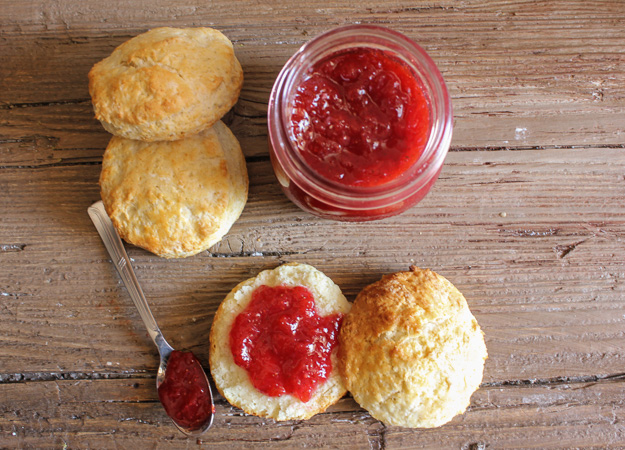 Homemade No Pectin Strawberry Jam and Best Biscuits
Homemade No Pectin Strawberry Jam and Best Biscuits, easy strawberry jam without pectin,and a fast and easy buttery biscuits recipe.
Ingredients
FOR THE STRAWBERRY JAM

1

pound

fresh strawberries cleaned sliced and mashed,

1/2 kilo

1 1/4

cups

sugar

250 grams

juice of 1/2 lemon

FOR THE BEST BISCUITS

1 3/4

cups

flour

200 grams

2

tablespoons

sugar

25 grams

1

tablespoon

baking powder

13 grams

3

tablespoons

butter

45 grams

3/4

cup

2% milk

180 ml
Instructions
STRAWBERRY JAM

In a medium-sized pot, add mashed strawberries, sugar and lemon juice, on medium heat bring to a boil, continue boiling on a low boil, stirring often(while the mixture was cooking I mashed it again) until mixture arrives at 210° on a candy thermometer and has thickened, this should occur after approximately 30 minutes. Move to a clean jar and let cool.

BEST BISCUITS

Pre-heat oven to 400° (200° celsius), lightly grease a cookie sheet.

In a large bowl whisk together flour, sugar, baking powder, using a pastry blender cut in butter until mixture is crumbly, with a fork stir in milk until dough starts to come together.

On a lightly floured surface gently knead dough a few times. Pat out dough until it is approximately 1/2 inch (1.2 centimeters) thick, cut out with a round (2 1/2 inch (4 1/2 centimeters)

cutter. Place on prepared cookie sheet, brush tops of dough with milk and bake for approximately 12-15 minutes or until golden. Serve with Homemade No Pectin jam. Enjoy!
Nutrition
Homemade No Pectin Strawberry Jam

"Let food be thy medicine and medicine be thy food" Hippocrates
Updated from May 30, 2015.