Homemade Cherry Jam is a wonderful way to use fresh cherries when they're in season. For this recipe you don't need any added pectin – the natural pectin from the fruit thickens the jam. It's so easy to make – Just three ingredients and you'll have a delicious batch of cherry jam!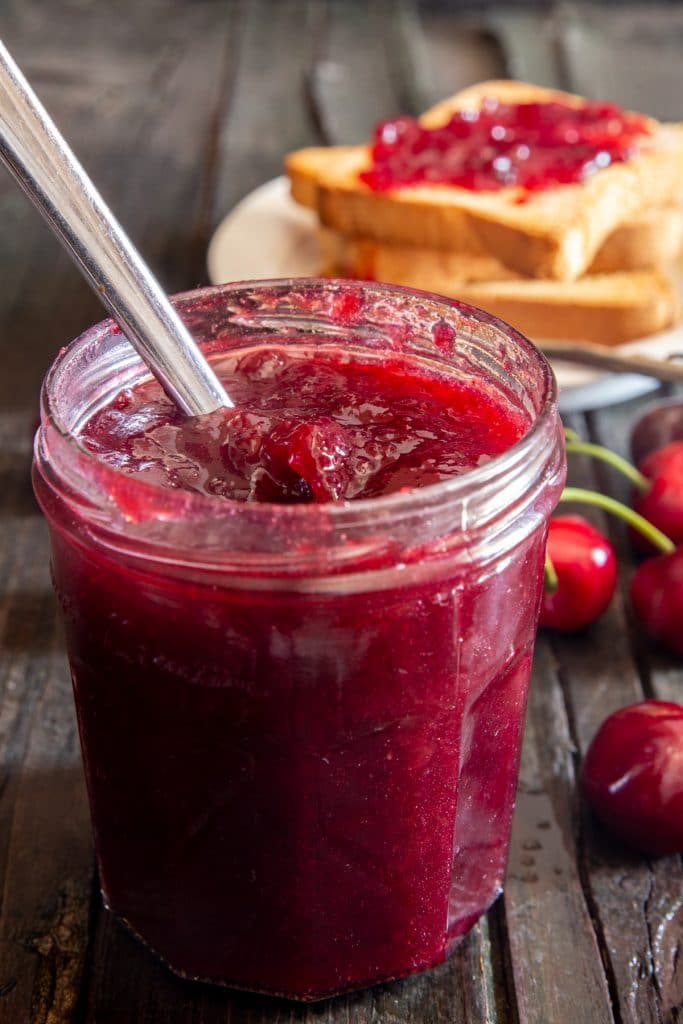 Cherries are in season for such a short time so I always make sure to get a bunch of them before they disappear. This cherry jam recipe is an easy way to to use them – the hardest part is not eating all of the cherries before you make it!
This isn't my only cherry recipe, I love to use them to make cakes, pies, and even blondies. But, this cherry jam is so easy, that I always find time to make a quick batch.
If you've never made homemade jam, you will love this recipe. Cherries have enough natural pectin so you don't need any added pectin for this – just three simple ingredients and you're ready to go.
You can make a batch to enjoy for a couple of weeks or can the jam to store for later. Either way, there's nothing better than a taste of jam made with fresh cherries.
Ingredients
Pitted cherries cut in half
Granulated sugar – if you have fine sugar that works even better
Lemon juice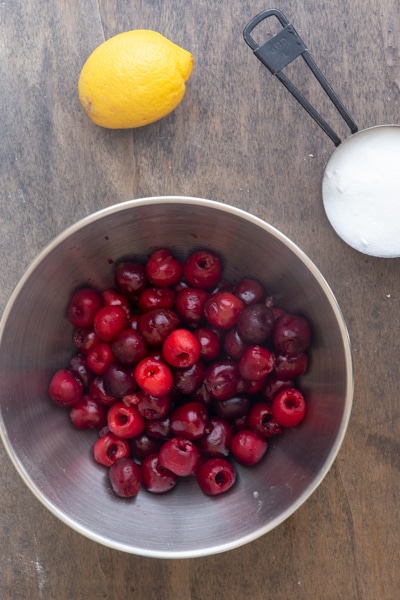 How to Make It
Combine the cherries, sugar, and lemon juice in a large pot. Let the mixture site for one to two hours.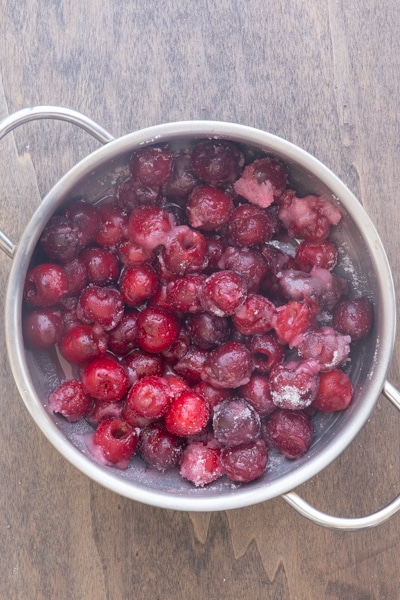 After it's sat, heat the pot over low to medium heat and cook the cherry mixture for 45 to 60 minutes stirring often.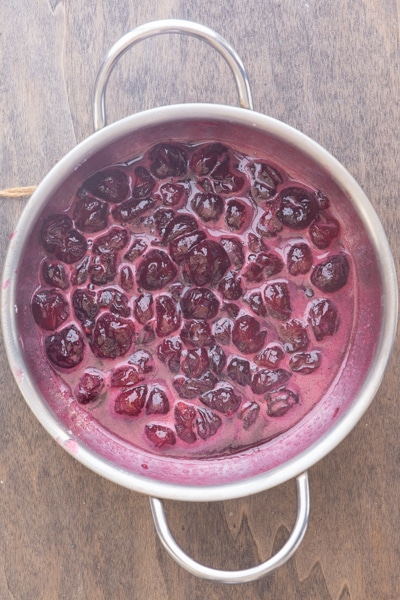 Once the jam is thickened, it's ready. You can test this by spoon a small amount of the jam onto a small plate. If the jam runs down the plate when you tilt it, cook it a little longer until it's thickened.
If you want a smooth jam, blend the mixture with an immersion blender. Or you can leave it chunky.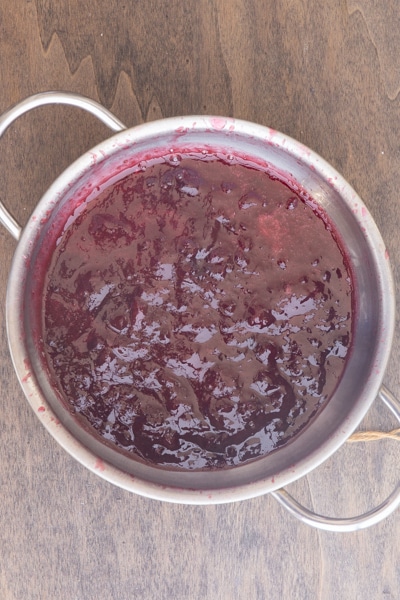 Ladle the jam into jars leaving 1/4″ of space at the top. Secure the lids and then store the jam in the refrigerator.
What to Serve It With
Now for the fun part – eating it! Here are a few delicious things I love with this cherry jam:
How do you pit cherries easily?
The easiest way is with a cherry pitter. Or, you can use a chopstick, metal straw, or even a piping tip to pit your cherries. Remove the stem and then push the chopstick into the cherry where the stem was. Push the pit out of the cherry.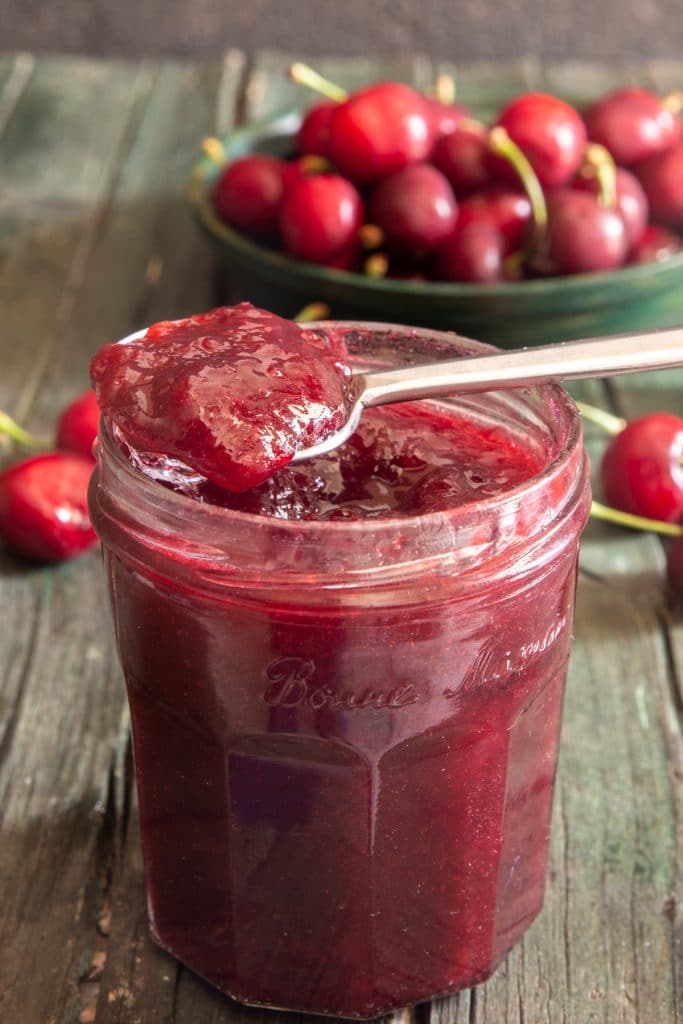 What cherries are best for jam?
Bing cherries and black cherries are great for jam.
How should you store it?
Homemade cherry jam will keep in the refrigerator for up to two weeks.
Or, if you want to can cherry jam it will keep well for 10 to 12 months! You will need canning jars and then follow the steps for sterilizing them.
Can you freeze jam?
Yes, you can freeze jam if you want to store it longer. You can store the jam in freezer bags (be sure to squeeze out the air) or in jars. If you use jars be sure to leave space at the top because the jam will expand when it freezes. It will keep for up to 3 months in the freezer.
I love to call this Very Cherry Cherry Jam because it's all about the sweet and tart fresh cherries. Make a batch and spread it on anything that would be delicious with a spoonful of delicious homemade jam. Enjoy!
This post may contain affiliate links. Please read my disclosure policy.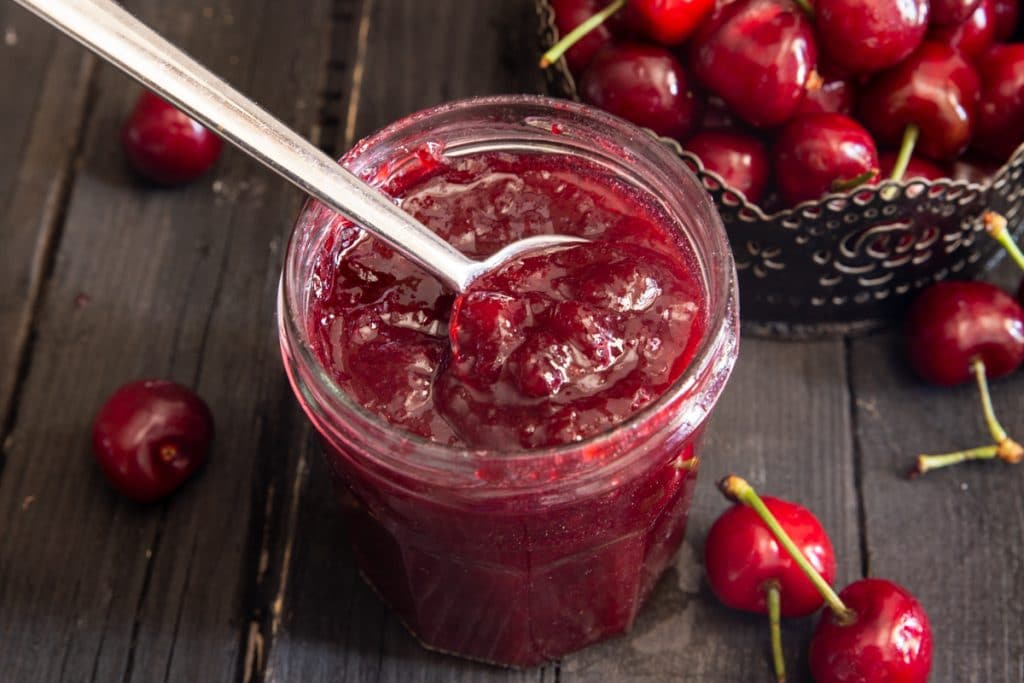 More Jam Recipes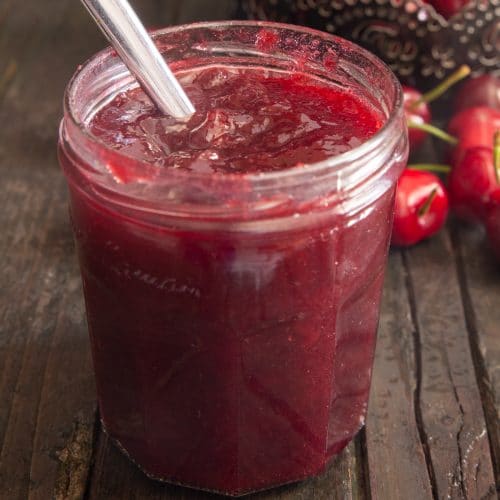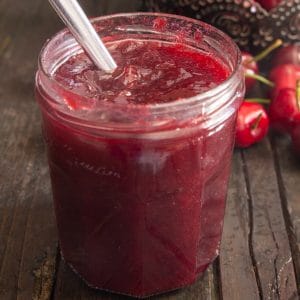 Very Cherry Cherry Jam
Easy Homemade Cherry Jam made with just three ingredients! This jam recipe is a great way to use fresh cherries when they're in season.
Ingredients
1

pound

pitted cherries

¾

cup

granulated sugar

juice ½ lemon
Instructions
Cut the pitted washed cherries in half.

In a medium/large pot add the cherries, sugar and lemon juice, stir to combine. Let sit for 1-2 hours.

Cook on low/medium heat uncovered, stirring often for 45-60 minutes. If you prefer a smoother jam, blend part or all the jam with either a hand blender or machine blender. If still watery then continue to cook until thickened. Check for doneness by placing a 1/2 teaspoon of jam on a plate, tilting it should be thick and not run quickly down the plate.

Pour the jam into a clean glass jar leaving ¼ inch boarder, close tightly and let cool, then refrigerate. Enjoy!
Notes
If you make double the amount and wish to jar it then be sure to sterlize the jars.  If sterilized the jars should be kept in a dry cool area, it will keep for up to 10-12 months.
If making for consumption, then it should be stored in the fridge and eaten within 12-14 days.