Homemade No Pectin Apricot Jam
All you need are fresh apricots, lemon juice and sugar to make a delicious Homemade Apricot Jam. And No Pectin needed.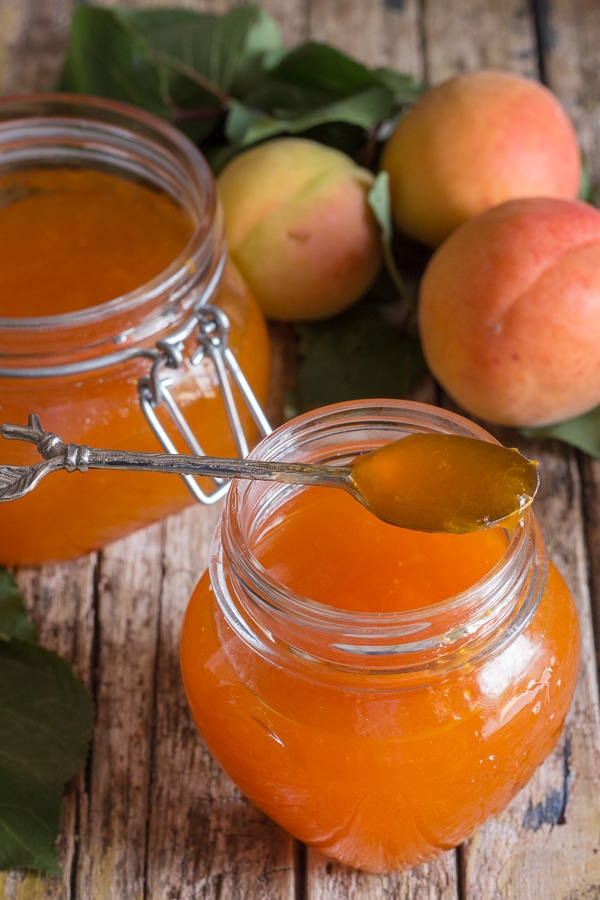 If there is one thing that the Italian is good at growing, it's Apricots. Our tree every year is absolutely full. There are enough apricots for everybody, birds included. And this year they were perfect, not a blemish and huge.
Too bad our Lemons weren't half as good, who am I kidding, if the darn tree would just grow we would be off to a good start.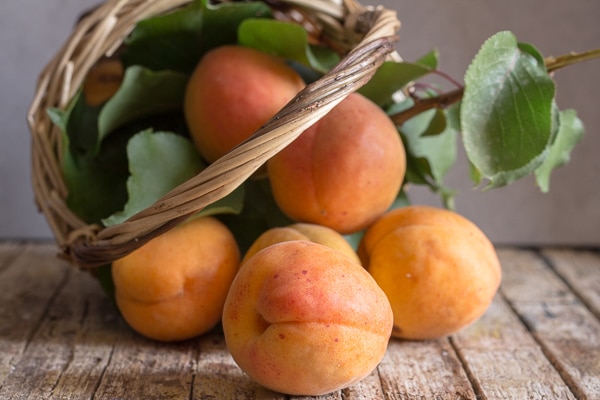 I actually decided to make this as a freezer jam. The Jam will fill about a couple of jars (around 2 1/4 cups). So with one jar I used almost all of it to make a dessert, the rest of the jar was so good on my homemade tea biscuits and the remaining jar I froze.
When choosing your apricots for jam try to pick ones that are less blemished, this will cause less foam to form (see photo #4)
And besides with freezer jam, there is no need to sterilize any jars! Which is always a good thing.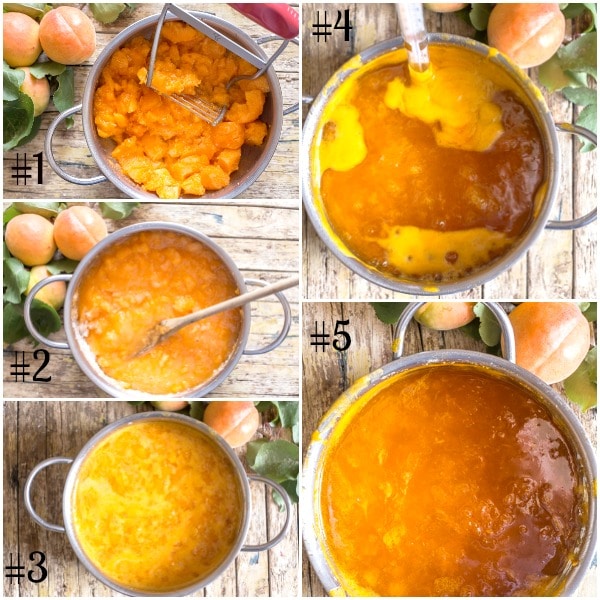 Why add Lemon Juice to No Pectin Jam
The acidity in Lemon Juice works with the sugar to jell the natural pectin in the fruit.
And an added bonus it helps prevent the growth of bacteria.
Although apricots are low in pectin and the jam does not come out as thick as it did with my No Pectin Strawberry Jam I still decided I wanted it to be as natural as possible and that meant no added pectin.
How to store it
If you are consuming the Jam immediately then left overs need to be stored in the refrigerator. In the fridge it will last for up to one week.
If storing in the freezer it will keep for up to one year. Be sure to store it in an airtight freezer safe container or jar.
Or, if you want to can the jam, it will keep well for 10 to 12 months in a cool dry place! You will need canning jars and then follow the steps for below steps or check out this site for sterilizing them.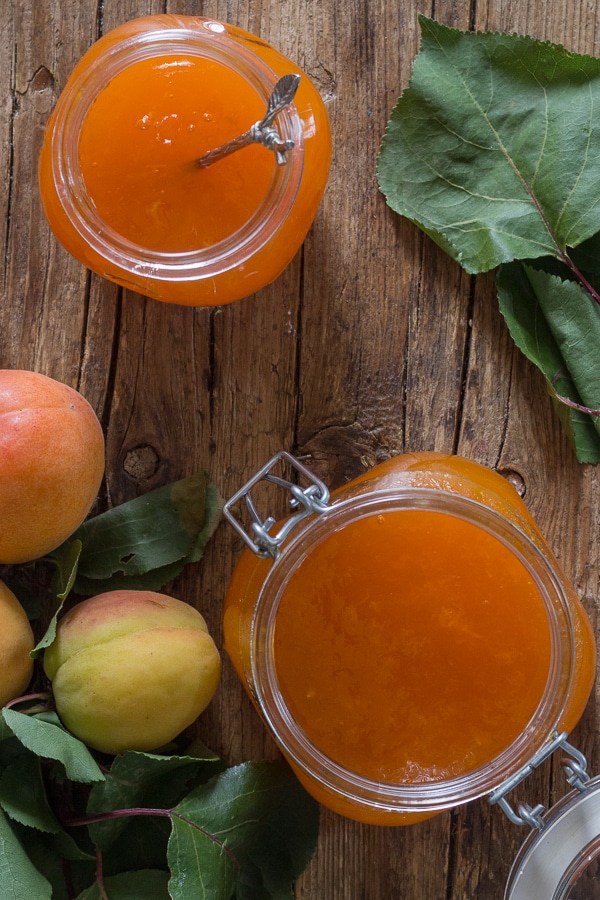 How to sterilize jars
I prefer to use the boiling water method – Wash the jars with hot soapy water before sterilizing. Make sure they are completely clean. Place the jars and lids upright in a large pot.
Fill the pot with water, make sure the water covers the jars by an inch (2.5 cm). Bring the water to a full, strong boil and continue to boil for at least 10 minutes. 
Remove the jars and lids from the hot water bath (tongs work best) and place them on a couple of paper towels to dry. Make sure the sterilized jars do not come in contact with anything but the paper towels.
You could also sterilize the jars in your dishwasher on the hot water cycle if you prefer.
Be sure to fill the jars, when they and the jam are both still warm. Adding hot food to cold jars or cold food to hot jars will cause the jars to crack or shatter.
Be sure to leave about 1⁄4 inch of space at the top of each jar, this helps create a vacuum seal when closing the jar.
Not only is homemade Jam easy it is also delicious and there are so many things you can do with a jar of Jam.
Spread it on some toast, muffin or homemade scone or tea biscuit.
One of my favourites, bake some brie! Spread some jam on top and bake. Then all you have to do is grab some crackers and dig in.
Top a creamy dessert or ice cream with a spoonful or two.
Bake a Crostata.
Having pancakes for breakfast? Top them with some Apricot Jam instead of syrup!
Make some crepes and spread them with some jam and roll them up.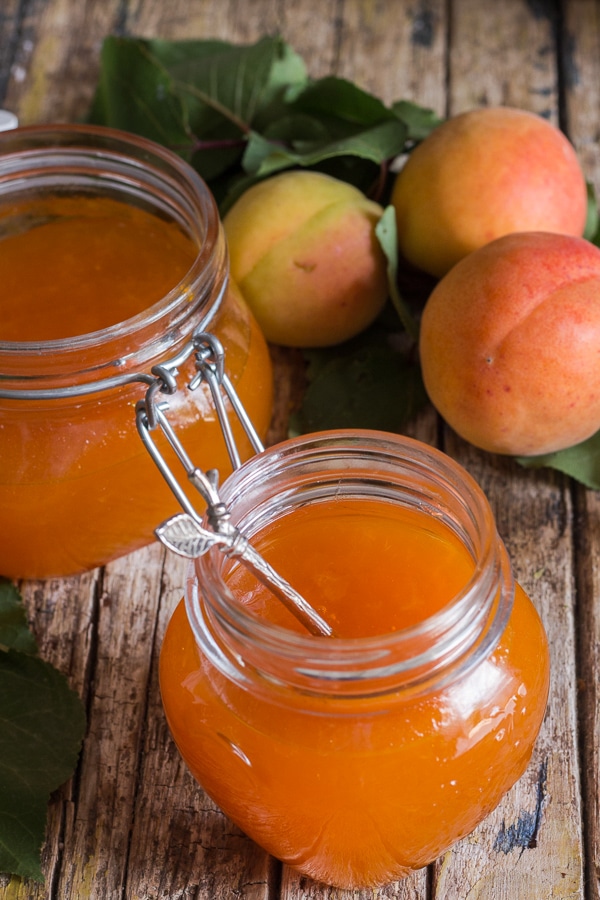 More Delicious No Pectin Jams you may enjoy!
What ever you decide to do with your Homemade Apricot Jam I do hope you enjoy it!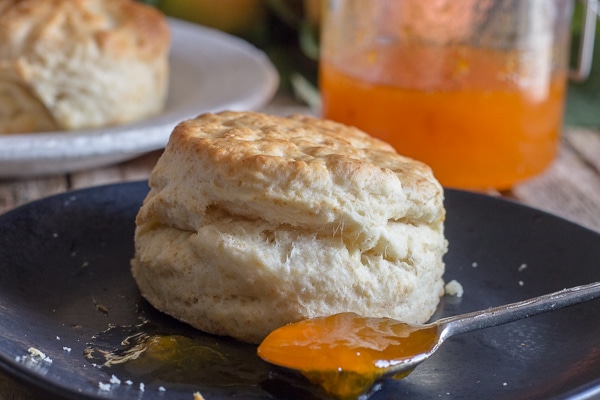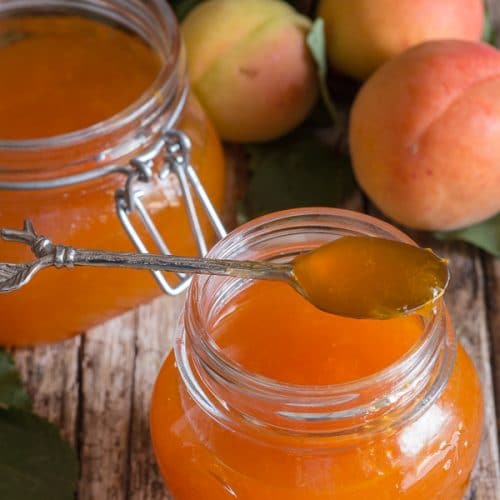 Homemade No Pectin Apricot Jam
All you need are fresh apricots, lemon juice and sugar to make a delicious Homemade Apricot Jam. And No Pectin needed.
Ingredients
2

pounds

apricots (approximately 6 cups sliced)

(ripe)

2 1/4

cups

sugar

1 1/2

tablespoons

lemon juice
Instructions
Peel and pit the apricots, then slice them, place in a medium sized pot and mash with a potato masher.

Then add the sugar and lemon juice. Place the pot on medium low heat, place candy thermometer in the pot and continue to cook until temperature reaches 220 F (104C) (should take about 20-25 minutes).

Remove the jam from the heat and spoon off the foam that appears on the top.

Pour jam** into clean jars, (no need to be sterilized if you are freezing the jam), leaving 1/2″ (1 centimeter) of space on the top, then close with a tight fitting lid.

Let the jam sit 12-24 hours before freezing.

Once the jars are open they can be refrigerated 3-4 days.

**The jam is going to be liquidy when you pour it into the jars but it will thicken when it sets.
Nutrition
Calories:
1090
kcal
|
Carbohydrates:
276
g
|
Protein:
6
g
|
Fat:
1
g
|
Sodium:
6
mg
|
Potassium:
1174
mg
|
Fiber:
9
g
|
Sugar:
266
g
|
Vitamin A:
8735
IU
|
Vitamin C:
49.7
mg
|
Calcium:
59
mg
|
Iron:
1.9
mg
Did You Make This Recipe?
Please leave a comment below or pin it to your Pinterest account!