A No Knead Bread that is fast, easy and delicious.  No 18 hour rising time, just 2 hours and baked to perfection.  Fresh Homemade Bread just in time for dinner.
No-Knead Bread Recipe
Sometimes you just want fresh bread out of the oven especially on the weekend.  And yup that was me this past weekend.  And I wanted the least amount of work possible.
I found quite a few of these amazing bread recipes, but I wanted it for lunch not for Monday morning breakfast.
Be sure to Watch the Video!
So you know that NYT's No Knead Bread that takes 12-16 to rest and then you bake it?  Well this isn't it!  This is better.
Looking further I found an Italian Food Blogger,  Misya, who made a No Knead Bread Recipe with the resting time of 1 1/2 hours!  I knew I had to try it.  And try it I did, 3x already!
I have been reading up on this no knead bread for awhile now and I always thought it was interesting and worth trying.  Everytime I went shopping I kept thinking I had to buy a dutch oven.
But I never did.  And for this bread recipe you don't even need one, a plain ordinary cookie sheet is all you need!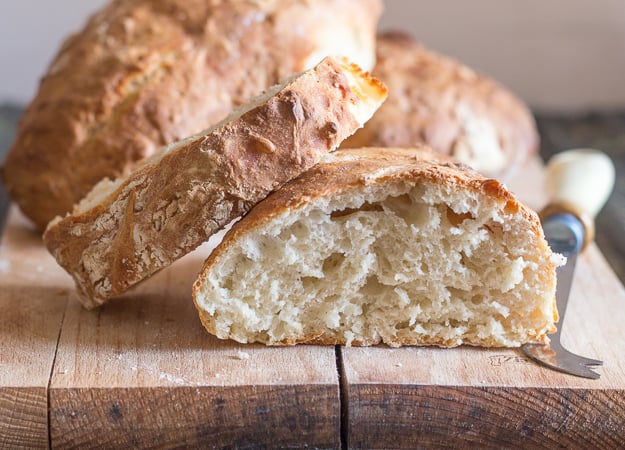 I will be honest and say I have no idea why it works (maybe the high temperature?) but it does, and it is so good.  This recipe makes 3 small loaves and let me tell you nothing like Homemade Bread warm from the oven.
The first time I made this recipe I made two loaves, but to be honest,  three loaves baked better.
And look at that crust!
More Delicious Yeast Breads you may enjoy!
Homemade Bagels Montreal Style
Homemade Mediterranean Black Olive Bread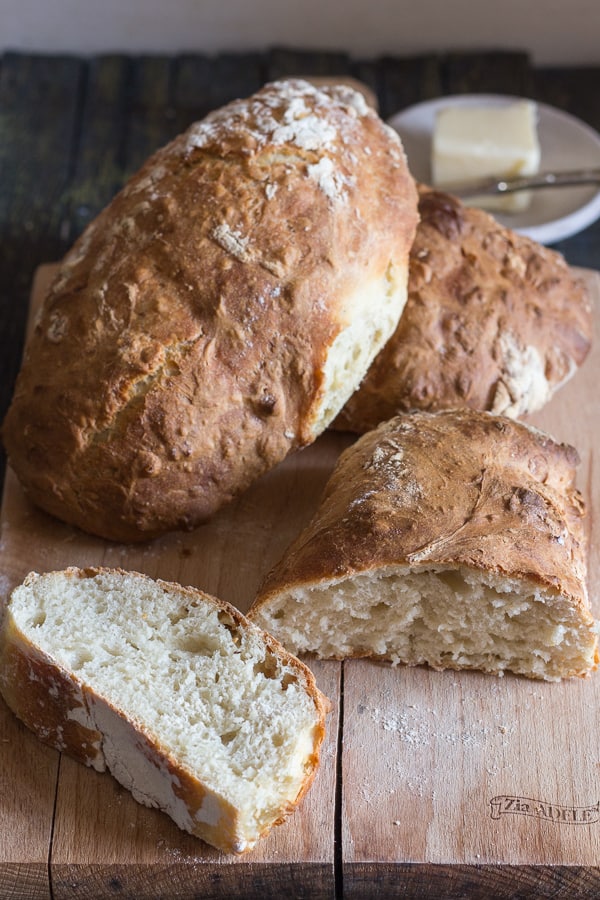 How to make No Knead Bread the fast way.
In a small bowl let the yeast, 1/4 cup of the lukewarm water and honey sit for 5 minutes.
In a big bowl add the flour and make a well in the middle.
Add the yeast mixture, remaining lukewarm water and salt.
Stir it all together, then cover the mixture with a tablespoon of flour.
Cover the bowl and let it rest for 2 hours.
Move the mixture to a parchment paper lined cookie sheet, divide into 3 loaves and bake.
And there you have Easy No Knead Homemade Bread.
So if you do try it, you have to let me know how it turns out.  I am dying to know that it turned out for you too.  Enjoy!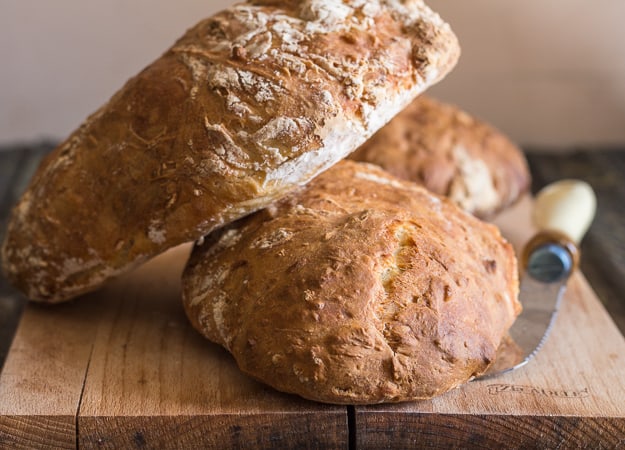 Fast and Easy No Knead Bread
A No Knead Bread that is fast, easy and delicious. No 18 hour rising time, just 2 hours and baked to perfection. Fresh Homemade Bread just in time for dinner.
Ingredients
3 1/4

cups

1 tablespoon all purpose flour

(500 grams)

1 1/2

cups

+ 3 tablespoons lukewarm water / divided

(400 grams)

1 3/4

teaspoons

active dry yeast

1 1/2

teaspoons

salt

1

teaspoon

honey
Instructions
In a small bowl add 1/4 cup (60 grams) of lukewarm water, 1 teaspoon of honey (I mixed these together then added the yeast) and yeast. Let sit 5 minutes then mix to combine.

In a large glass bowl add the flour, make a well in the centre and add the yeast mixture and remaining water (1 1/4 cups + 3 tablespoons / 340 grams), start to combine with a wooden spoon, then add the salt and combine well. Sprinkle the top with 1 tablespoon of flour.

Cover the bowl and place in a warm draft free area and let rest for 2 hours.

After 1 3/4 hours has passed pre-heat oven to 420° F (220°C). And line a large cookie sheet with parchment paper, sprinkled with flour.

With the help of a spatula transfer the dough (floured side up) onto the prepared sheet. Divide the dough into 3 parts, shape into logs approximately 2 inches apart. Bake for approximately 25-30 minutes. (Bread is done when tapped on the bottom and there is a hollow sound). Enjoy!
Notes
Be sure to watch the Video at the top of the post!
Nutrition
Calories:
522
kcal
|
Carbohydrates:
108
g
|
Protein:
16
g
|
Fat:
1
g
|
Sodium:
1169
mg
|
Potassium:
211
mg
|
Fiber:
5
g
|
Sugar:
2
g
|
Calcium:
2
%
|
Iron:
35.8
%