Creamy Strawberry Semifreddo,  made with fresh Strawberries, Cream and Greek Yogurt. A delicious Summertime No-Bake Dessert Recipe.
Strawberry Semifreddo
Who can resist Strawberry Season? Especially a light and easy Strawberry Semifreddo. To tell the truth I was never a lover of strawberries, but that was before I had my kids.
I couldn't stand strawberries, not the sight nor the taste.
Don't forget to watch the Video!
Then when I was pregnant, strawberries were all I could think of. So needless to say my kids love them. They are my youngest daughter's favourite fruit.
Once the season begins I am buying strawberries right until the end,  baking up a storm and of course freezing a bunch too!
But of course during the hot summer not baking is a good choice too! And this Semifreddo is the perfect no-bake. Which means half cold in English.
Some people insist this creamy dessert is even better than ice cream.
Another one of my sister-in-law's desserts, I made a few changes including switching from regular yogurt to my favourite Greek Yogurt, thicker and creamier in my opinion.
Strawberries abound in Italy. Trucks are everywhere selling them in baskets and boxes. Most years we even have a couple of planters full of them.
I think they are one of the best fruits to use in desserts and I know a lot of people love them in salads.
More Delicious fresh Strawberry Recipes
Strawberries and Cream Cupcakes
Homemade Strawberry Liqueur Two Ways
Creamy Strawberry Semifreddo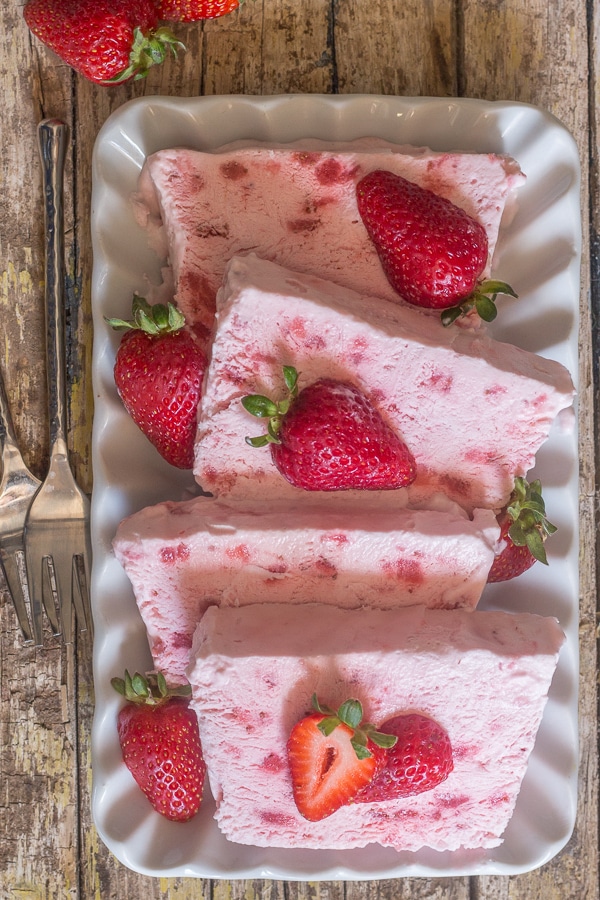 I have made a No Pectin Jam, a Delicious Pie just to name a couple and now I can add a Strawberry Semifreddo to my list.
How to make a Semifreddo
made with whipped cream
greek yogurt
a delicious cooked fresh strawberry sauce
And the best thing … it doesn't have to sit in the freezer over night, 3-4 hours is good enough to firm it up. Because you want it to remain creamy.
So when you are looking for something a little different from Ice Cream and you have all those beautiful sweet Strawberries hanging around, give this Creamy Strawberry Semifreddo a try and let me know what you think. Enjoy!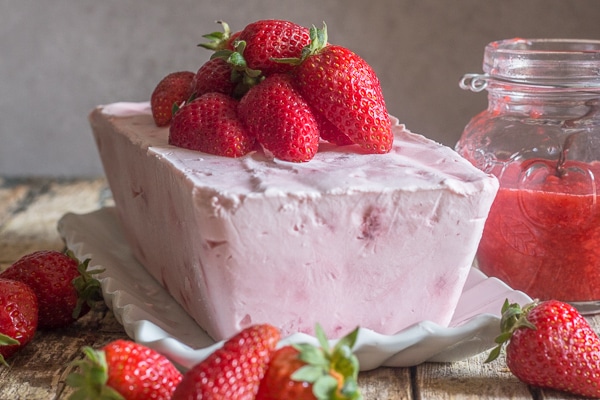 Creamy Strawberry Semifreddo
A fast and easy no-bake dessert, Creamy Strawberry Semifreddo. Made with greek yogurt, cream and strawberries. A Perfect summertime recipe.
Follow me on Youtube!
Watch the videos and don't forget to subscribe on Youtube!
Ingredients
SEMIFREDDO
1 1/2

cups

cream whole/whipping cream

300 grams

1/2

cup

greek yogurt

125 grams

1/2

teaspoon

vanilla
STRAWBERRY SAUCE #1
1/3

cup

sugar

85 grams

10 1/2

ounces

fresh strawberries chopped

300 grams

1

teaspoon

lemon juice
STRAWBERRY SAUCE #2 TOPPING
7

ounces

fresh strawberries chopped

200 grams

1 1/2

tablespoons

powdered/icing sugar

7.80 grams

1

teaspoon

lemon juice
Instructions
Line an 8 x 4 inch (21 x 10 centimeters) loaf pan with plastic or use a silicone loaf pan**
STRAWBERRY SAUCE #1
In a small pot add strawberries, sugar and lemon juice bring to a boil, squishing with a potato masher, cook 3-5 minutes stirring constantly, remove to a clean bowl and let cool and then refrigerate until cold (I placed mine in the freezer for 10 minutes).
SEMIFREDDO
Meanwhile in a medium bowl whip the cream until stiff, fold in yogurt and vanilla then gently fold in cold strawberry sauce. Pour into loaf pan, cover with plastic wrap and let freeze at least 2 hours.
STRAWBERRY SAUCE #2 TOPPING
In a blender add cut up strawberries, lemon juice and blend until smooth. Pour into a small pot add sugar and cook on low for approximately 5 minutes or until thickened. Let cool and serve if desired over semifreddo. Enjoy!

** If using a silicone loaf pan place it in a larger firmer pan, silicone doesn't hold together very well. Great for peeling out the dessert though.
Nutrition
Calories:
293
kcal
|
Carbohydrates:
21
g
|
Protein:
3
g
|
Fat:
22
g
|
Saturated Fat:
13
g
|
Cholesterol:
82
mg
|
Sodium:
29
mg
|
Potassium:
194
mg
|
Fiber:
1
g
|
Sugar:
17
g
|
Vitamin A:
875
IU
|
Vitamin C:
49.6
mg
|
Calcium:
70
mg
|
Iron:
0.3
mg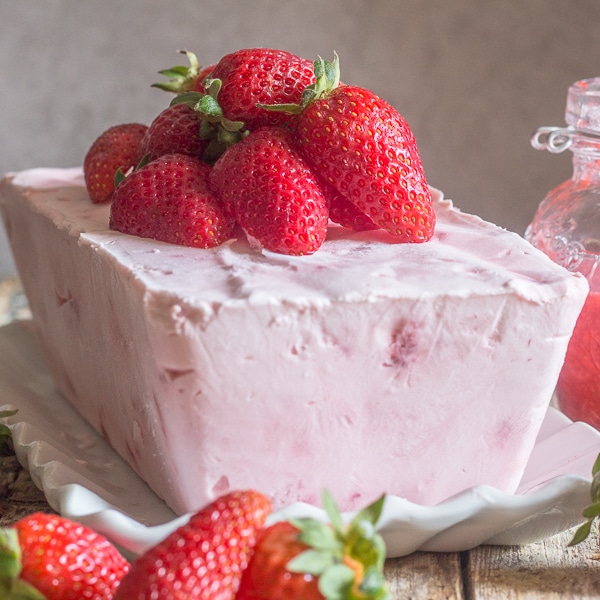 Updated from April 22, 2016.