No Bake Mixed Berry Cheesecake, this cheesecake recipe is the Best, it will become your favourite no bake dessert. Fast and easy. Creamy and so delicious with an easy Raspberry and Blueberry topping.
No Bake Cheesecake
Anytime I that I have made a Cheesecake I always made a baked one. I guess I had this dumb brain issue that unless it was baked it couldn't be that good.
Sort of like my issues with No Churn Ice Cream, and we all know how that is going. I just can't stop making the Stuff!
I came across this No Bake Cheesecake from a friend of mine and I decided to give it a go. I was in the supermarket and I saw a package with a mixture of half blueberries and half raspberries. So I bought them.
I am not a berry person, and never have been. But as a topping for a dessert, oh yeah I can do that.
So what did I do? That's right called my healthy-she-knows-her-berries daughter. My question was "So do raspberries and blueberries go good together"? "As in cooked together"?
She proceeded to tell me that they were an amazing combination, one of her favourites. So there you go, this No Bake Mixed Berry Cheesecake had a topping.
This post was written back on June 16, 2016 and since that time I think I have made this cheesecake more times than I can count. My Italian friends and family go crazy for this cheesecake.
Since I decided to make it yet again and this time update the post for it I decided to add a few blueberries to the mix. And yes they go really well too!
How to make a No Bake Cheesecake
Mix crumbs and melted butter and place in the bottom of pan and refrigerate.
Whip cream until stiff.
Beat together cream cheese, sugar and vanilla.
Fold cream cheese mixture into the whipped cream.
Place cheesecake mixture on top of crumb crust and refrigerate for at least 5 hours or even better over night.
Slice and top with Berry filling. Absolutely Delicious.
But seriously this is one of the best cheesecakes I have ever tasted and believe me I have tasted a few!! It is light and creamy and is the best No Bake Cheesecake ever! Try it and let me know.
No Bake Berry Cheesecake
Would you believe the Cheesecake filling has only 4 ingredients. Naturally I made a cookie base and I used digestive cookies instead of graham crumbs.
If you have never used digestive cookies before, give it a try and let me know. It's become my new No Bake crumb base. And that sauce, the mixture of Blueberries and Raspberries is so delicious. That was back in 2016 and now ….
I discovered that lady finger crumbs make an amazing base. Just place the cookies in a food processor or blender and grind them up. Something different for a change.
More Cheesecake Recipes you may Enjoy
Creamy Orange Cheesecake Tarts
Skor No Bake Cheesecake with Caramel Drizzle
Maple Caramel Apple Cheesecake
Skor Bits Vanilla Chocolate Cheesecake
It is the perfect topping for this No Bake Berry Cheesecake, I think it just might become your new summer favourite, it's become the Italian's new favourite dessert. Enjoy!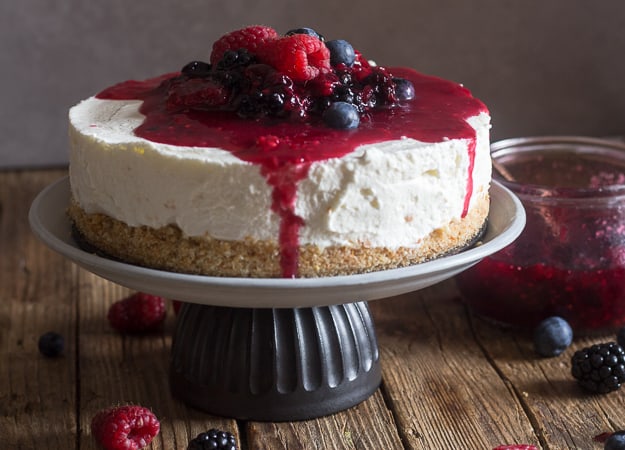 No Bake Mixed Berry Cheesecake
No Bake Mixed Berry Cheesecake is the best, creamiest cheesecake the blueberry, raspberry filling makes it your new favorite.
Ingredients
COOKIE BASE
1 1/2

cups

cookie crumbs

(graham cracker crumbs or digestive cookie or even lady finger crumbs)(180 grams

1/4

cup

butter melted

(55 grams)
CHEESECAKE FILLING
8

ounces

cream cheese (remove from fridge 30 minutes before using)

(250 grams)

3/4

cup

powdered/icing sugar

(85 grams)

3/4

teaspoon

vanilla

1

cup

whole/whipping cream

(240 ml)
BLUEBERRY/RASPBERRY TOPPING
1/2

cup

blueberries

1/2

cup

raspberries

1/4

cup

+ 2 tablespoons sugar

1/2

tablespoon

cornstarch

pinch cinnamon

if desired

2

tablespoons

water

1/2

tablespoon

lemon juice
Instructions
Place a glass bowl and beaters in the freezer for approximately 20 minutes before beating the cream.
COOKIE BASE
Mix graham cracker or cookie crumbs and melted butter, press down on the bottom of a 7 - 8 inch (17 - 20 centimeters) springform cake pan (or line a regular cake pan with plastic wrap). Place in refrigerator.
CHEESECAKE FILLING
Remove bowl and beaters from freezer, beat cream until thick peaks appear, set aside.

In a medium bowl beat together cream cheese, sugar and vanilla.

Fold cream cheese mixture into whipped cream until well combined. Remove cookie base from fridge, pour cheesecake filling on top of cookie base, cover with plastic wrap and refrigerate 4-5 hours or better over night.
BLUEBERRY/RASPBERRY TOPPING
In a medium pot mix together berries, sugar, cornstarch, cinnamon, water and lemon juice, bring to a boil then lower heat and simmer until desired thickness. Pour into a bowl, let cool then refrigerate for at least a few hours.

You can either top the cake with the Berry Topping or individual slices. Tastes great over ice cream too! Enjoy!
Notes
To make this cheesecake firmer I like to add some gelatine. 
If you do too, then follow the recipe as follows-
Beat cold cream until stiff peaks appear, set aside.

In a small pot add the 2 tablespoons of milk and sprinkle 1 tablespoon of gelatine on top, let stand one minute, then place the pot on low heat and heat just until the gelatine has dissolved (1-2 minutes), do not boil, then immediately remove from heat.

In a medium bowl beat together cream cheese, sugar and vanilla.

Add a couple of tablespoons of this mixture to the gelatine mixture and stir gently to combine, then fold the gelatine mixture into the bowl of the remaining cream cheese mixture.

In a medium bowl, beat the cold whipping / whole cream until soft peaks appear, then add the cream cheese mixture and beat just until combined.

 Remove the cookie base from the fridge, pour the cheesecake filling on top, then cover with plastic wrap and refrigerate 4-5 hours or better over night.

Before serving top with the fruit topping.
Nutrition