Easy Italian Blueberry Crostata, a fast and easy Italian Pie recipe, a homemade buttery crust with a Fresh Blueberry filling. A Blueberry Crostata is the perfect Dessert, Snack or even Breakfast treat.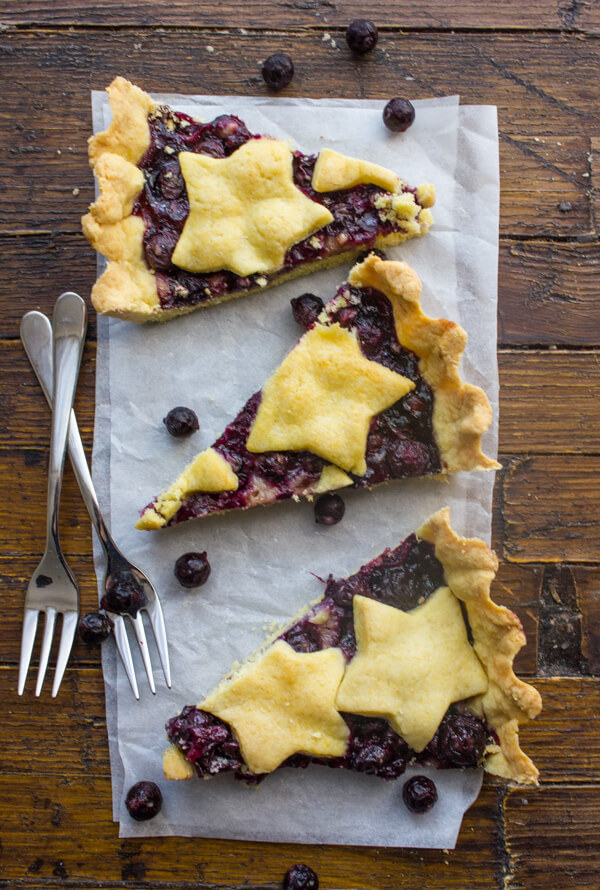 Ever since my arrival in Italy I have to say I have probably eaten more Crostate (Italian Pie) than any other Dessert, close second without a doubt is the much-loved and popular Tiramisu.
I have tried many different varieties and many different recipes. But the best one has to be my friend's mothers. I love the flakiness of the pie crust and the amazing taste.
What is the difference between an Italian Crostata and a North American Pie? To start the crust for a Crostata is made with flour, butter and eggs and of course a North American crust has no eggs and is usually made with just shortening or a combination of butter and shortening.
Most Italians when making a Crostata will use either a thin layer of Homemade Jam or a good quality Store bought. Most popular flavours are Strawberry or some type of Berry or of course the ever popular Nutella.
Easy Italian Blueberry Crostata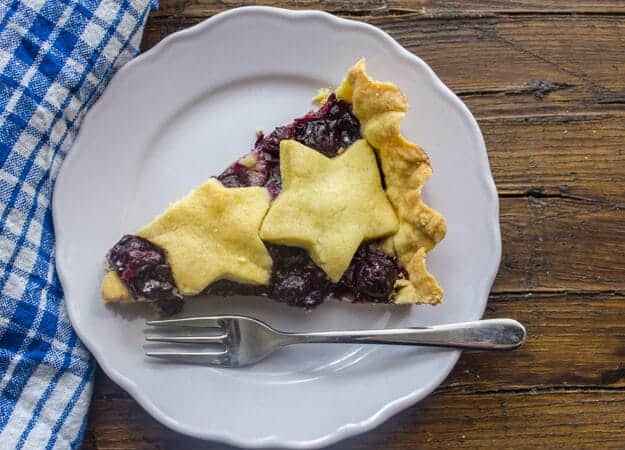 North American Pie fillings are usually made with fresh fruit and lots of it. And who can resist a nice big spoonful of Vanilla Ice Cream on top?
So of course I thought why not use both? A little jam and some fresh Blueberries for the filling in my Blueberry Crostata, and that is exactly what I did. I made my favourite Italian Pastry crust and added a thin layer of Blueberry Jam and then I topped it with a fresh Blueberry filling.
It ended up being a delicious fast and easy Italian Dessert Recipe, that is also yummy with an afternoon cup of Tea or Coffee or how about a slice for Breakfast? And why not it does contain fruit! Enjoy.
Easy Italian Blueberry Crostata
An Easy Italian Dessert Recipe, Blueberry Crostata made with a tasty fresh blueberry filling in a buttery flaky crust. Delicious.
Ingredients
CROSTATA DOUGH
1/2

teaspoon

salt

1 3/4

cups

flour

1/2

cup

sugar

1

teaspoon

baking powder

1

egg

(room temperature)

1

egg yolk

(room temperature)

1/2

cup

butter

(room temperature)
BLUEBERRY FILLING
1 1/2

cups

fresh blueberries

2 1/2

tablespoons

sugar

1

tablespoon

flour

1/4

teaspoon

cinnamon

1

teaspoon

lemon juice

pinch of salt
Instructions
CROSTATA DOUGH
In a large bowl whisk together salt, flour, sugar and baking powder, make a well in the centre and add egg, egg yolk and butter (cubed), mix together (you can also use a food processor, pulse until dough just starts to come together), remove dough to a flat surface and knead gently until the dough come together and is soft, wrap in plastic and refrigerate for 30 minutes.

Pre-heat oven to 350° lightly grease and flour a 10 inch pie pan.
BLUEBERRY FILLING
In a small to medium pot combine 1 cup of blueberries, sugar, flour, salt and cinnamon, bring to a boil over medium heat, cook stirring for approximately 2 minutes until thickened, remove from heat and stir in lemon juice and remaining 1/2 cup of blueberries, let cool.

Remove dough from fridge, roll 3/4 of the dough into 1/8 inch thickness to fill pie plate, the remaining dough roll and you can use a small cookie cutter to make cutouts or make strips for the top of the crostata.

Prick bottom of crust with a fork, spread the crust with a thin layer 2-4 tablespoons of Blueberry Jam, top with cooled blueberry filling, top with dough cut outs or strips. Brush the top of the crust (strips or cut outwith a little milk.

Bake for approximately 30 minutes, after 15-20 minutes you may have to cover around the top of pie crust as it tends to brown quickly. Let cool completely before serving. Enjoy!
Nutrition
Calories:
239
kcal
Carbohydrates:
33
g
Protein:
3
g
Fat:
10
g
Saturated Fat:
6
g
Cholesterol:
60
mg
Sodium:
205
mg
Potassium:
86
mg
Fiber:
1
g
Sugar:
15
g
Vitamin A:
345
IU
Vitamin C:
2.3
mg
Calcium:
29
mg
Iron:
1.3
mg