Lemon Crostata, a simple and easy Italian Dessert. Made with a flaky pie pastry and a delicious fresh lemon cream filling. This Italian Lemon Crostata is your perfect snack or dinner dessert recipe.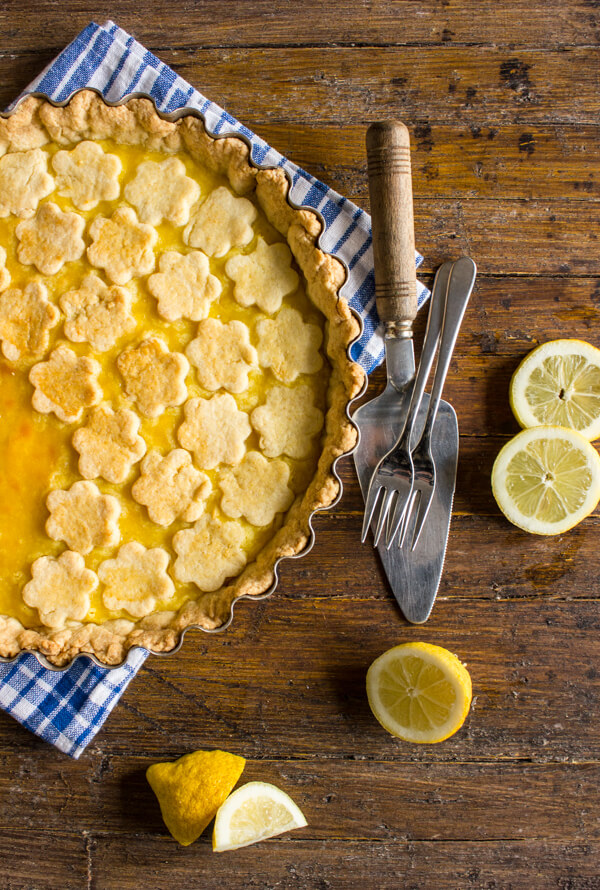 I wish I could say this Italian Lemon Crostata was made from lemons from my own tree, but unfortunately the Italian and I have absolutely no luck growing lemons.
Try as we might, nothing but, a couple of green leaves here or there and not a lemon in sight.After we got married we lived in my brother-in-law's house while we were building our own.
Well my husband who is a tree lover, decided to plant a couple of lemon trees. And that my friends began our no-lemons-for-us-curse!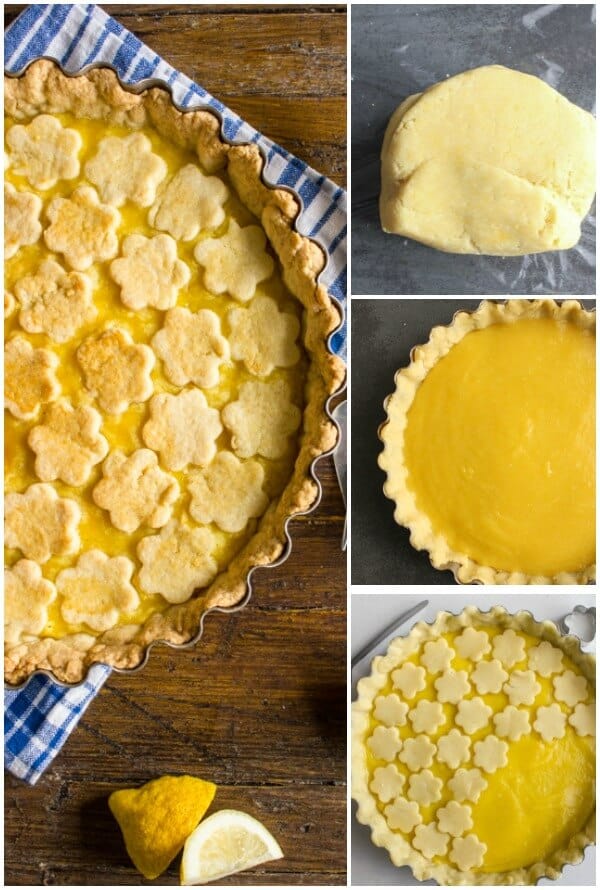 Six months after we moved to our new house, that darn lemon tree was producing more lemons than it was tall. I kid you not.
Needless to say lemons grow very well for most people in Italy, in fact I have a shopping bag full in my kitchen from our friends.
So what to do with home-grown lemons? You can always make lemonade but why not make this amazing, one-of-my-favorite-Italian-sweets: Italian Lemon Crostata.
A Crostata is quite often referred to as being similar to a pie. Not quite in my opinion, the dough of a Crostata is slightly richer and the filling is usually a jam filling, sometimes Nutella or Chocolate or in this case a Lemon Crostata. This filling is nice and lemony and creamy, made slowly stirred often until it thickens.
Italian Lemon Crostata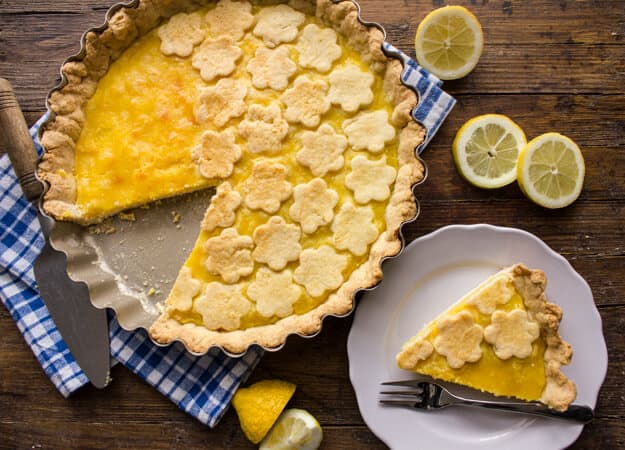 The other day a friend of my husbands came by for a visit and what did he bring with him? Yup two of his own just rooted baby lemon trees, those poor things have no idea what is in store for them.
Now don't get upset, the trees don't die they just don't produce. But I am telling you that is going to change, I hope! So thanks to our friends for this delicious Italian Lemon Crostata. Enjoy!
Italian Lemon Crostata
Italian Lemon Crostata, a simple and easy Italian Dessert. Made with a flaky pie pastry and a delicious fresh lemon cream filling. The perfect snack or dinner dessert recipe.
Ingredients
CROSTATA DOUGH
pinch

salt

1 3/4

cups

flour

1/2

cup

sugar

1

teaspoon

baking powder

1

egg

(room temperature)

1

egg yolk

(room temperature)

1/2

cup

+ 2 tablespoons butter

(room temperature)
LEMON FILLING
1

egg yolk

3

whole eggs

3/4

cup

sugar

2 3/4

tablespoons

butter

(melted and cooled)

zest of 1 lemon

juice from 2 lemons

(4 tablespoons)
Instructions
CROSTATA DOUGH

In a large bowl whisk together salt, flour, sugar and baking powder, make a well in the centre and add egg, egg yolk and butter (cubed), mix together (you can also use a food processor, pulse until dough just starts to come together), remove dough to a flat surface and knead until it becomes a soft dough, wrap in plastic and refrigerate for 30 minutes.

PRE-HEAT oven to 350° (180° celsius) lightly grease and flour a 10 inch (26 centimeter) pie pan.

Remove dough from fridge, roll 3/4 of the dough into 1/8 inch thickness to fill pie plate, the remaining dough roll and you can use a small cookie cutter to make cutouts or make strips for the top of the crostata.
LEMON FILLING
In a medium pot whisk together sugar, egg yolks, egg , lemon zest, lemon juice and cooled melted butter, place on low heat and heat whisking constantly until mixture thickens (this can take a while, so be patient and do not raise the heat) (should be thick enough to coat a spoon really well, once it starts to thicken it will thicken very quickly, so be careful not to burn).

Remove from heat, and fill prepared crostata dough, top with cutouts or strips, brush lightly with milk and bake for approximately 30 minutes, after 15-20 minutes you may have to cover around the top of pie crust as it tends to brown quickly. Let cool completely before serving. Enjoy!
Nutrition