It's already Easter, last time i checked it was Christmas.. I don't mind though because I really like Easter in Italy, it's really laid back, you don't have all the pressure of gifts and decorating, although I am known to go crazy decorating the house at Christmas.
Since there is little  need for gifts or decorating  let's get right to the food. And needless to say Easter in Italy  is all about food (as if in this country any other day isn't). Lunch is the big Easter meal, with an antipasto,  lasagna, or ravioli, then roasted lamb and potatoes, artichokes (can be stuffed or alla  romana),  salad and of course dessert, usually a delicious Italian Easter bread,  a type of sweet bread called colomba (which means dove, so naturally it's shaped like a dove) either homemade, or you can buy it in any grocery store. In my house I usually make crostatine (tarts)  filled with Nutella, you can't go wrong with these treats, especially if you dress them up a bit.
There's an Italian saying that goes:  "Natale con i tuoi, Pasqua  con chi vuoi",  which translated means, Christmas with family, Easter with whoever you choose. So whoever you choose to spend Easter with, have a Happy Easter and Buon Appetito!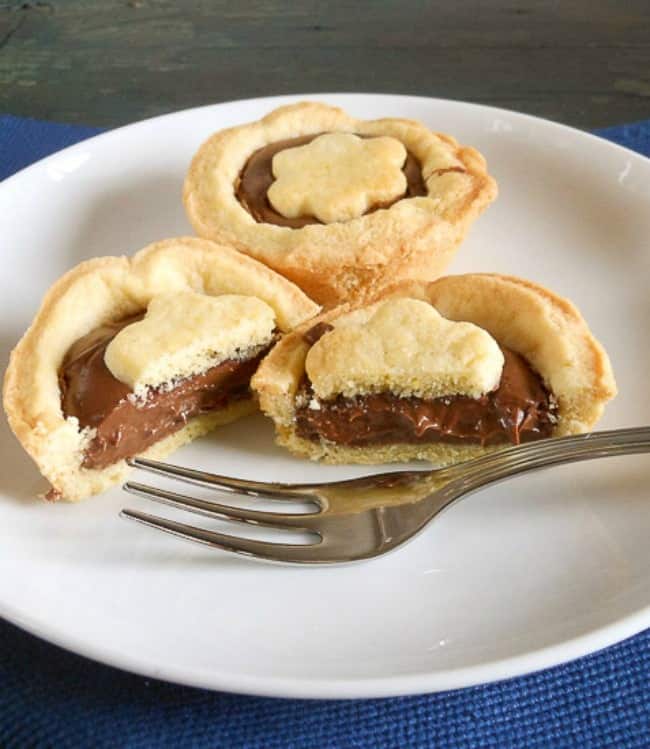 Homemade Nutella Crostata
Crostatine con Nutella (tarts with nutella), a delicious flaky Italian pastry, filled with Nutella, add fresh whipped cream and strawberries
Ingredients
FOR THE DOUGH
1¾

cups

flour

½

cup

sugar

100 grams

1

teaspoon

baking powder

2 grams

1

large

egg (room temperature)

1

large

egg yolk (room temperature)

½

cup

+ 2 tablespoons butter (room temperature)

125 grams
EXTRAS
1 1/2

cups

Nutella

400 grams
Instructions
In a large bowl*, gently whisk together flour, sugar and baking powder, create a well in the middle, add the slightly beaten egg and yolk and the room temperature butter cut into pieces. Mix together, at this point turn mixture onto a slightly floured surface and work the mixture to form a soft dough (if dough is very dry then add an extra tablespoon of soft butter). 

Wrap the dough in plastic and refrigerate for 30 minutes. Remove from fridge and knead the dough a couple of times to soften it up again on a lightly floured surface. Roll out to 1/8" thickness.

Pre-heat oven to 350F (180C), grease and flour an 8 or 9 inch- (20 - 22 cm) pie dish.

Transfer to prepared pie plate, I used a 8" pie dish (20 cm). Trim the dish of any extra dough. Prick the dough with the tongs of a fork, then spread the pastry shell with the Nutella.  With the extra dough make strips to create a lattice finish. Brush the top lightly with milk and bake in pre heated oven at 350° (180°) for 25-30 minutes or until golden.  Let cool then slice, enjoy!
Notes
*I also make the dough using a food processor, whisk the ingredients together in the food processor cup, then add the egg, yolk and butter and pulse until almost combined, moved to a lightly floured surface and knead gently to completely combine. Wrap and refrigerate.
With any extra dough, I made squares and I placed 1 teaspoon of jam in the middle, folded it over, pinched the sides closed and baked in the oven for about 20 minutes at 350° (180°)).
Nutrition
Calories:
450
kcal
Carbohydrates:
55
g
Protein:
5
g
Fat:
23
g
Saturated Fat:
19
g
Polyunsaturated Fat:
1
g
Monounsaturated Fat:
3
g
Trans Fat:
1
g
Cholesterol:
41
mg
Sodium:
107
mg
Potassium:
256
mg
Fiber:
3
g
Sugar:
34
g
Vitamin A:
309
IU
Calcium:
74
mg
Iron:
3
mg