Yellow Cake with Nutella  Ciambellone Soffice con Nutella, a soft very typical Italian Cake filled with a generous helping of Nutella, the perfect Snack, Breakfast or even Dessert. Kids will love it! And Adults too!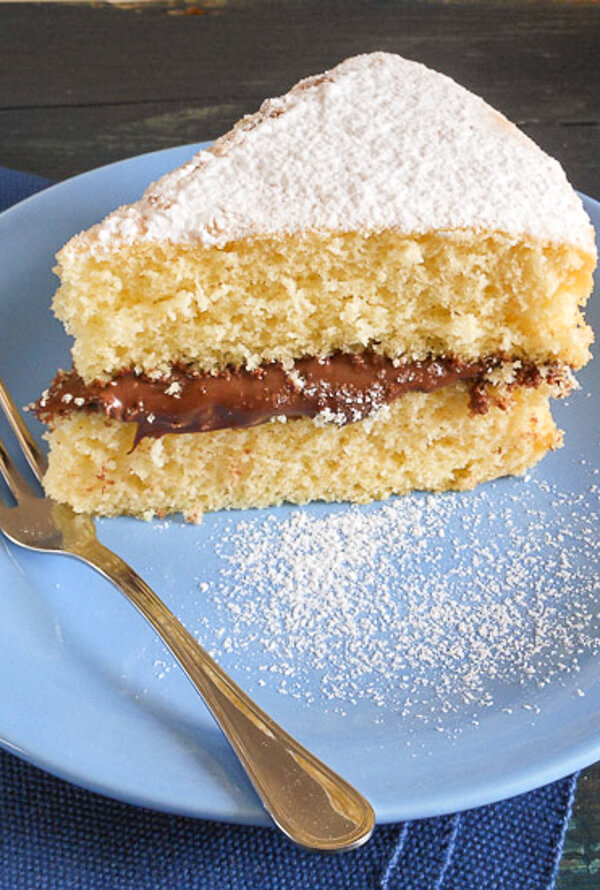 Desserts? Who doesn't love a delicious, tasty homemade, soft cake? Especially if that amazing cake is layered with Nutella.
This is a very simple and easy to make Italian Cake, not your regular overly moist North American Cake.
My mother-in-law would make this cake at least once a week and it was always served as a Breakfast Cake.  Of course she would bring it out again in the afternoon to eat with a cup of espresso coffee.
Although, she very rarely filled it with Nutella.
But since there was always a jar hanging around when my kids were little. My girls would always want me to fill it ("and don't be stingy Ma") with some creamy Nutella. It really did make it even more delicious.
My eldest daughter had an intolerance to dairy when she was little so I would make this cake quite often (without the Nutella of course).
This Yellow Cake with Nutella Ciambellone Soffice con Nutella is made with oil, eggs and water which makes it the perfect Dairy Free Cake. Instead of filling it with Nutella you could add your favourite dairy free Frosting or a delicious Homemade Jam and I am sure it would be delicious.
To tell the truth,  this cake is even tasty with a dusting of Powdered Sugar, "the Italian Way" and a cup of tea or coffee. But the Nutella doesn't hurt either.
My husband and my kids certainly agreed with me on that! Everyone also agreed when I would use this cake as a base for Tiramisu. Drizzle the cake with a strong coffee and add that delicious creamy Mascarpone filling.
The Perfect Sunday Night Dinner Dessert. Or anytime dessert for that matter!
Yellow cake with Nutella  Ciambellone soffice con Nutella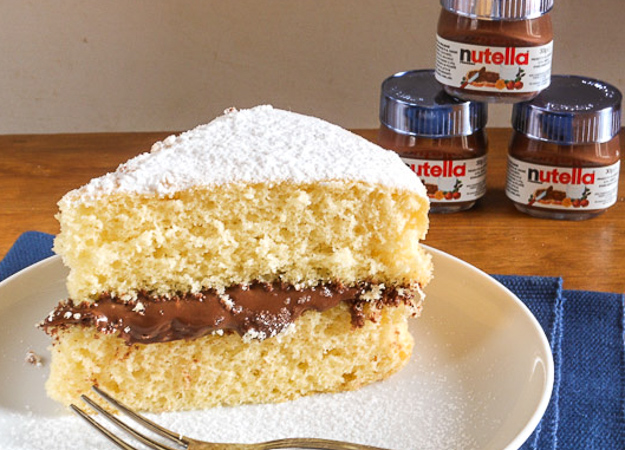 I'm sure some days if I had asked my kids what they wanted for dinner, their answer would have been, "Oh not much, I'll just grab a spoon and that jar in the cupboard!" and I would respond    " No, you won't, that's a snack not dinner." (kidding aside).
Ahhh Nutella, so grab your jar in the cupboard, turn on the oven and let's start baking. Enjoy it anyway you make it!
Yellow cake with Nutella (Ciambellone soffice con Nutella)
Yellow Cake with Nutella Ciambellone soffice con Nutella a yummy Italian anytime Cake, not too sweet and dairy free, you pick the filling.
Follow me on Youtube!
Watch the videos and don't forget to subscribe on Youtube!
Ingredients
2

large

eggs

1

large

yolk

1

cup

sugar

200 grams

1/2

cup

water

130 grams

1/2

cup

vegetable oil

130 grams

2

cups

flour

250 grams

1 1/2

teaspoons

baking powder

22 grams

1/2

cup

Nutella

135 grams

powdered sugar for dusting
Instructions
Preheat oven to 350° (180° celcius)

With mixer at medium speed beat eggs, yolk and sugar for about 1 1/2 minutes, add water and oil, beat another minute, then add flour and baking powder, beating again for 2 minutes. Pour into prepared pans (I used 2 round 9 inch (23 cm) cake pans bake for approximately 20 - 25 minutes (check with toothpick to make sure they are done). Let cool for about 15 minutes before removing from pans and cool completely before adding the Nutella. On round serving dish place one of the cakes top down, spread with the Nutella (to make it really easy to spread I placed the Nutella in a dish over a small pot of boiling water and I let it sit for about 5 minutes until it became thinner and creamier), then place the 2nd cake on top (top side up) and dust with powdered sugar. Enjoy!
Nutrition