Homemade Angel Food Cake, a light delicious cake. Fill it with some whipped cream and fresh fruit. The perfect after dinner dessert.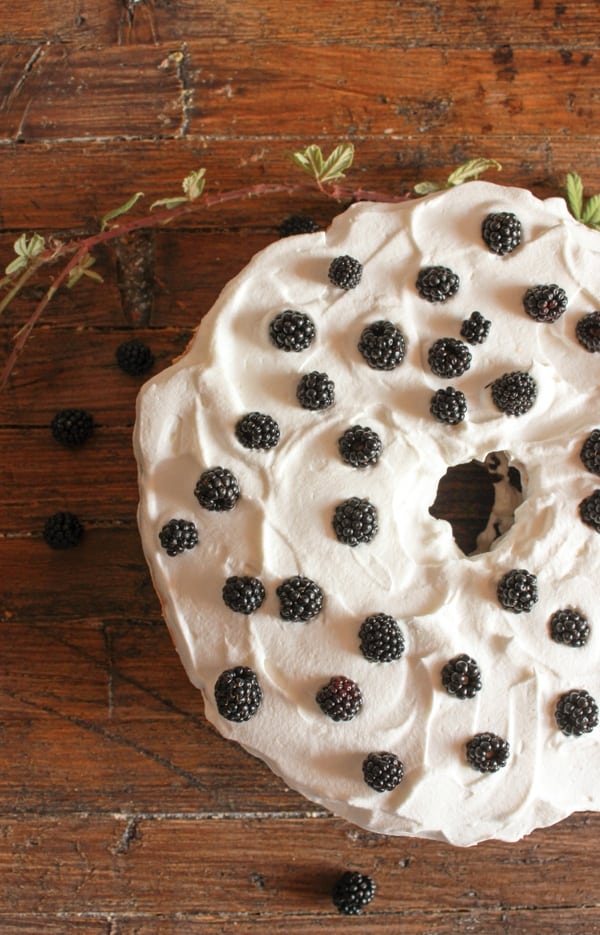 If you remember, last week I was battling the blackberry bush vines picking some juicy, delicious blackberries. I made some yummy Blackberry Mini Pies to serve for our little friend/family get together.
I figured I might as well get as many as I could because there was no way I was going back to those wild bushes for more punishment, even though I must say the berries were definitely worth it!
This is a cake that brings back some wonderful Canadian memories, my mother loved this cake. It is such a wonderfully light cake. A cake that I thought would be perfect for my Italian friends.
Which I discovered was something they had never tried before, a cake made with egg whites. The perfect cake to be smothered with whipped cream and berries or any fruit of choice or naked if you prefer.
A delicious Homemade Angel Food Cake.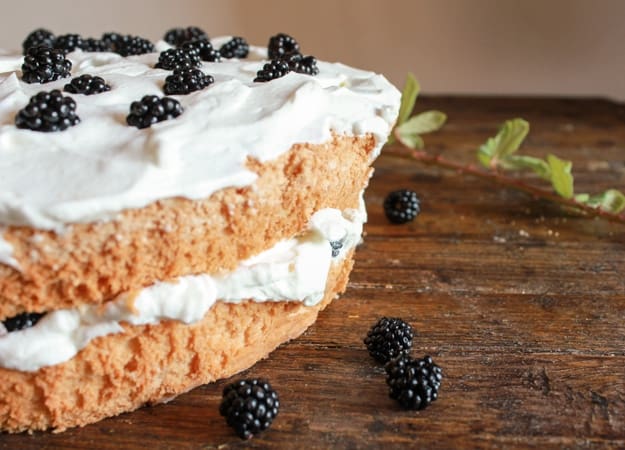 I made this cake with an old recipe of my mother's. I used my stand up mixer, my mother used her Sunbeam mixer that I am sure she had from almost the time she got married. That thing was as tough as she was!
I beat the egg whites, lemon juice (by the way did you know lemon juice is the perfect replacement for cream of tartar?) and vanilla until soft peaks formed, then I added sugar and then just folded in the flour mixture a little at a time.
Baked it in my tube pan, and don't forget to let it cool upside down. At this point unfortunately you will have to imagine the cake in the pan, the cake out of the oven, the cake before frosted, because unfortunately yours truly deleted the pics.
But I have to say it is an easy enough Homemade Angel Food Cake Recipe that I hope you will enjoy!
Print Recipe
Homemade Angel Food Cake
Homemade Angel Food Cake, an easy delicious made from scratch cake recipe. Best with a simple whipped cream filling and fruits and berries.
Ingredients
1

cup

flour

120 grams

1/4

teaspoon

salt

1.4 grams

1 1/4

cups

sugar divided

281 grams

8

egg whites

room temperature

1/2

teaspoon

lemon juice

2.36 grams

1

teaspoon

vanilla

5 ml

FROSTING

2

cups

cream (whipping or whole)

480 grams

fine sugar to taste

berries of choice
Instructions
Pre-heat oven to 350° (175° celisius).

Sift together flour, salt and 1/4 cup sugar 3 times.

In a large bowl beat egg whites, lemon juice and vanilla on medium speed until soft peaks form, gradually add the 1 cup sugar (a little at a time), continue beating until stiff peaks form (don't over beat). Fold in flour (quarter cup at a time), gently fold until combined (do not over fold). Spoon into ungreased 9 inch tube pan. Gently cut through batter with a metal knife to eliminate air bubbles. Bake for approximately 40-45 minutes, or until toothpick comes out clean. Cool in pan upside down. Remove from pan and frost with whipped cream (whip cream with a couple of tablespoons of sugar (if desired) until stiff, top with fresh berries or fruit. Enjoy!
Nutrition