A delicious Homemade Carrot Cake. A simple traditional moist Cake made with the perfect spices . Finish it off with a creamy Cream Cheese Frosting. Everyone will ask for seconds!
Layered cakes are perfect not only for special occasions but also just because. Why not try a couple of our favourites, including this Classic Tiramisu Layer Cake and this easy Vanilla Cake!
Homemade Carrot Cake
This is one of my favourite Cakes, and I can't wait to share it with you. A delicious carrot cake recipe, because carrot cake is just too good not to be shared with everyone and this is the best carrot cake I have ever eaten.
This recipe was given to me 26 years ago, baked on a special occasion by my good friend's mother. Naturally I had to ask for the recipe and I am so glad I did!
How to make Carrot Cake
In a small bowl combine all the dry ingredients except for the sugar, carrots and pecans.
In a large bowl beat the oil and sugar together for one minute.
Add the eggs and beat together.
Add the dry ingredients and beat to combine.
Add the shredded carrots and chopped nuts(if using).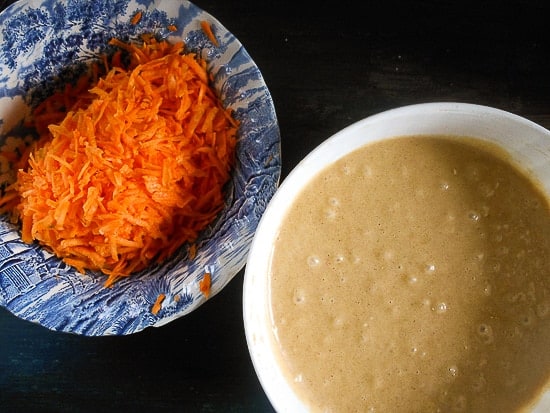 Combining the ingredients together with a wooden spoon.
Pour the batter into the prepared cake pans and bake for approximately 30 minutes.
Let cool completely before frosting with the Cream Cheese Frosting. Top with chopped pecans if desired.
What nuts are best for a Carrot Cake?
Before I was able to get Pecans I would always use walnuts or hazelnuts in this recipe. But I have to admit Pecans are probably the tastiest. You can't beat a Pecan! If you like raisin or currents you could add some of those too!
What are the Ingredients in a Carrot Cake?
I like the idea of a simple Carrot Cake, so you won't find any pineapple in my cake, although you will find lots of shredded carrots (3 cups to be exact) and chopped Pecans or your favourite nuts of choice.
I also like a creamy not overly sweet Cream Cheese Frosting. Nothing that overpowers the cake, your frosting has to compliment the cake!
How to store it
The cake can keep covered unfrosted at room temperature for up to two days. If it is frosted it should be refrigerated. It will last up to four days in the fridge.
Just bring it to room temperature (for about an hour or so)  before serving.
Can you Freeze Carrot Cake?
Yes, you can actually freeze Carrot Cake baked and frosted! It is best to refrigerate it for about 6-8 hours before freezing so the frosting firms up and you don't ruin it.
Before placing it in the freezer, be sure to wrap it well in plastic wrap then either place it in an air tight bag or container. If you prefer to freeze the cakes before frosting that is fine too, just wrap it the same way.
The cake can be frozen for up to 4 months, if frosted its best to thaw in the fridge.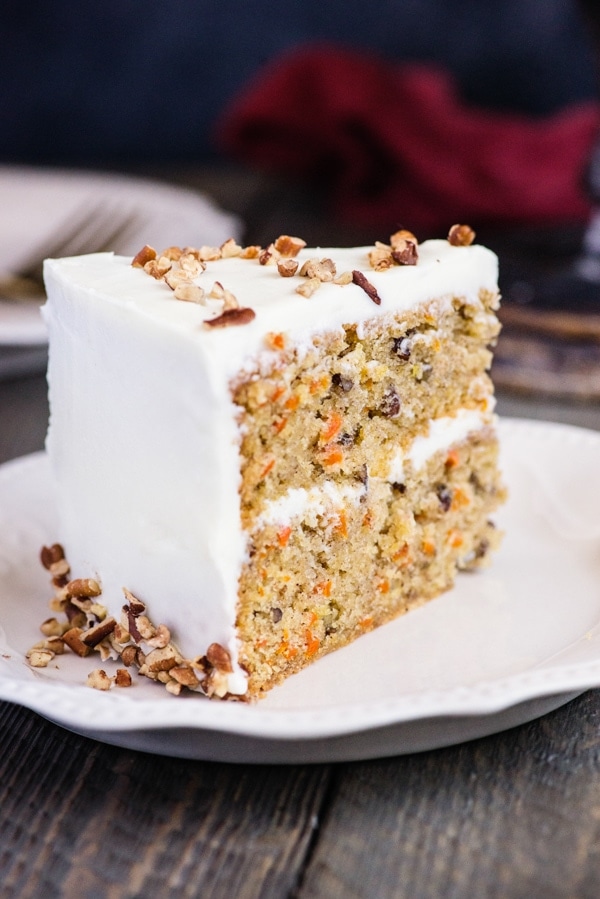 A little History about Carrot Cake
Apparently a type of cake, called Carrot Pudding was enjoyed in the Medieval Times. The traditional Cake recipe was invented in the early 1900s in England.
It was actually baked in a loaf pan as a sweet bread. Then in the middle 1900s the "carrot bread/cake" was brought to America, and was made popular by George C Page.
He hired bakers to find ways to use up the over abundance of canned carrots. By the 1970s carrot cake was all the rage, the new dessert was  also considered "healthy"!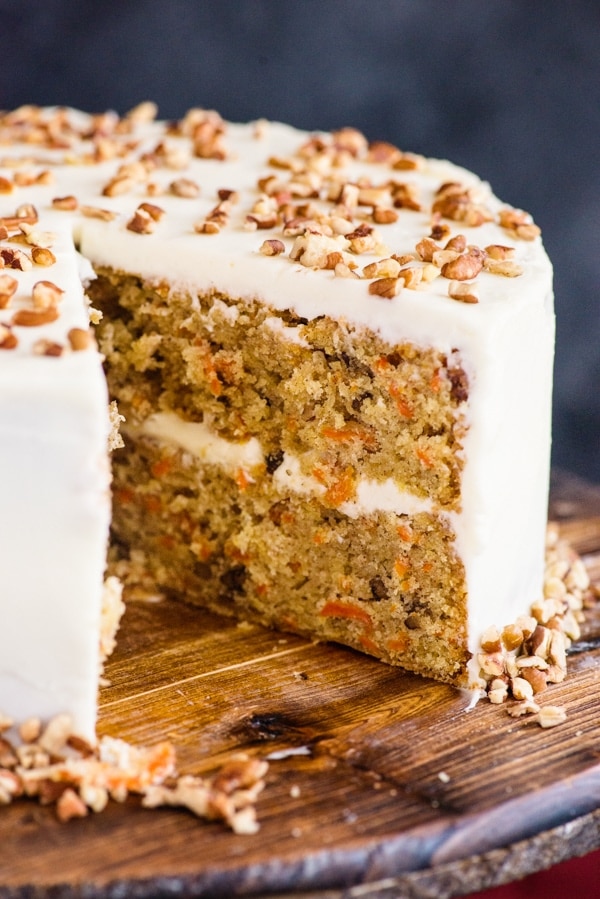 More Delicious Cake Recipes
Mascarpone Cake with Raspberry Cream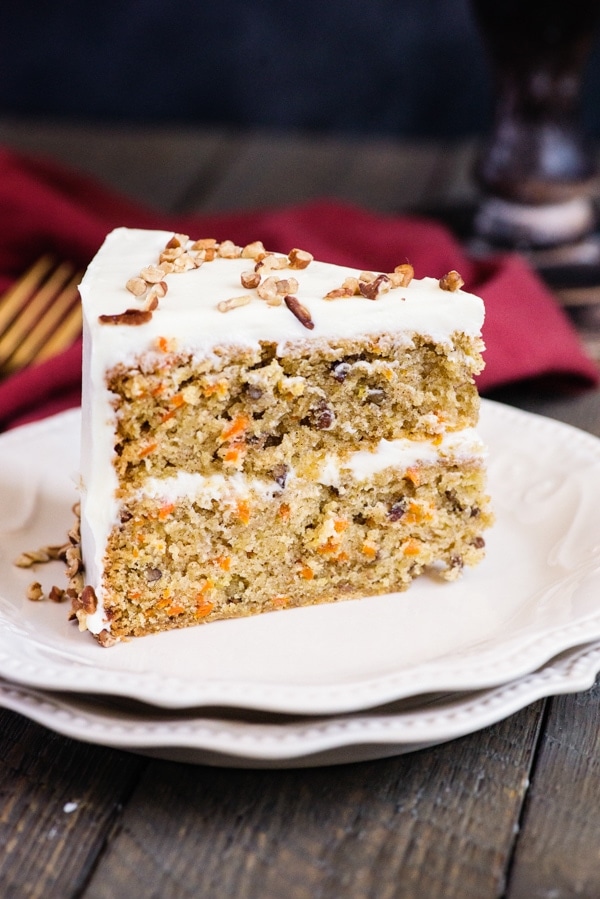 Homemade Carrot Cake
I love making dessert recipes for my Italian friends and family. But I have to say between this Homemade Carrot Cake and my Coconut Cake,  I don't know which is more popular.
In my opinion both are both amazing and both would make a perfect Birthday or Special Occasion Cake. Enjoy!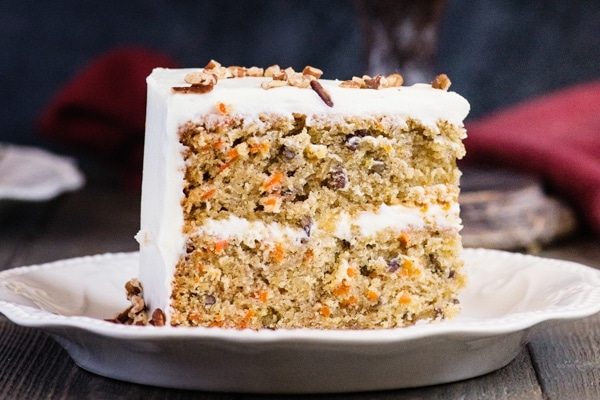 Homemade Carrot Cake
The absolute best traditional carrot cake recipeyou will ever taste! Moist, simple with the perfect cream cheese frosting. Just try it.
Ingredients
FOR THE CAKE
2

cups

flour (all purpose or cake/pastry flour)

(250 grams)

3/4

teaspoon

salt

2

teaspoons

baking powder

1/2

teaspoon

baking soda

1/2

teaspoon

nutmeg

2

teaspoons

cinnamon

2

cups

sugar

(400 grams)

1 1/4

cups

vegetable oil

(250 grams)

4

large

eggs (room temperature)*

3

cups

shredded carrots

(approximately 3 large or 5 medium)

1/2

cup

pecans

(63 grams)
*remove from fridge 30-45 minutes before using.
FOR THE FROSTING
1/2

cup

butter

(softened)

5

ounces

cream cheese

(140 grams)

5

cups

powdered sugar

(600 grams)

1/2

teaspoon

vanilla

1/4

cup

half and half cream

(60 grams)
EXTRAS
1/2

cup

chopped pecans

(63 grams)
Instructions
Pre heat oven to 350 degrees (180 degrees celcius), Grease and flour 2 8 or 9 inch cake pans (20 or 23 cm)

In a small bowl combine all dry the ingredients excluding sugar, carrots and pecans.

In a large bowl beat the oil and sugar together for 1 minute, then add the eggs and beat together another minute, add the dry ingredient mixture beating for another minute, add the shredded carrots and 1/2 a cup of the chopped nuts(if desired) combining together with a wooden spoon.

Pour into prepared cake pans and bake in pre heated oven for approximately 30-35 minutes, test for doneness with a toothpick, if a few crumbs stick to it or it is dry then the cake is done. Let the cake cool before removing from the pans.
FOR THE FROSTING
In a medium bowl beat together butter and cream cheese on medium-high speed until creamy approximately 1 minute. Lower speed to medium and add powdered sugar, 1 cup at a time, beat well after each addition. Add the half and half and vanilla and beat until fluffy, about 3 minutes.

Let the cake cool completely then ice with prepared icing. Top with chopped pecans if desired. Enjoy.
Notes
Be sure to watch the Video at the top of the post!
Nutrition
Calories:
598
kcal
Carbohydrates:
104
g
Protein:
5
g
Fat:
19
g
Saturated Fat:
10
g
Cholesterol:
89
mg
Sodium:
343
mg
Potassium:
252
mg
Fiber:
2
g
Sugar:
84
g
Vitamin A:
5840
IU
Vitamin C:
1.9
mg
Calcium:
76
mg
Iron:
1.6
mg
Updated all new from June 28, 2014.