Homemade Coconut Cake a made from scratch Vanilla Cake with a Creamy Cream Cheese  frosting, then decorated with flaked coconut.  The perfect Special Occasion Cake.
Coconut Cake
Have I been hiding this  Coconut Cake?  Did I forget about this cake?  No ,  I was just waiting  for a special occasion.  And the special occasion is Christmas.  This Coconut Cake is perfect for Christmas and do you know why?
Because all that coconut on the cake reminds me of snow, and since I won't be seeing any snow in my part of the world for Christmas I might as well see it on a cake.During my trip to Toronto I had the greatest pleasure of eating this cake twice.
Be sure to watch the Video!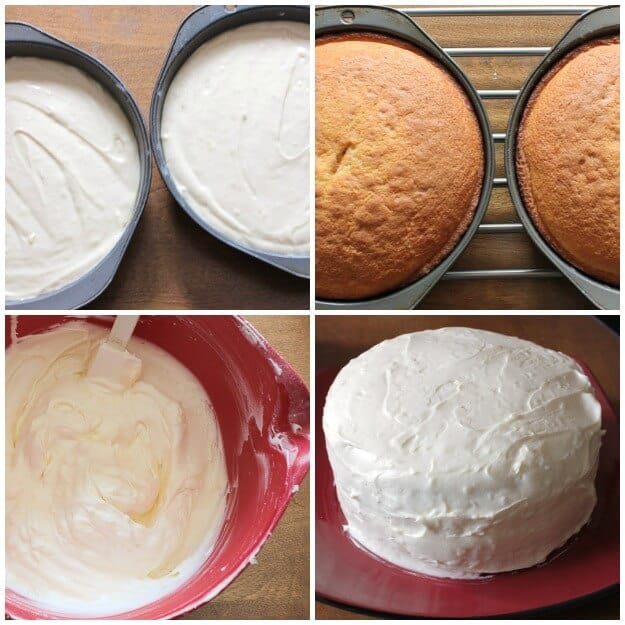 My amazing baker cousin first made this for a family/graduation get together at my sister's.  My daughter was graduating from college and my cousin offered to bake the cake.
My daughter put in her request for a Coconut Cake, since coconut is one of her favourite fruits (technically it is called a drupe) and oh my goodness I ate one of the softest most delectable cakes I have ever tasted.
She later told me that the cake recipe was adapted from Martha Stewart,  good job Martha.
So naturally what did I do?  I asked my amazing baker cousin if she would love to re make this mouth-watering Coconut Cake again for my blog and of course I would have to taste it to see if it really did taste as good as I remembered.
More Delicious Layer Cakes
Chocolate Cake with Mocha Icing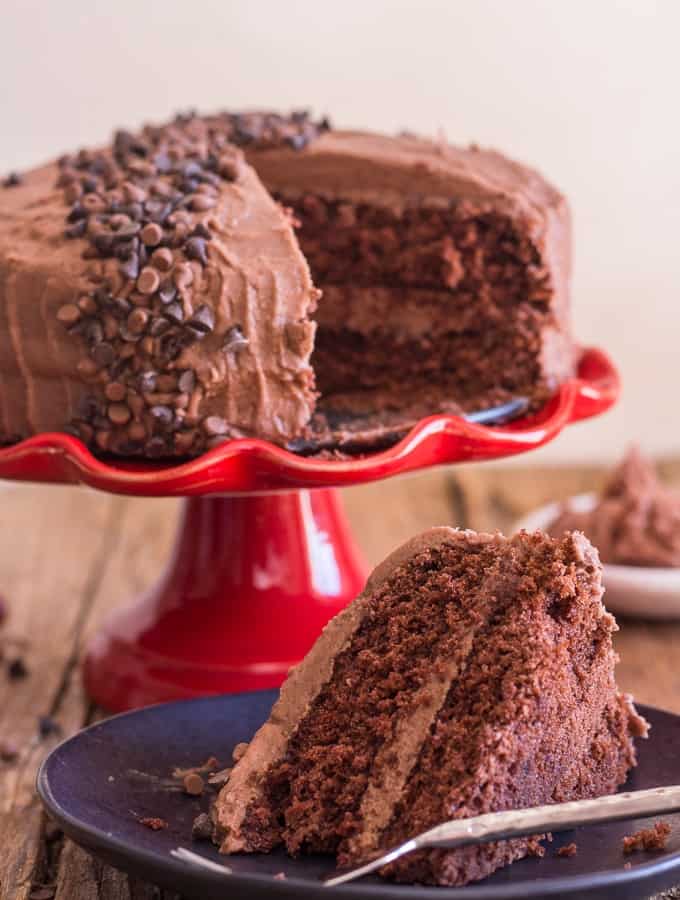 Strawberries and Cream Vertical Layer Cake
Homemade Classic Italian Tiramisu Layer Cake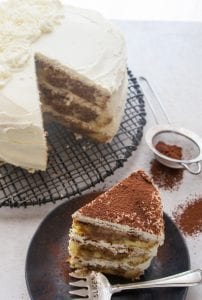 Homemade Coconut Cake
Oh yes it did taste just as good,  in fact I think it just keeps getting tastier!  This is the kind of cake where you hope that it isn't finished because you know you really want a piece for breakfast.  
I love cake for breakfast!
When everyone is so full from that glorious stuffed Turkey or in my case, delicious cannelloni and roast lamb,  you make your entrance with this Coconut Cake masterpiece and  all of a sudden everyone will have room!   Enjoy!
Homemade Coconut Cake
Coconut Cake, a delicious soft, moist cake with a creamy cream cheese frosting. Topped with coconut flakes, a perfect Christmas dessert.
Total Time
1
hour
35
minutes
Ingredients
FOR THE CAKE

1/2

cup

butter

125 grams

2

cups

all purpose flour

280 grams

1

tablespoon

baking powder

15 grams

1/2

teaspoon

salt

2 grams

1 1/2

cups

sugar

300 grams

3

large eggs at room temperature

1

cup

milk

245 grams

1

teaspoon

vanilla

5 grams

FROSTING

1/2

cup

butter

125 grams, softened

4

ounces

cream cheese

125 grams

5

cups

powdered sugar

1 kilo

1/2

teaspoon

vanilla

2 1/2 ml

1/4

teaspoon

salt

1 gram

1/4

cup

half and half

60 grams

TOPPING

1-2

cups

coconut flakes

75-150 grams
Instructions
Pre-heat oven to 350°(180° celsius), lightly grease with butter and flour two 8 or 9 inch cake pans.

In a medium bowl at medium speed beat together butter and sugar for 2 minutes until combined then add eggs and beat, combine well.

In a medium bowl whisk together flour, baking powder and salt. then gradually add flour mixture, beating on low until combined. Add milk and vanilla and continue beating until combined.

Divide batter into prepared pans. Bake until golden (use toothpick to test for doneness), approximately 30-35 minutes. Remove and let cool completely on wire racks.

FROSTING

In a medium bowl beat together butter and cream cheese on medium-high speed until creamy approximately 1 minute. Lower speed to medium and add powdered sugar, 1 cup at a time, beat well after each addition. Add salt, half and half and vanilla and beat until fluffy, about 3 minutes.

To frost the cake, place the first layer on a large plate top side down, spread with approximately 1 cup of frosting, place the second cake top side down and frost with remaining frosting.

Cover cake with coconut flakes. (we did it with small handfuls and packed it lightly against the cake). Enjoy!
Nutrition
Republished from December 7, 2014.
.