Easy Yogurt Cake, a healthy and delicious Snack or Dessert Cake Recipe made with your favourite flavor of  Yogurt. Change your Yogurt Flavor, change your Cake!
Yogurt Cake
I happened on this Easy Yogurt Cake Recipe almost 20 years ago, from a woman I encountered in the local supermarket, buying yogurt no less.
My Italian was far from perfect at the time (still isn't perfect I might add), but a cake recipe I understood. In Italy, yogurt usually comes in single servings of 125 grams.
So the Easy Yogurt Cake was as follows …
2 containers of yogurt (containers are 125 grams each), 1 container of oil, 2 containers of sugar and 3 containers of flour, 3 eggs and 1 package of baking powder, now how easy is that?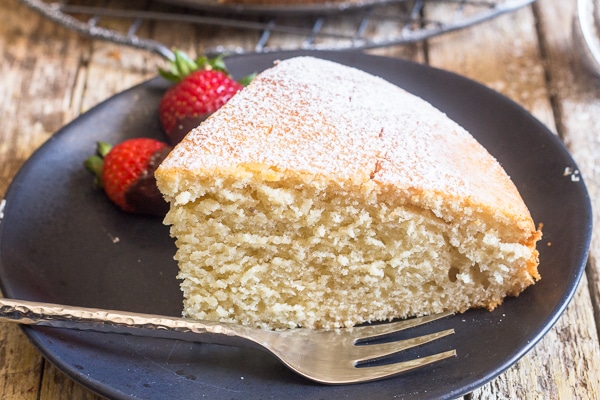 Baking powder in Italy also comes in individual packages, took me awhile to get used to that. 
I always have visions of emptying this package and that package into my North American baking tools to get the cups and teaspoon measures that I was so used to.
And of course converting grams and kilos at the beginning was a nightmare too.
More Delicious Italian Cakes
Mascarpone Cake with Raspberry Cream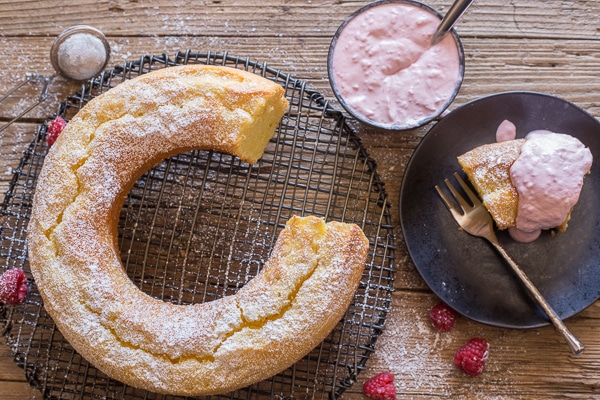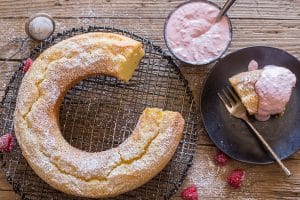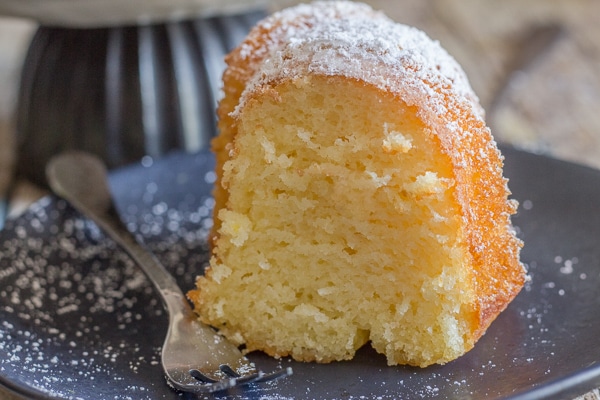 Classic Italian Tiramisu Layer Cake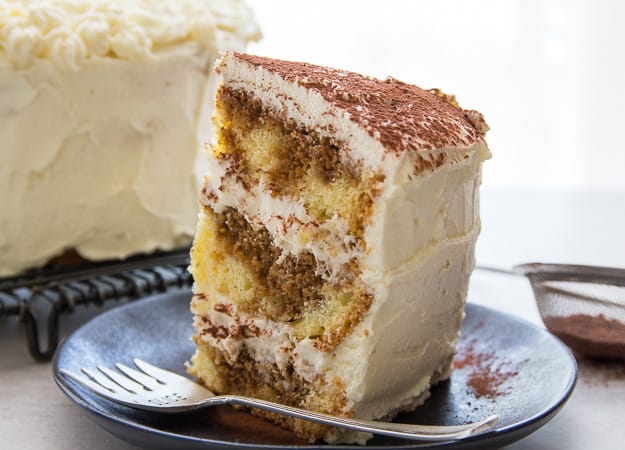 Yogurt Cake
So thanks to my supermarket friend this Yogurt Cake turned out to be a tasty and ever so easy. It has also become my eldest daughter's favourite cake.
It makes the perfect snack, breakfast cake or even some Yummy Strawberry Cupcakes. Healthy and delicious come together in this recipe.
What you will need to make this Easy Yogurt Cake.
Hand Mixer   –    Just what you need to make this yummy cake.
Springform Cake Pan         –     I have to admit whenever I bake a cake I always reach for a spring form pan.
Mixing Bowls   –   I never seem to have enough mixing bowls.
Wooden Spoons  –   Italian mix things up more with wooden spoons than with spatulas.
And it can also be made with any flavour of yogurt, I find that greek yogurt, 0 fat (yes 0 fat!) or regular yogurt both work well. Each makes this Easy Yogurt Cake super moist and delicious.
So choose your favourite fruit greek yogurt or regular fruit yogurt and turn on the oven. This cake is also a perfect Easy Summer Dessert Recipe. Enjoy!
Other Recipes to make with with this Yogurt Cake Recipe
Homemade Strawberries and Cream Cupcakes
Strawberry Whipped Cream Vanilla Yogurt Cake
STORING YOGURT CAKE
Yogurt cake covered will last up to three days room temperature. You can also freeze Yogurt Cake, wrap it well in plastic, then wrap in foil and then in an airtight container or bag.
The cake is best frozen plain, without glaze or frosting. Well keep up to two months in the freezer. Thaw in the fridge fully wrapped.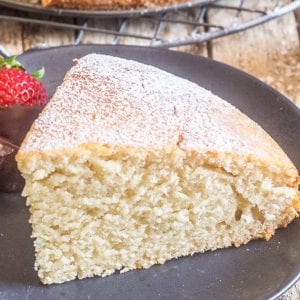 Easy yogurt cake
A fast and easy Yogurt Cake. Delicious plain or served with fruit.
Ingredients
1

cup

any flavour yogurt** (I find flavoured regular natural yogurt to be the best / room temperature )

(250 grams)

3

large

eggs (room temperature)

1/2

cup

vegetable oil

(112 grams)

3/4

cup

sugar

(154.50 grams)

1 1/2

cups

all purpose flour

(225 grams)

1 1/2

teaspoons

baking powder

powdered sugar
BLUEBERRY SAUCE
1

cup

blueberries

1/3

cup

sugar

1/2

tablespoon

cornstarch

2

tablespoons

water

1/2

tablespoon

lemon juice
Instructions
Heat oven to 350 degrees (180° celcius). Grease an 8 inch cake pan.

In a medium bowl, using a hand mixer on medium speed, lightly beat eggs (approximately 30 seconds) add oil, sugar and yogurt, beat for 1 minute until smooth, add flour and baking powder and beat until well combined approximately another minute. Pour into greased cake pan and bake 35-40 minutes or until tested done (when toothpick or knife inserted in cake comes out clean). When cool, sprinkle with powdered sugar if desired.

**I find flavoured regular yogurt to be the best, in the video I used Strawberry.




** Depending on the flavour you can always top with this Blueberry Sauce.
BLUEBERRY SAUCE
In a medium pot mix together berries, sugar, cornstarch, water and lemon juice, bring to a boil then lower heat and simmer until desired thickness. Pour into a bowl, let cool completely and or refrigerate.
Notes
For room temperature ingredients be sure to remove from the fridge about 45 minutes before using.
Nutrition
Calories:
310
kcal
Carbohydrates:
45
g
Protein:
4
g
Fat:
13
g
Saturated Fat:
9
g
Cholesterol:
52
mg
Sodium:
32
mg
Potassium:
208
mg
Sugar:
29
g
Vitamin A:
105
IU
Vitamin C:
1.8
mg
Calcium:
92
mg
Iron:
1.2
mg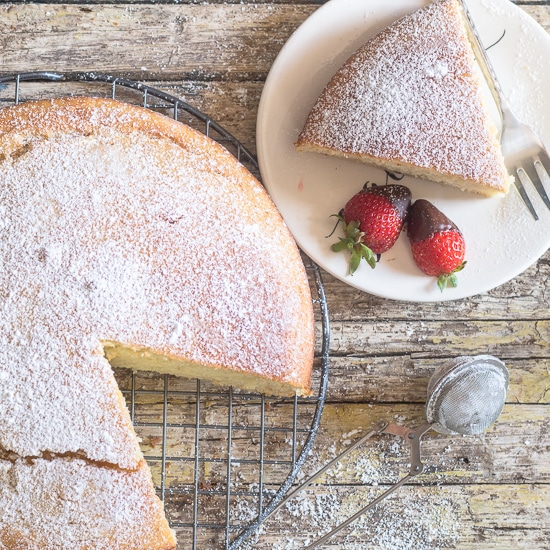 Updated from February 7, 2014.
I am a participant in the Amazon Services LLC Associates Program, an affiliate advertising program designed to provide a means for me to earn fees by advertising and linking to Amazon.com.
.