I made the perfect Strawberry Whipped Cream Vanilla Yogurt Cake to take your mind off the cold. Whipped Cream and Strawberries make it perfect!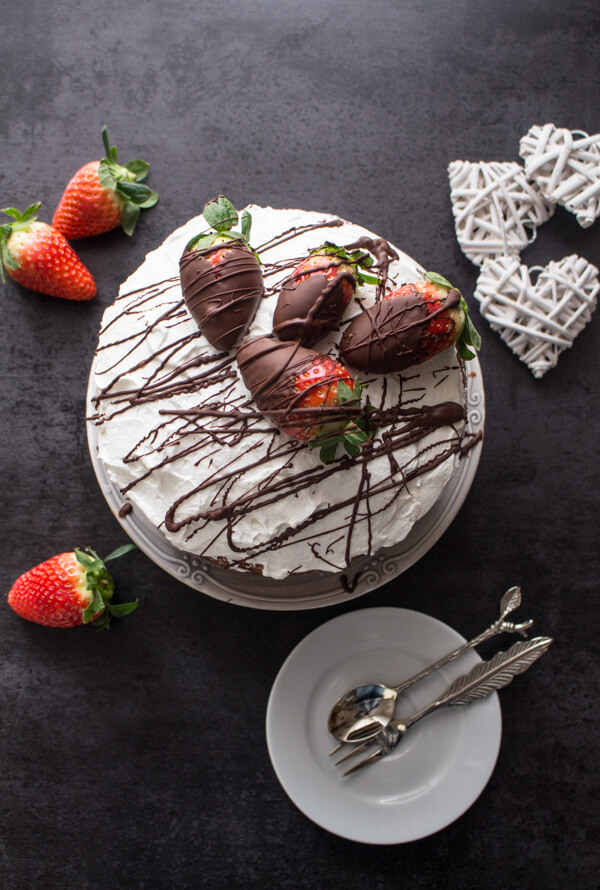 Yesterday was the Italian's birthday and I was determined to change it up this year. After over 2o years of Tiramisu my youngest daughter and I decided we were doing it our way.
I decided to make a simple Vanilla Yogurt Cake and to fill it with whipped cream and fruit. My youngest daughter decided strawberries were best and yes we found fresh ones in the grocery store. Not too ripe but fresh!
I also decided to make a stiffer whipped cream, because I wanted it to hold up for a couple of days.
My eldest daughter called in the morning to wish her father happy birthday and was not too pleased we were making her favourite cake.
She decided her welcome home meal in March would consist of Lasagna and this Strawberry Whipped Cream Vanilla Yogurt Cake.
I loved the idea of dipping the strawberries in dark chocolate and because the whipped cream is stabilized they don't sink to the bottom.
And drizzling the Yogurt Cake using some melted chocolate and a fork is my new favourite it-looks-like-you-went-to-so-much trouble decorating tip. Which I discovered on You Tube from Mel's Kitchen Cafe.
Strawberry Whipped Cream Vanilla Yogurt Cake
If you use a spoon now you have to change over to a fork, there is no comparison. Trust me, from someone like me who is the worst decorator ever. My husband says it has created a monster, I will drizzle on anything now!
And yes he enjoyed his cake.
So when you come across some fresh strawberries, you should give this Strawberry Whipped Cream Vanilla Yogurt Cake a try, I think you will really enjoy it. Makes a great little birthday cake or a let's have some cake day. Enjoy!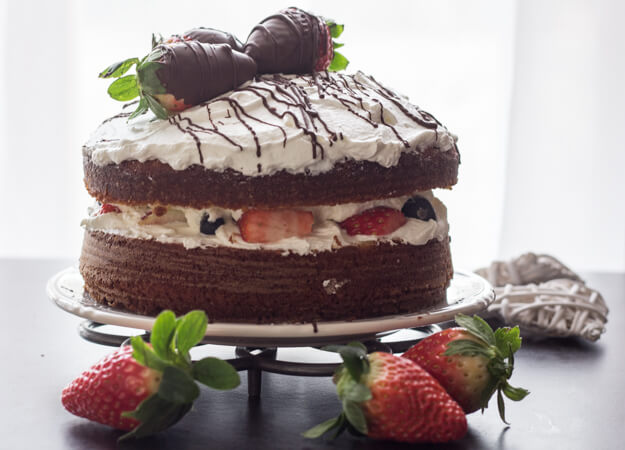 Strawberry Whipped Cream Vanilla Yogurt Cake
A delicious Vanilla Yogurt Cake filled with whipped cream and strawberries, topped with chocolate dipped strawberries and chocolate drizzle.
Ingredients
1

Easy Yogurt Cake Recipe
STABILIZED WHIPPED CREAM FILLING
2

teaspoons

gelatin

6.16 grams

8

teaspoons

cold water

40 grams

2 1/2

cups

whipping cream (divided)

580 grams

1

tablespoon

icing / powdered sugar

7.81 grams

1/2

teaspoon

vanilla

2.1 grams

10

-15 ripe strawberries (cleaned and sliced)
TOPPING
5

whole strawberries

3 1/2

ounces

dark chocolate (good quality)

100 grams
Instructions
STABILIZED WHIPPED CREAM
In a small pot add the cold water and sprinkle in the gelatin, let sit for 5 minutes, then heat just until gelatin disolves, remove from heat and let cool slightly.

Remove 1/2 cup of whipping cream from the fridge and bring to room temperature.

To the cooled gelatin add the room temperature whipping cream, stir to combine.

In a large bowl add 2 cups whipping cream, icing / powdered sugar and vanilla, beat one minute or until it starts to thicken. Continue beating while slowly adding the gelatin mixture, continue beating until you have stiff peaks.




Slice cooled cake in the middle, place bottom slice on a plate and top with a third of the whipped cream filling, place sliced strawberries on top, spread with a third of the whipped cream filling on top of the strawberries, then place the top half of the cake (I removed the crust part on top to make it even) on the filling and cover with remaining 1/3 whipped cream filling.

Top the cake with chocolate dipped strawberries and drizzle with remaining chocolate. Refrigerate for 1 hour before serving. (refrigerate leftover cake) Enjoy!
TOPPING
Place dark chocolate in a dish and place over a small pot of water (make sure water does not touch the bottom of the dish) and melt chocolate, stirring until smooth. Let cool slightly.

Dip whole strawberries in chocolate place on parchment paper and let dry.

Use remaining chocolate for drizzle.
Nutrition