Pasticiotti Italian Cream Filled Pastries, the perfect Italian pie pastry filled with a Creamy Pastry Cream and baked to perfection. A new wonderful Dessert.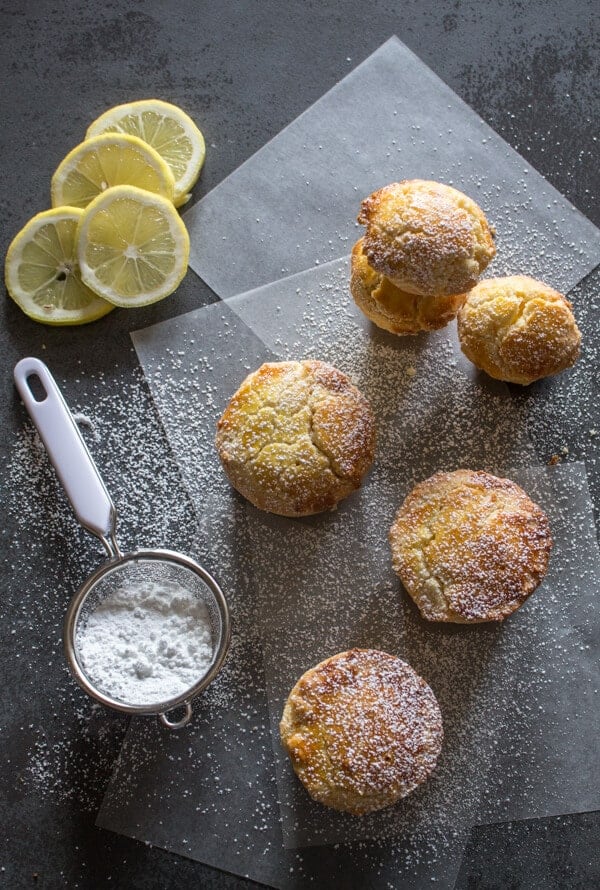 What are Pasticiotti and where do they come from? Well this delicious Italian Cream Filled Pastry is made with Italian pastry dough or Pasta Frolla.
It is lined in individual tart forms filled with usually a pastry cream or sometimes a ricotta filling. It is then covered with another layer of pastry dough and baked.
It was apparently invented by a Chef from the Province of Lecce in the Southern Region of Puglia. He created these "mini cakes" from his leftover scraps and named them Pasticiotti meaning pasticcio or mishap.
Needless to say they were and are a big hit, and believe me they are delicious.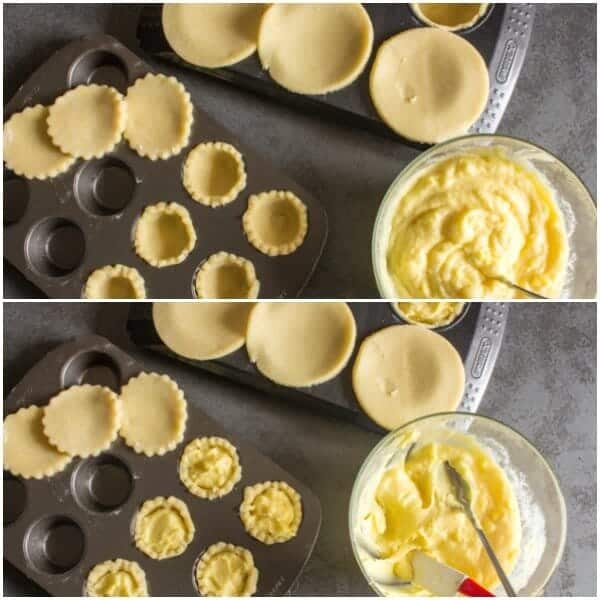 I decided to fill them with a Lemon Pastry cream this time, but you could also use a Simple Pastry Cream.
The rind of the lemon is heated along with the milk and cream, left to sit for 10 minutes and then strained into the egg mixture.
The Lemon taste is quite delicate, so if you prefer a stronger lemon taste I would use the peel of two lemons instead of one.
Remember to be very careful when peeling the Lemon, you don't want the white part, which will give the Pastry Cream a Sour taste.
I prefer to make my Pastry Cream first because it needs more time to cool down then the Pastry dough.
I also made them with my muffin tin because there is no need to go out and buy new pastry forms. And they work perfectly well.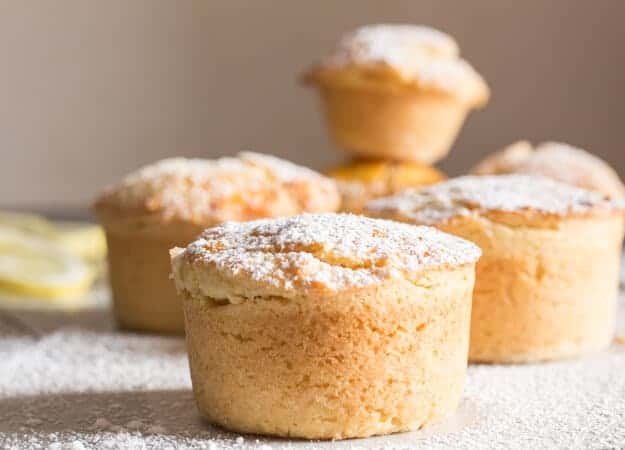 You could probably get 6 medium and 6 small muffin Pasticiotti out of this recipe. Although I made a large one instead of 2 medium. It was pretty well eaten as soon as it came out of the oven.
Pasticiotti Italian Cream Filled Pastry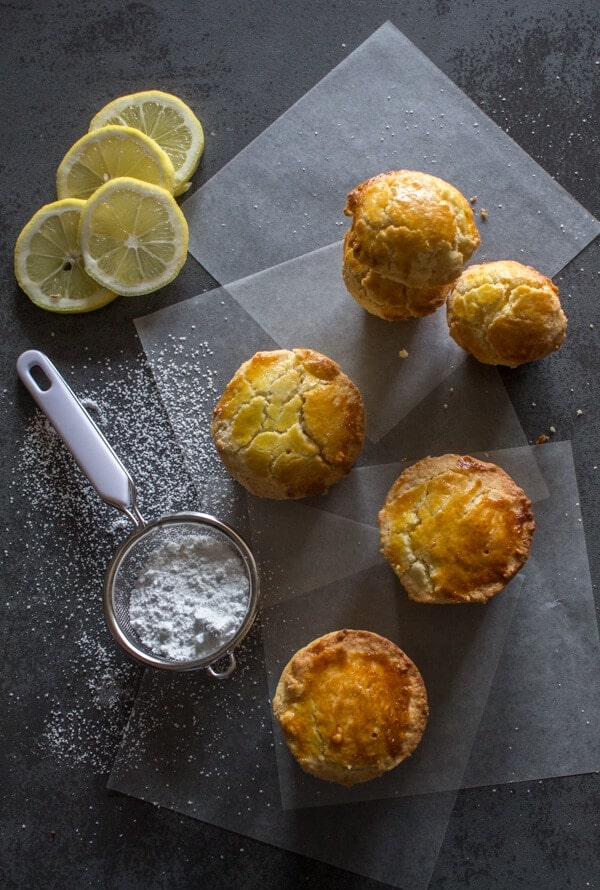 Pasticiotti Italian Cream Filled Pastry are usually served for breakfast but are also eaten throughout the day. Sounds good to me!
So however you decide to fill these yummy tarts, be sure to eat them warm with a little dusting of icing sugar. Let me know what you think. Enjoy!
Pasticiotti Italian Cream Filled Pastry
Pasticiotti Italian Cream Filled Pastry, a delicious baked breakfast or dessert recipe. Pastry dough filled with a creamy lemon filling.
Servings
6
medium & 6 small muffin tarts
Ingredients
CROSTATA DOUGH
1/2

teaspoon

salt

1 3/4

cups

flour

1/2

cup

sugar

1

teaspoon

baking powder

1

egg room temperature

1

egg yolk room temperature

1/2

cup

+ 2 tablespoons butter

(room temperature)
LEMON PASTRY CREAM
3/4

cup

milk

3/4

cup

cream whipping/whole cream

4

egg yolks

1/2

cup

sugar

1/2

teaspoon

vanilla

2 1/2

tablespoons

flour

peel from 1 or 2 lemons

no white part
Instructions
CROSTATA DOUGH
In a large bowl whisk together salt, flour (start with 2 cups add a little more at a time up to 1/4 if needed), sugar and baking powder, make a well in the centre and add egg, egg yolk and butter (cubed), mix together (you can also use a food processor, pulse until dough just starts to come together), remove dough to a lightly floured flat surface and knead until it becomes a soft dough, wrap in plastic and refrigerate for 30 minutes.
LEMON PASTRY CREAM
In a medium pot, heat over low the milk, cream and lemon rind, until very hot but do not boil. Remove from heat and let cool to warm.

In a medium pot add yolks and sugar, whisk together until combined, then add flour and vanilla, place pot over low heat, pour the warm milk/cream through a sieve to remove the lemon rind (disgard), whisk continuously until thickened. Remove to a glass bowl, cover with plastic wrap (make sure wrap touches the cream mixture and refrigerate approximately 1 hour or until thickened.

Pre-heat oven to 350° (180° celsius) Grease and flour 6-9 medium and 6 small muffin tins.
PUTTING IT TOGETHER
Remove dough from fridge, on a lightly floured surface knead a few times to soften it up. Roll to 1/8" thickness, cut out circles and fit to muffin pan. Prick the bottom of the tart with the end of a fork and then fill almost to the top with Pastry Cream, top with another cut out circle, cut with a knife to remove excess dough and seal with fingers. (seals better with fingers lightly dipped in water). When complete, in a small bowl mix together 1 egg and 3 teaspoons cream, brush the top of each muffin tart and bake for approximately 30-40 minutes. Let cool to warm. Dust with icing/powdered sugar. Enjoy!
Nutrition
Calories:
590
kcal
|
Carbohydrates:
66
g
|
Protein:
9
g
|
Fat:
32
g
|
Saturated Fat:
18
g
|
Cholesterol:
274
mg
|
Sodium:
372
mg
|
Potassium:
192
mg
|
Fiber:
1
g
|
Sugar:
35
g
|
Vitamin A:
24.3
%
|
Vitamin C:
0.2
%
|
Calcium:
11.6
%
|
Iron:
13.5
%