Coffee Pastry Cream, an amazing Italian filling for cakes or pies, made with strong coffee, fresh cream, eggs and milk. Quick and Easy. The best Pastry Cream.
Coffee Pastry Cream
This month our little group of 4 amazing bloggers (haha including myself) are back and this time we are sharing recipes using almost everybody's favourite …. Coffee.
Last month we shared our love for Chocolate, which I must say was my favourite, and now it's coffee's turn.
I have to tell you I actually came up with a couple of coffee recipes but decided to share Coffee Pastry Cream, because I have an amazing dessert you can make with this Pastry Cream coming up.
I am starting to adore Italian Cream, no more lumpy cream for me. Smooth and Creamy as an Italian Bakery.
I thought since we are on the subject of Pastry Cream I would like to share with you my list on how to make the Perfect Pastry Cream.
Use only egg yolks.

Always stir.

Mix dry ingredients before turning on the heat.

Heat the (liquids) milk and cream (if using cream) until hot but do not boil, (unless you are making my other Pastry Cream without cream).

Make sure you have 15-20 minutes of non interrupted stirring time, don't stop stirring!

Immediately place thickened cream in a clean bowl, cover with plastic wrap, make sure it touches the Pastry Cream.

Let Pastry Cream cool to room temperature and then refrigerate.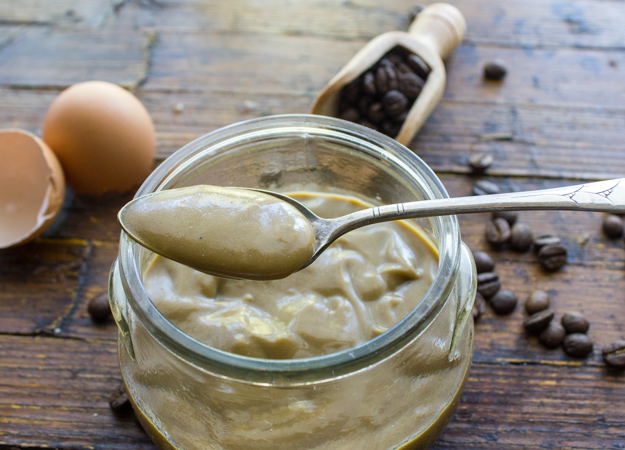 And maybe one of the biggest tips Don't throw away those egg whites, make some Lingue Di Gatto or even some Meringue Cookies or how about a nice light omelet?
Coffee Pastry Cream
Fast and Easy Coffee Pastry Cream, a creamy delicious Italian coffee filling, perfect for filling cakes, pies and pastries.
Ingredients
1/4

cup

+ 2 tablespoons milk

90 ml

1/4

cup

+ 2 tablespoons cream whole/whipping

90 ml

2

egg yolks

3 1/2

tablespoons

strong coffee

50 grams

1 1/2

tablespoons

flour

13 grams

1/4

cup

sugar

56.25 grams
Instructions
Heat the milk, cream and coffee until hot but do not boil, let cool to warm.

In a medium pot add egg yolks and sugar whisk to combine, whisk in flour, place over low heat add warm milk mixture and continue whisking (don't stop until very thick). Pour into a clean bowl cover with plastic wrap and let cool to room temperature and refrigerate for at least 2 hours. Enjoy!
Nutrition