Sporcamuss, a delicious flakey Pastry filled with a tasty Italian Cream then dusted with Icing Sugar. A fast and easy Dessert everyone will love.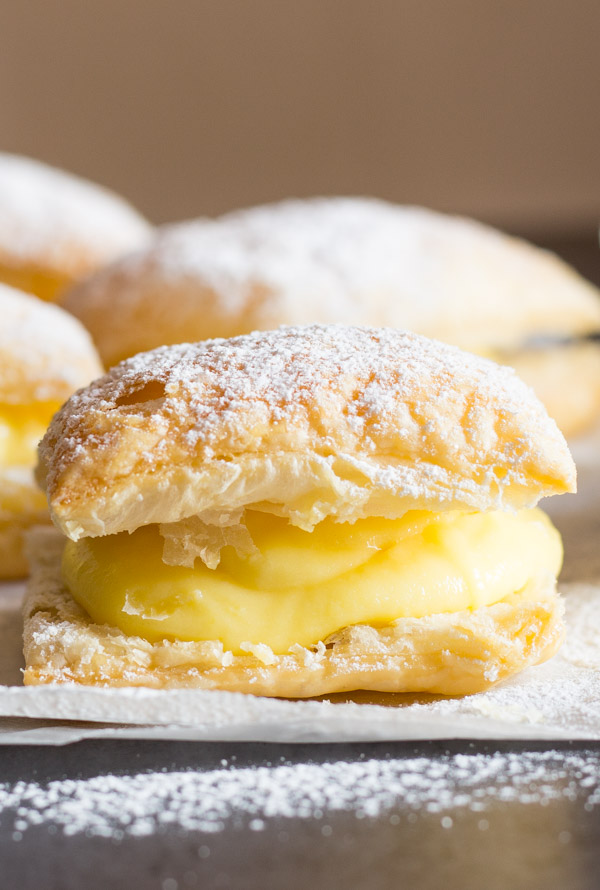 If you love Italian Pastry Cream especially a Cream made with a little milk and cream, instead of just milk, you are going to love this Amazing Italian Dessert.
A couple of months ago I made a very Traditional and Special Italian Dessert with Pastry Cream and since I made a lot more pastry cream then I needed, I certainly didn't want to throw it out.
So I asked a friend of ours, who is a terrific cook if he had any good ideas. He told me about these fast and easy squares called Sporcamuss.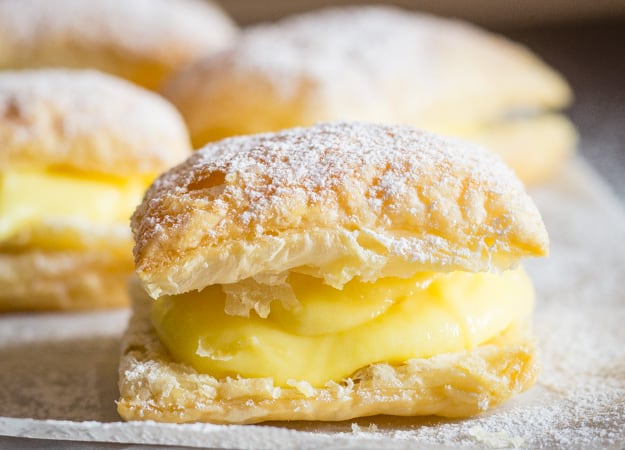 I decided they would be perfect for my extra Pastry Cream, and they were.
All I had to do was buy some pre-made puff pastry, roll it out and cut it into 12 equal or almost equal squares.
I then punctured the squares with a fork, sprinkled each square with some sugar and baked them for about 20 minutes or until they were puffy and lightly golden.
I let them cool, then each square I sliced down the middle to make two parts, top and bottom. I filled them, ok maybe I over filled them with this delicious Italian Cream Filling.
You know you can never get enough of this tasty Cream. I then placed the top square on the cream and gave them a good dusting of Icing Sugar.
So now I guess you are wondering what region Sporcamuss comes from and what it actually means. Well it is a dessert from the South of Italy, in Puglia.
Sporcamuss means dirty your mouth. So therefore, I am betting you can't eat one of these without getting some on your face! Of course don't forget a napkin or two!
In Puglia just before serving they heat the squares up in a moderate oven for about three to five minutes (without the filling). They say they taste better. I don't know mine were gone before I had a chance to even turn the oven on.
I will have to try that next time, I'm wondering how the Pastry Cream will hold up. If you happen to try them warmed up, let me know. Enjoy!
More Recipes to Enjoy with Italian Pastry Cream.
What you will need to make Sporcamuss!
Saucepans – This is the brand I use and I love them.
Whisks – I prefer to use stainless steel whisks. I have one in every size.
Dusting Wand – It wouldn't be an Italian Dessert without a dusting of Powdered sugar.
Sporcamuss Italian Cream Filled Pastries
A delicious Italian Pastry Cream filled Puff Pastry Square, Sporcamuss, a traditional recipe from Southern Italy, fast easy and so good.
Ingredients
1

roll pre-made puff pastry
PASTRY CREAM
3/4

cup

milk

(172 1/2 grams)

3/4

cup

cream (whipping or whole cream)

(172 1/2 grams)

4

egg yolks

1/2

cup

sugar

(112 1/2 grams)

1/2

teaspoon

vanilla

2 1/2

tablespoons

flour

(19.5 grams)
Instructions
First Prepare Pastry Cream.
PASTRY CREAM
In a medium pot, heat over low the milk and cream, do not boil. Remove from heat and let cool to warm.

In a medium pot add yolks and sugar, whisk together until combined, then add flour and vanilla, place pot over low heat, add warm milk/cream, whisking continuously until thickened. Remove to a glass bowl, cover with plastic wrap (make sure wrap touches the cream mixture)let sit for approximately 20 minutes then refrigerate for at least 3 hours.
PUFF PASTRY SQUARES
Pre-heat oven to 350° (180° celsius)

Cut puff pastry into 12 equal squares, puncture each square with a fork a few times, sprinkle with sugar and bake for approximately 20 minutes until puffy and lightly golden. Cool, then carefully, cut each square through the centre to make two parts (top and bottom).

Remove Pastry Cream from the refrigerator, place in pastry bag or use a spoon to fill 12 squares and then top with remaining squares, dust with powdered sugar and serve. If you would like to eat them warm then pre-heat oven to 350° and heat for approximately 2-4 minutes. We ate them unheated and they were delicious. Enjoy!
Nutrition
Calories:
230
kcal
Carbohydrates:
20
g
Protein:
3
g
Fat:
15
g
Saturated Fat:
6
g
Cholesterol:
87
mg
Sodium:
66
mg
Potassium:
50
mg
Sugar:
9
g
Vitamin A:
330
IU
Vitamin C:
0.1
mg
Calcium:
37
mg
Iron:
0.8
mg
I am a participant in the Amazon Services LLC Associates Program, an affiliate advertising program designed to provide a means for me to earn fees by advertising and linking to Amazon.com.
.
Updated from August 4, 2016.