An Italian Mimosa Cake is not only pretty to look at but really delicious to eat. This Cake isn't just any cake it was made to honour women on March 8th for International Women's Day.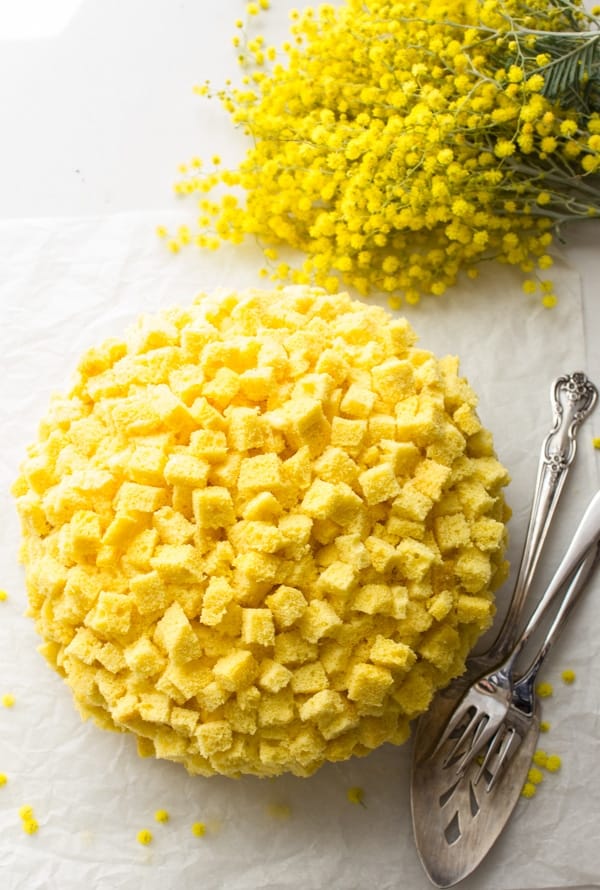 The first International Women's Day was celebrated on March 8, 1946. The Mimosa was chosen by the "Italian Women Association" probably because of the beautiful yellow flowers and the fact that the flower blooms in the beginning of March in Central Italy.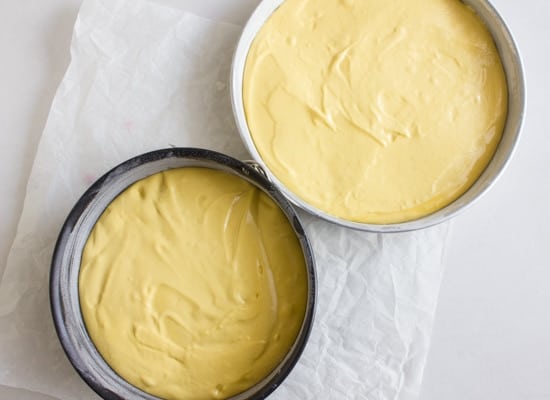 Most believe it was a Roman Female Pastry Chef that invented the Mimosa Cake, she cut up pieces of the cake and sprinkled them on the cake's surface in an attempt to produce the Mimosa flower.
On this day women / girls are given a small bouquet of Mimosa flowers.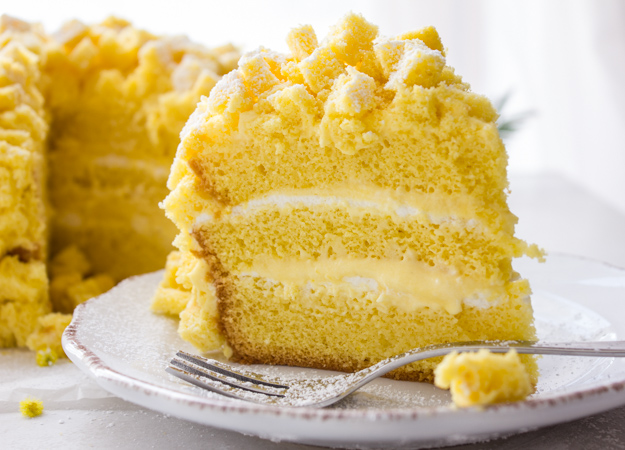 Yes even the Italian will give me a small bouquet of Mimosa flowers, but as he says, he also gave me a tree, and a glorious beautiful tree it is.
To tell the truth I adore that tree but the smell of the flower not so much. I think you have to have a nose for it, my daughters love it.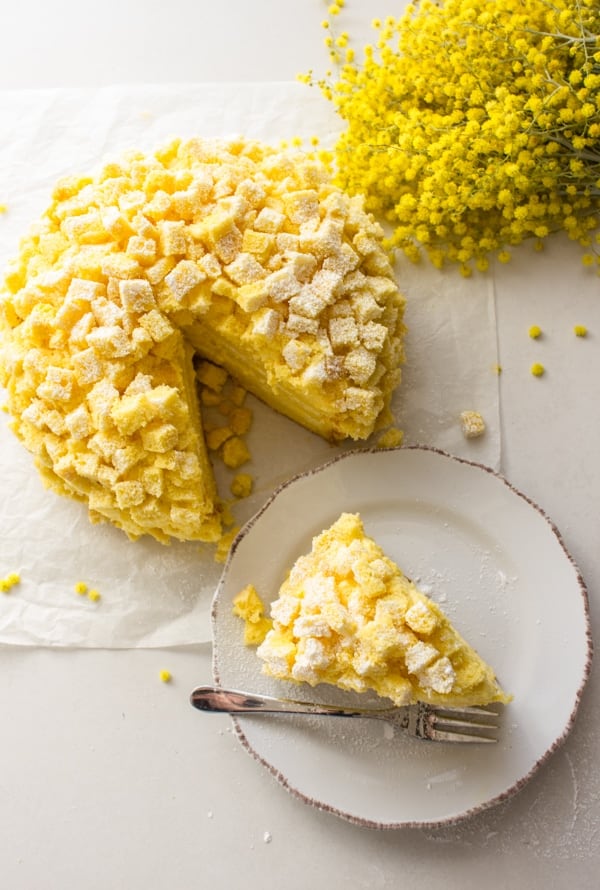 Italian Mimosa Cake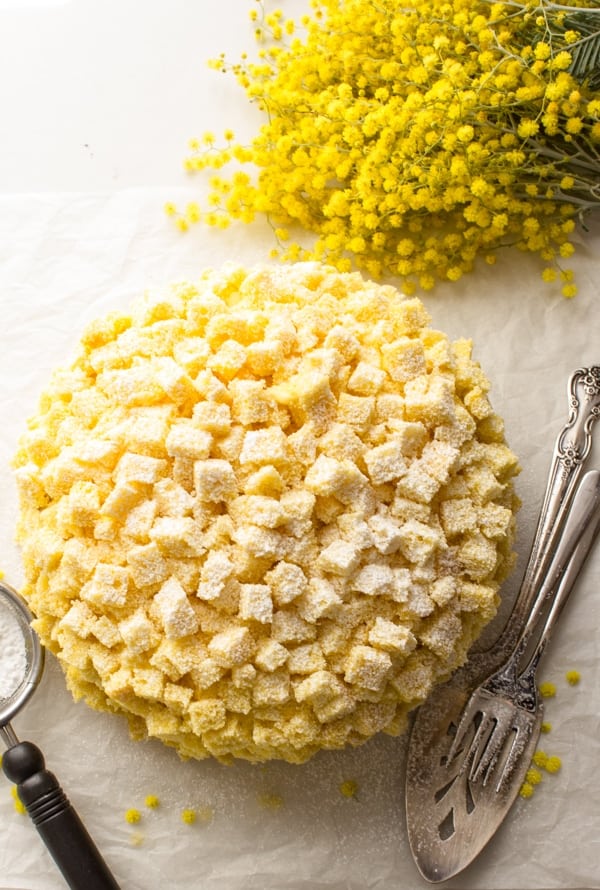 The Mimosa cake is not a difficult cake to make at all, just a little bit of patience and time and the process of making it becomes fun.
Don't let the bright yellow colour scare you, there is not a drop of food colouring in this cake. The brightness of the cake comes from the type of eggs that are used. The colour of the yolk depends on what the hen eats, it can go from very pale to a very bright yellow.
So if you have the urge to celebrate International Women's Day like the Italians or just because it seems like a good day to eat an amazing cake, then this Pretty Italian Mimosa Cake is for you. Enjoy!
Italian Mimosa Cake
Italian Mimosa Cake, a delicious sponge cake, layers of an Italian Special cream, a classic Italian cake, a delicate creamy dessert recipe.
Follow me on Youtube!
Watch the videos and don't forget to subscribe on Youtube!
Ingredients
FOR THE CAKE
4

large

eggs (room temperature)

1

large

egg yolk (room temperature)

1

cup

sugar

(200 grams)

2

teaspoons

baking powder

2 1/2

cups

of flour

(295 grams)
FOR THE ITALIAN PASTRY CREAM
3/4

cup

milk

172 1/2 grams

3/4

cup

cream

whipping or whole cream, 172 1/2 grams

4

egg yolks

1/2

cup

sugar

112 1/2 grams

1/2

teaspoon

vanilla

2 1/2 grams

2 1/2

tablespoons

flour

11.7 grams
FOR THE WHIPPED CREAM FILLING
3/4

cup

cream

whipping or whole cream, 172 1/2 grams

1 1/2

tablespoons

icing/powdered sugar

22 1/2 grams
Instructions
Pre-heat oven to 350° (180° celsius), lightly grease and flour a 7 x 3 inch (18 x 7 1/2 centimeter) round springform cake pan and an 8 inch (20 centimeter) round cake pan.

Beat on medium-low speed eggs and sugar until well mixed (1-2 minutes) add flour and baking powder and continue to beat on medium speed for 2-3 minutes or until smooth. Pour into greased cake pans and bake for approximately 30 minutes or until tooth pick comes out clean and dry. Let cake cool completely.

Remove the top from the 7 inch cake to make a flat surface (do not toss the cut cake**) then slice cake in 3 layers (set aside),remove the golden crust parts from the top and sides of the 8 inch cake (again do not toss**), then cut into 2 layers and cut each layer into long narrow strips and cut the strips into small square pieces (see photos) set aside.

FOR THE ITALIAN CREAM FILLING

In a medium pot, heat over low the milk and cream, do not boil. Remove from heat and let cool to warm.

In a medium pot add yolks and sugar, whisk together until combined, then add flour and vanilla, place pot over low heat, add warm milk/cream, whisking continuously until thickened. Remove to a glass bowl, cover with plastic wrap (make sure wrap touches the cream mixture) and refrigerate at least 3 hours.

FOR THE WHIPPED CREAM FILLING

In a medium bowl beat until stiff whipping cream (or whole cream) and powdered/icing sugar.

ASSEMBLING THE CAKE

To make it easier to assemble place the first layer of cake back into the spring form pan, spread half the Whipped Cream Filling and approximately 1/4 of the Italian Cream Filling on top, place the 2nd layer on top and repeat with fillings, top with third layer and cover the cake with the remaining Italian Cream Filling.

Cover the frosted cake with the small pieces of cake, refrigerate for at least 4-5 hours, overnight is even better. Dust with powdered/icing sugar before serving if desired. Enjoy!

**Place leftover cake in a plastic bag and free until needed, next week I will have a delicious coffee cake with a crumb topping using this leftover cake.
Nutrition
Looking for other delicious desserts, I think you will like these too!