Ratatouille, an Easy Tasty Vegetable Dish made with all fresh vegetables, the perfect side dish or main dish.
Easy Ratatouille
I have become a big vegetable lover, believe it or not after moving to Italy. I don't think there is a vegetable I don't like, oh yeah fave beans, cooked or raw.
But anything else is fine by me.
I have made Ratatouille once in my life and that was a long time ago, so when I saw a recipe for it from a fellow Blogger, Scott from I'd Rather Be a Chef,  with a lot of amazing recipes including his Rustic Provencal Ratatouille Dish,
I knew I had to give it another go. I don't have Herbs de Provence so I added a few that I do. I used fresh tomatoes just like Dan, because why use canned when you can use fresh?!
It is an easy dish to put together, just that the veggies go in the pot in steps, but then everything is simmered together. And if you happen to have some left overs, Ratatouille will taste even better the next day.
And let me tell you what a delicious, gorgeous sent there was in the Kitchen while it was all simmering together. We couldn't wait to taste it.
Easy Ratatouille
Besides, being April, and between cool, rainy and still wanting to be comfy, Ratatouille is the perfect Comfort Dish for this time of the year. Buon Appetito!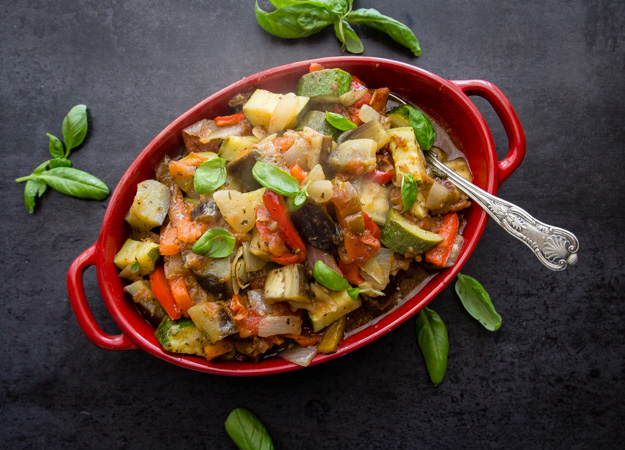 More Delicious Vegetable Recipes
Easy Grilled Eggplant Rolls with a Fresh Veggie Stuffing
Easy Tomato Avocado Feta or Mozzarella  Bruschetta
Creamy Tomato Pesto Fettuccine
Ratatouille
Ratatouille, a classic easy fresh vegetable dish recipe, the perfect side or main dish. A delicious vegan, vegetarian healthy recipe.
Ingredients
2

onions

(chopped medium large)

2

large ripe firm tomatoes

(chopped and seeded)

1

large eggplant (or 2 medium)

(chopped medium large)

1-2

bell peppers

(sliced thin)

2

zucchini

(chopped medium large)

2

cloves

garlic

(chopped)

3

tablespoons

olive oil

1

teaspoon

oregano

1/2

teaspoon

basil

fresh basil

1/4

teaspoon

thyme

2

sprigs

fresh Italian parsley (or 1/4 tsp dried)

(minced)

hot pepper flakes if desired
Instructions
In a large bowl add chopped eggplant and sprinkle with half a teaspoon of salt, stir to combine, let sit 20 minutes. Drain and gently squeeze to remove a little moisture (before adding to pot)

In a large pot (dutch oven) add olive oil, garlic and onion, when onion becomes clear add peppers, stir and cook on medium for approximately 10 minutes.

Add chopped tomatoes and half the spices, add eggplant and zucchini, top with other half of spices. Stir often and cook on low for approximately 45-60 minutes, or until vegetables are cooked to desired doneness. (I found 50 minutes was good for me) Enjoy!
Nutrition
Calories:
113
kcal
Carbohydrates:
13
g
Protein:
2
g
Fat:
6
g
Saturated Fat:
1
g
Sodium:
147
mg
Potassium:
482
mg
Fiber:
4
g
Sugar:
6
g
Vitamin A:
430
IU
Vitamin C:
35.3
mg
Calcium:
35
mg
Iron:
0.7
mg