Easy Cheesy Asparagus Quiche is a delicious tasty Spring time Quiche, perfect for lunch or dinner, serve with a salad and Dinner is served. Makes the perfect brunch idea too.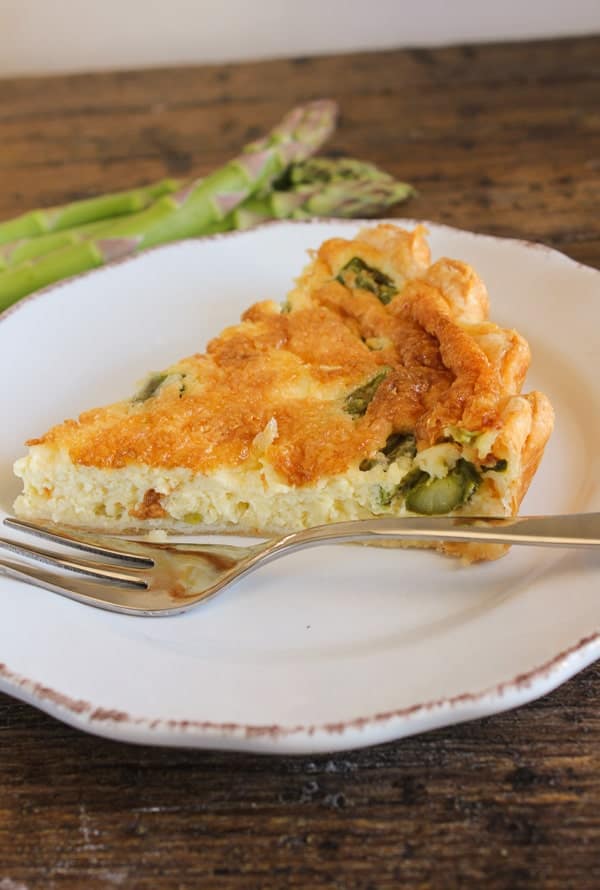 Cheesy Asparagus Quiche has become a delicious lunch time favourite in our house.
How long has it been since I made a Quiche? A long long time. To tell the truth I think I got scared of serving my family another Quiche.
I sometimes get carried away when I cook or bake, when I make something that goes over really really well I tend to make it and make it and make it, although I have been trying to control myself these last few years.
This was the case with Quiche. Maybe because Quiche brings back good memories of my life in Canada. I used to order Quiche and a salad and I still love that combination.
The other day when I was doing my grocery shopping I noticed the arrival of asparagus.
I love seeing asparagus at the grocery shop,  it also means we are getting closer to spring. And I can just imagine how many of you just can't wait for that, with the cold and snowy winter that you were forced to bear, a little bit of spring will be a warm welcome.
More Delicious Egg Recipes you may enjoy!
Classic Carbonara Pancetta and Egg Pasta
Italian Fresh Asparagus Frittata
Needless to say when I saw that perfect bundle of asparagus I immediately thought Quiche, Asparagus Quiche.
I reasoned enough time had passed since the last time I made this dish, they will devour this.
Asparagus Quiche
This Asparagus Quiche made with a flaky pie dough (I purchased a pre-made pie dough) filled with steamed asparagus , some creamy Gruyere cheese, eggs, cream and milk.
A perfect weekend lunch idea and oh don't forget a simple tossed salad.
Although strange isn't it they never get tired of friday night pizza!
Asparagus Quiche
Easy Cheesy Asparagus Quiche is a delicious tasty Spring time recipe, perfect for lunch, dinner and even brunch, serve with a salad and Dinner is served.
Ingredients
14

asparagus stalks

4

eggs

1

cup

+ 1 tablespoon shredded gruyere cheese

1 1/2

cups

whole cream

1/2

cup

milk

1/4

teaspoon

salt

1

tablespoon

butter

(melted)

1

pre-made pie crust

unbaked
Instructions
Pre-heat oven to 350° (180 celsius)

TO CLEAN THE ASPARAGUS

If you buy really thick asparagus then you might want to peel the outside woody part with a potato peeler. Snap off the tough base of each spear, this is usually around the bottom third

of the spear, where the stem starts to turn tender. Keep only the tender part. Chop into 1/4 inch (3/4 centimeter) sizes. Boil or steam for approximately 10 minutes. Drain and set aside.

In a 10 inch (26 centimeter) pie plate, place the pre made (or homemade) pie pastry, brush with melted butter, and spread the steamed asparagus on top.

In a medium bowl, whisk together eggs, cream, milk and salt, stir in grated cheese.

Pour mixture over the asparagus.

Bake for 15 minutes then turn oven down to 325° (160° celsius) and bake approximately 30 minutes more. Quiche will be cooked when a knife inserted comes out clean. Let stand 5-10 minutes before serving. Enjoy!
Nutrition
Calories:
378
kcal
Carbohydrates:
13
g
Protein:
11
g
Fat:
31
g
Saturated Fat:
17
g
Cholesterol:
166
mg
Sodium:
282
mg
Potassium:
174
mg
Fiber:
1
g
Sugar:
1
g
Vitamin A:
1210
IU
Vitamin C:
1.8
mg
Calcium:
236
mg
Iron:
1.6
mg
Updated from March 10, 2015.