Roasted Rosemary Potatoes are a delicious and easy baked potato recipe. A few simple ingredients makes these the best Potato side dish you will taste. The perfect accompaniment for any main course.
We love potatoes in our house and another of our favourites are these Best Creamy Simple Scalloped Potatoes.
 Roasted Potatoes
Rosemary Roasted Potatoes are always on our table during the holiday season, Christmas, Thanksgiving or Easter or just about anytime we want one of the best baked Potato recipes.
I have always been the type of person who loves carbs. Pasta, rice, bread or potatoes, anyway, anywhere.
But these Roasted Potatoes with Rosemary have to be one of the best if not the best way to eat potatoes.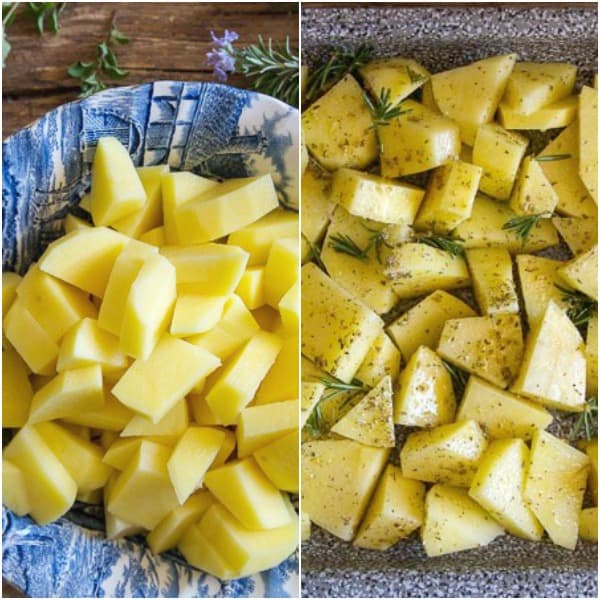 How to Make Roasted Potatoes with Rosemary:
Cut and rinse the Potatoes.
Drain well and towel dry the potatoes. You want as much moisture removed as possible.
Place the cut up potatoes, the spices and olive oil in a large bowl and combine well.
Place in a large baking pan and sprinkle with a little more oregano and salt.
Bake for approximately 45-60 minutes or until browned and slightly crispy.
Turn a couple of times with a spatula while baking.
Serve immediately.
The Best Potatoes for Baking:
To have the best baked potatoes you are going to want a medium or high starch potato, which includes the Russet, Yukon Gold and Red Potatoes.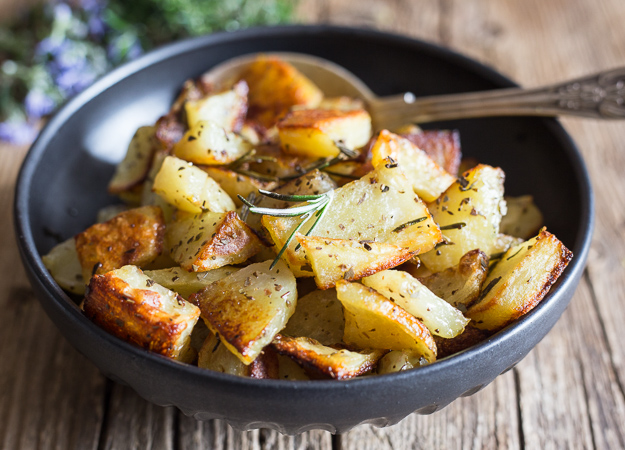 Tips for making Oven Roasted Potatoes:
I think one of the main reasons that these potatoes always turn out so good is because I towel dry them. Because  the secret is to remove as much moisture as possible before baking.
Bake the potatoes on high heat, I found 400F (200C) the best.
Make sure the potatoes are baked in a single layer on the cookie sheet.
What to serve Oven Roasted Potatoes with:
Baked with rosemary, oregano and olive oil, they're light, crunchy and so flavourful. These potatoes are great paired with Fish, Chicken, Beef or Pork. Basically anything, why not ditch the fries and serve some Oven Roasted Rosemary Potatoes?
How to re-heat leftover Roasted Potatoes:
I like to re-heat my left-over potatoes (it's actually not very often there are left-overs) in a frying pan, uncovered, with a drizzle of olive oil, heat on high for a couple of minutes, stirring the potatoes occasionally.
The healthier way to eat potatoes and delicious too. The whole family will love them, and perfect for special occasions too! Buon Appetito!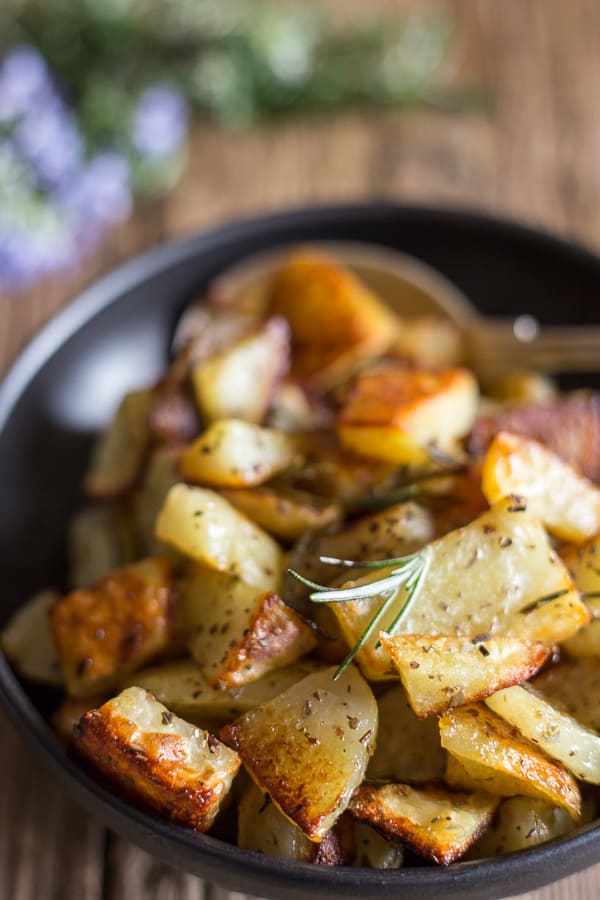 Other Delicious Potato Recipes you may enjoy!
Baked Double Cheese Mashed Potatoes
Italian Spiced Parmesan Hasselback Potatoes
Italian Roasted Potatoes and Zucchini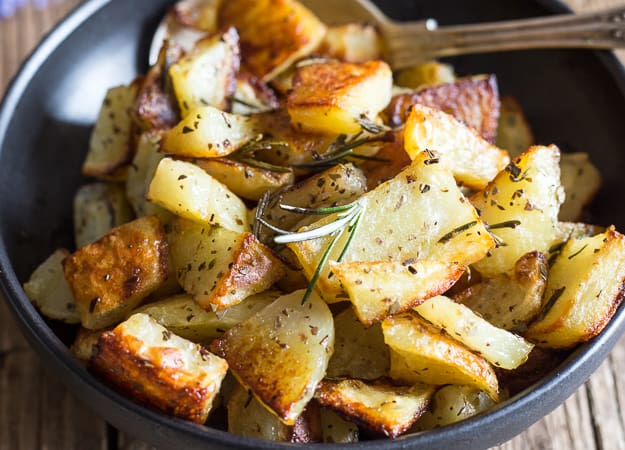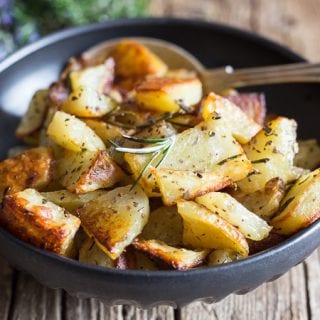 Italian Oven Roasted Rosemary Potatoes
Rosemary Roasted Potatoes are a delicious and easy side dish. The perfect accompaniment for any main course, meat, fish or chicken.
Ingredients
4

large potatoes

(peeled and cut into large cubes)

2-3

leaves

sprigs fresh rosemary

(washed and removed from the stem)

2 1/2

teaspoons

oregano

1 - 2

cloves

garlic minced (if desired)

1

teaspoon

salt

1/4

cup

olive oil
Instructions
Heat oven to 400° (200° celcius)

Cut and rinse the potatoes. Dry the potatoes with a clean towel.

In a large bowl mix together, the towel dried potatoes, rosemary leaves, oregano, garlic, salt and olive oil then place in a large baking pan (use a large baking pan so that the potatoes have room) and sprinkle with another 1/2 - 1 teaspoon (1/2-1 gram) of oregano and 1/4-1/2 teaspoon (1 1/2-3 grams) salt.

Bake in pre-heated oven for approximately 45-60 minutes. Flip the potatoes with a spatula a couple of times while baking.

Serve immediately, enjoy!
Nutrition
Calories:
247
kcal
Carbohydrates:
27
g
Protein:
5
g
Fat:
13
g
Saturated Fat:
1
g
Sodium:
603
mg
Potassium:
895
mg
Fiber:
6
g
Vitamin A:
35
IU
Vitamin C:
24.6
mg
Calcium:
90
mg
Iron:
7.6
mg
Updated from March 13, 2018.