Italian Roasted Potatoes  Zucchini the perfect side dish to any meal,  Italian spices and olive oil make this dish delicious and healthy.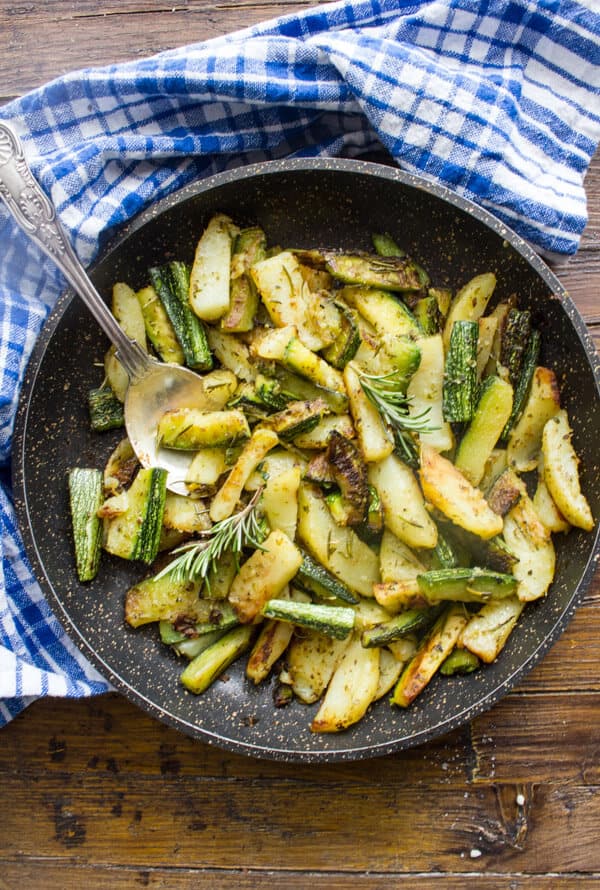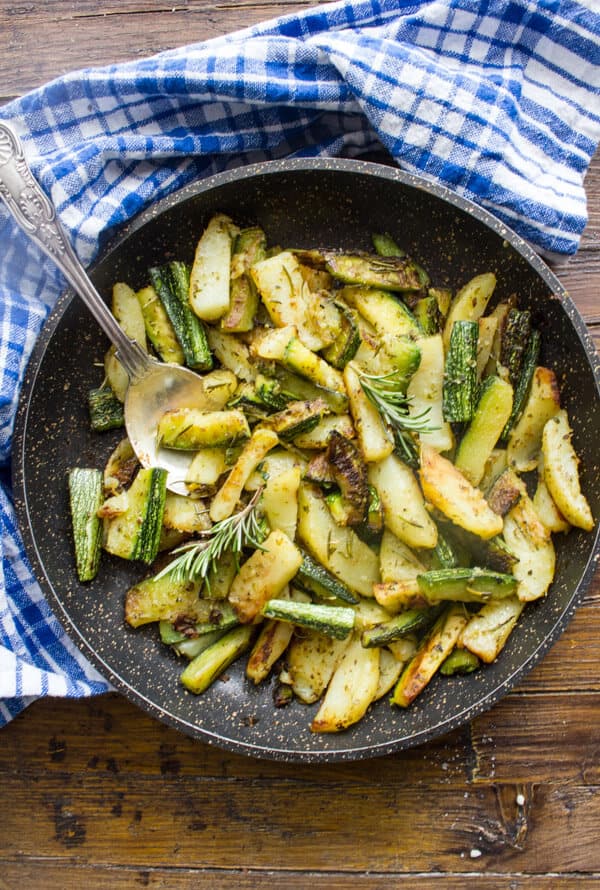 I don't know about you, but living in Italy and having a mother-in-law who grows the most amazing vegetables, it comes the time when it is Zucchini over load.
After living in Italy and cooking side by side with some amazing cooks, I have to admit zucchini is one of my favourite vegetables now. I have discovered and made so many delicious dishes with zucchini.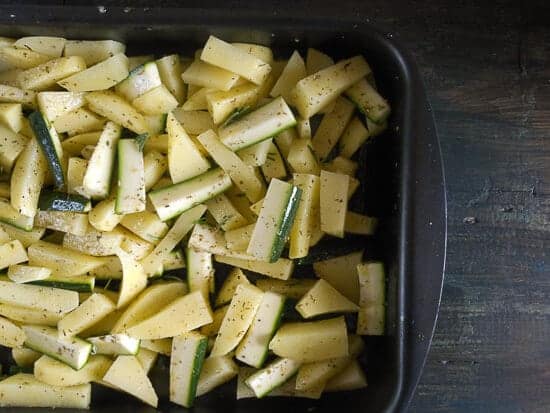 When you have too many zucchini  and they are coming out of your ears, or you just feel like scooping some up at the market, this is the recipe to try. Believe me zucchini and potatoes go so well together, crispy and tasty.
Exactly how they should be. Even if you have kids who say "yuck I hate zucchini", I'm sure they will love them done this way, and I am  talking from experience.
What  is also great about this recipe is, if you have some extra-large zucchini, don't toss them because you think they aren't worth keeping,  just  cut away the extra pulp, the bigger zucchini tend to have extra seeds.
Now if you were my mother-in-law, she would seed them, dry them out and put them away for next zucchini season. Well you could always give that a go if ever you ever get the desire. I haven't yet but I keep thinking one day. Buon appetito!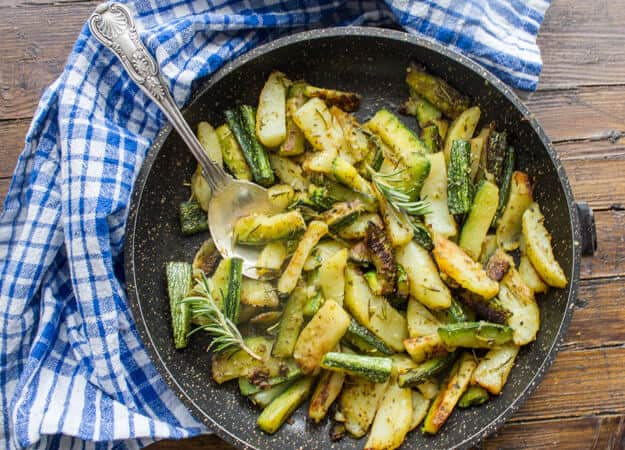 Italian Roasted Potatoes & Zucchini
Roasted Potatoes and Zucchini, Italian style, roasted in the oven with rosemary, garlic, oregano & olive oil, easy, simple and delicious.
Follow me on Youtube!
Watch the videos and don't forget to subscribe on Youtube!
Ingredients
4-5

large potatoes

2-3

medium zucchini

1/4

cup

olive oil

40 grams

1 1/2

teaspoons

salt

9 grams

1 1/2

teaspoons

oregano

1 1/4 grams

3

sprigs rosemary (leaves removed from the stem)

1

clove

garlic chopped
Instructions
Pre-heat oven to 400° (200° celcius)

Peel and rinse the potatoes, cut into small wedges, then dry them in a clean dish towel, place in a large baking pan, add zucchini also cut into small wedges, toss with olive oil, salt, oregano, rosemary and garlic, mix well, if you like sprinkle with additional oregano and salt. Bake in a pre-heated oven for approximately 1 hour. (halfway through cooking time, mix the potatoes with a spatula), continue cooking. Serve immediately. Enjoy!
Nutrition