Italian Parmesan Spiced Hasselback Potatoes are a delicious side dish, simple and perfectly spiced, baked and topped with freshly grated Parmesan Cheese.
I like potatoes, anyway, anyhow. Roasted Potatoes, Scalloped Potatoes, a Creamy Potato Soup and even Potatoes disguised as Gnocchi! Although the Italian not so much.
Nor is my husband a great lover of Pasta unless of course it is Baked, as in Lasagna or Gnocchi especially a white sauce variety. And potatoes? Well basically as long as they are Baked or Roasted too.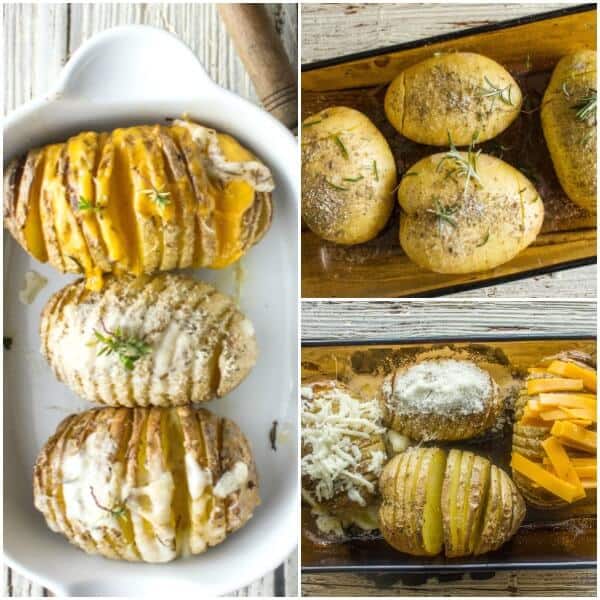 So when I decided to make an Italian version of the Hasselback Potato he loved it. Especially when I added some grated fontal cheese.
With the American Thanksgiving just around the corner I thought an easy side dish would be perfect. Even if you aren't celebrating Thanksgiving a yummy side dish never hurt.
Italian Spiced Parmesan Hasselback Potatoes
Here are some other delicious side dishes you might enjoy.
Creamy Broccoli Potato Casserole
Creamy Cheesy Scalloped Potatoes
Roasted Potatoes with Rosemary
When making these Potatoes make sure you don't cut all the way through, they have to be cut fan like. Brush them with half the  butter and oil mixture and sprinkle generously with some spices including oregano, thyme and rosemary.
Halfway through baking add the rest of the butter mixture and at the very end when the Hasselback Potato is nice and tender,  sprinkle with Parmesan Cheese or even some firm mozzarella or Fontal cheese. Bake until cheese has melted. Delicious. Buon Appetito!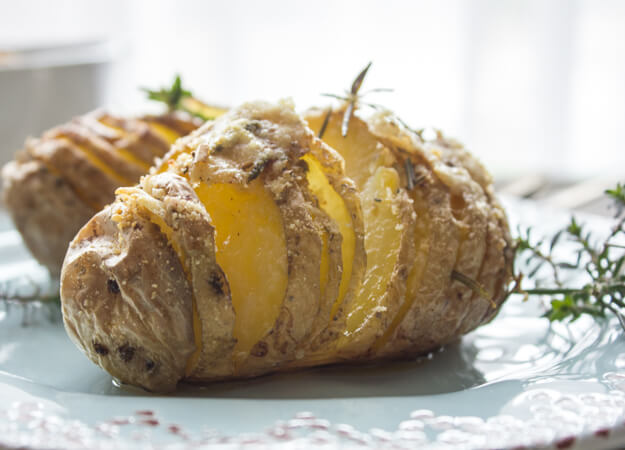 Italian Spiced Parmesan Hasselback Potatoes
Easy Baked Italian Spiced Parmesan Hasselback Potatoes, the perfect side dish Potato recipe, perfectly spiced and cheesy.
Ingredients
4

medium sized potatoes

2

tablespoons

butter melted

2

tablespoons

olive oil

2-3

sprigs

rosemary leaves removed & chopped

1-2

teaspoon

oregano

1

teaspoon

thyme

salt

to taste

pepper

to taste

1/3

cup

freshly grated Parmesan cheese

**Fontal, firm Mozzarella for example.
Instructions
Pre-heat oven to 425°, lightly grease a medium baking dish.

Slice potatoes straight down but don't cut all the way through to the bottom. Make the slices about 1/8" thick (not too thin or too thick).

In a small bowl mix together melted butter and olive oil.

In another small bowl mix together chopped rosemary, oregano, thyme, salt and pepper.

Brush half the butter mixture between the slices of each potato and sprinkle with spice mixture.

Bake for approximately 30 minutes.

Remove from oven and drizzle with remaining butter mixture, bake for another 30-30 minutes or until potatoes are tender.

The last 5-10 minutes of baking time top with grated Parmesan or your Cheese of choice. Remove from oven and serve immeditaly. Enjoy!
Nutrition
If you are wondering what to serve for dessert, well I could have you covered in that department too!
If you are looking for something decadent.
Creamy Double Chocolate Fruit Tart
Skor Toffee Bits Vanilla Chocolate Cheesecake
Something a little lighter.
And Something No Bake
Seven Layer Brownie Cheesecake Parfait
Death by Chocolate Ice Cream Cake
How about what to do with all those leftovers?
Mashed Potatoes – Mashed Potato Croquettes
Turkey – Leftover Turkey (or Chicken) Pasta Skillet
Ham – Parmesan Potato Ham Bake