No-Bake Brownie Cheesecake Parfait is a delicious decadent dessert. Layers of brownie bites, creamy cheesecake, homemade chocolate glaze, toasted coconut, and more. This Brownie Cheesecake Parfait is your Perfect Dessert.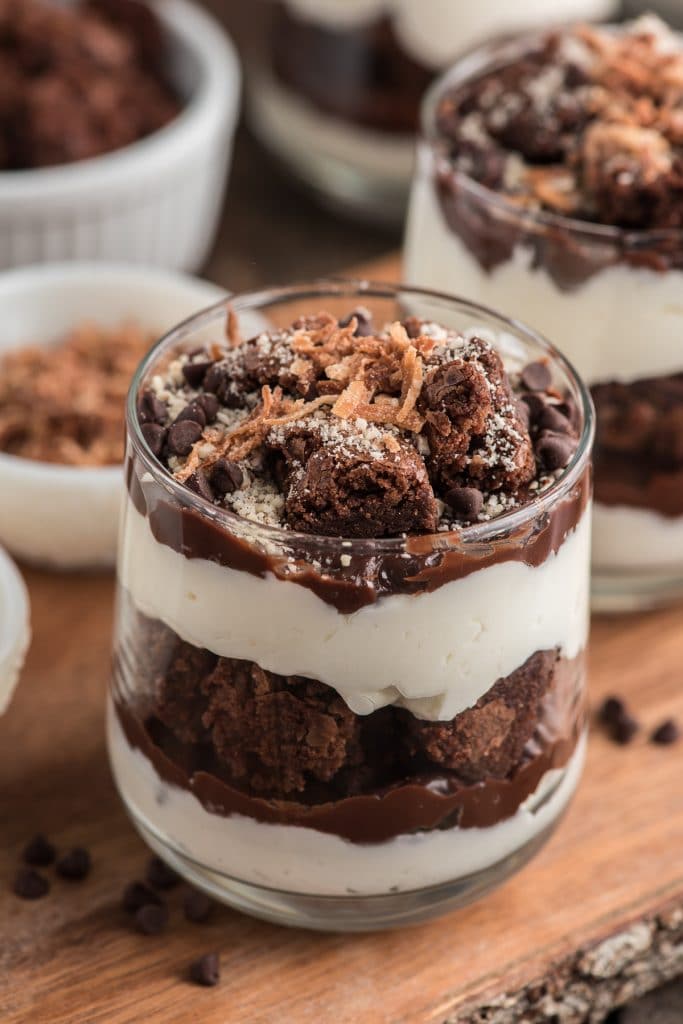 No-bake desserts are one of my favourite because why turn on the oven if you don't have to? Especially during the summer when it's hot – when it gets to be August the last thing I want to do is turn on the oven.
This brownie cheesecake parfait is the perfect no-bake dessert. It's has layers of cheesecake filling, brownies, chocolate, and coconut. The best combination of flavors and texture.
What Is a Parfait?
Parfait, where does it come from and what does it mean? The French were the first to make a Parfait, which means Perfect in English. The French Parfait is more like ice cream, made with cream, sugar, and eggs.
It was thanks to the Americans who decided to change it up a bit by layering ice cream, fruit, cookies, yogurt, and even granola in tall glasses.
So basically what it comes down to is, when making your own homemade Parfait anything goes. Add your favourite ice cream, yogurt, crushed cookies, or cake, fruit or chocolate and start layering.
My Italian friends and family go absolutely crazy for cheesecake and seven-layer bars (also known as Hello Dollies)! Parfaits aren't big here so I like to make them when we have guests for dinner as a special surprise.
Why Brownies you ask? Well, because I really didn't want to use cookies and they have a really good store-bought brownie-type cake here. Any unfrosted prepared brownies will work or even plain chocolate cake.
I really wanted to give it a Seven Layer Bar feel, so since I didn't want to bake it, but I decided that the chocolate ganache had to have some unmelted chocolate chips just like the bars, and I wanted that baked coconut taste so next best thing? Toast it!
All of those layers together is an ultimate no bake dessert! This seven layer brownie cheesecake parfait recipe is a special treat and everyone scrapes their glasses clean when I make it.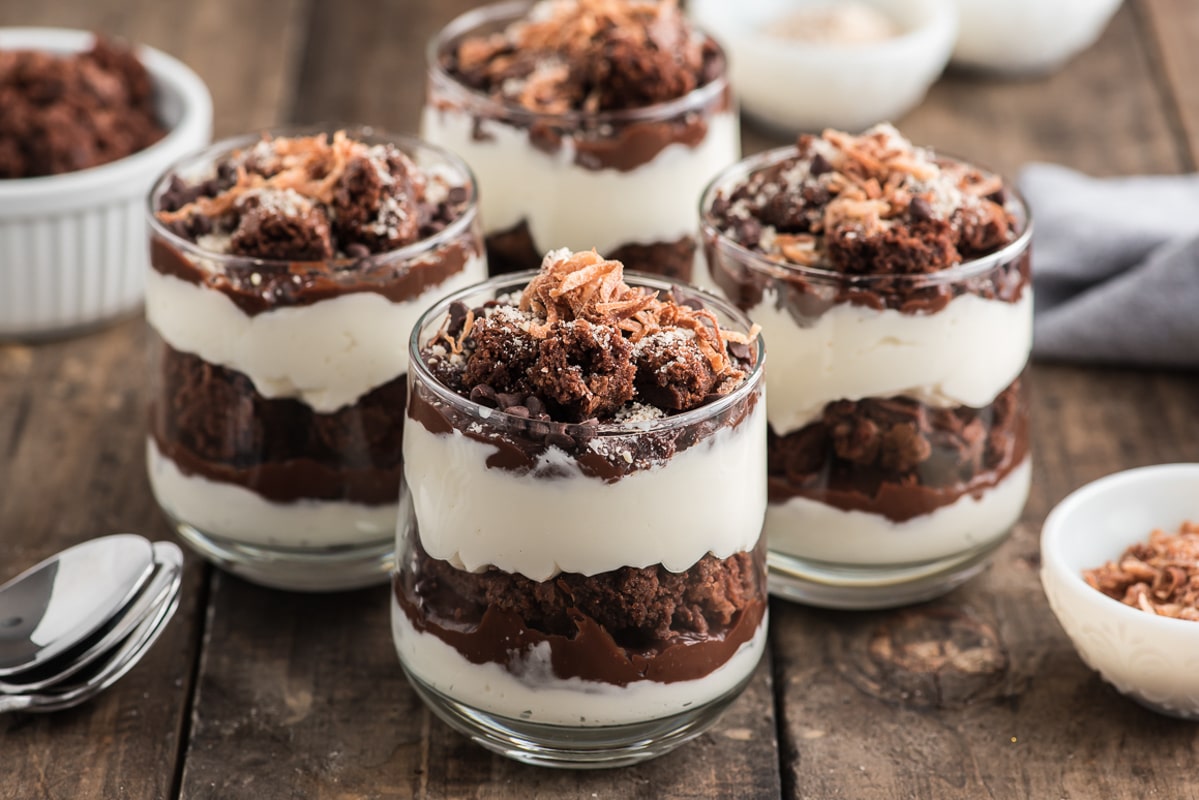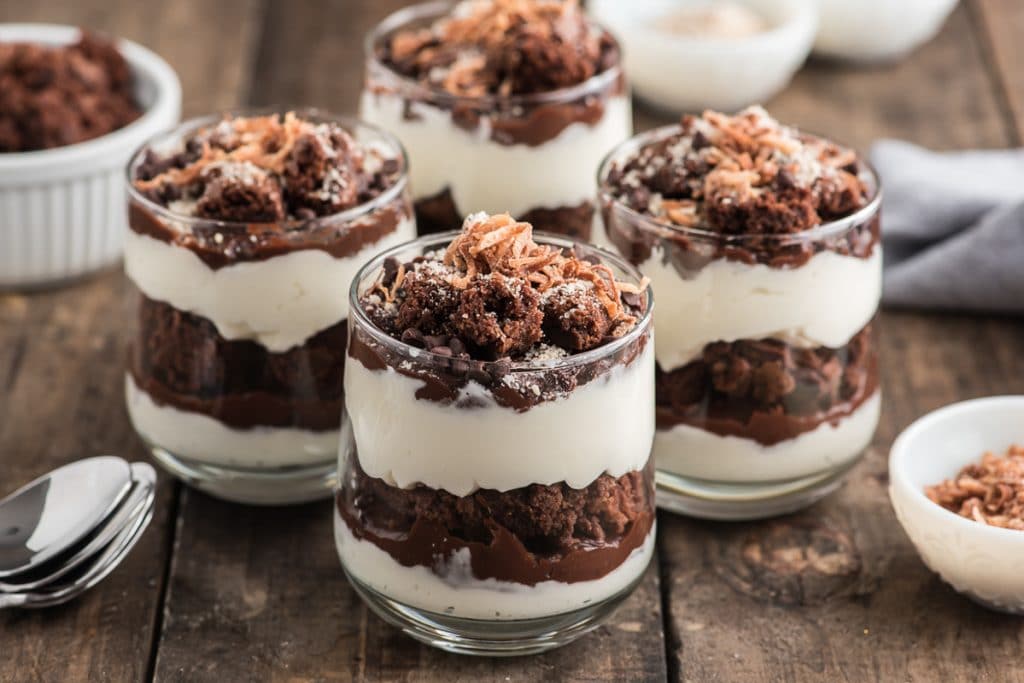 Ingredients
Cream cheese
Granulated Sugar
Vanilla extract
Cream – whipping, whole or heavy (at least 30% fat)
Mini chocolate chips – I like dark chocolate chips, but you can use milk chocolate or semi-sweet.
Butter – salted
Toasted coconut – I've included how to toast coconut in the recipe card.
Ground nuts – walnuts, almonds, pecans, or peanuts are great.
Brownies or Rich Chocolate Cake cut into cubes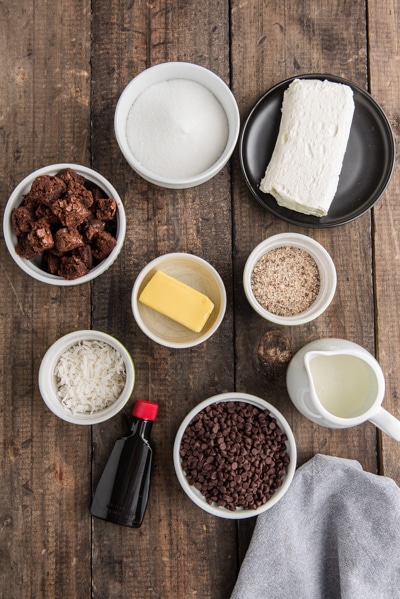 Instructions
Place the butter and cream in a saucepan and warm them over medium heat. Once the butter is melted add some of the chocolate chips and stir until the mixture is smooth.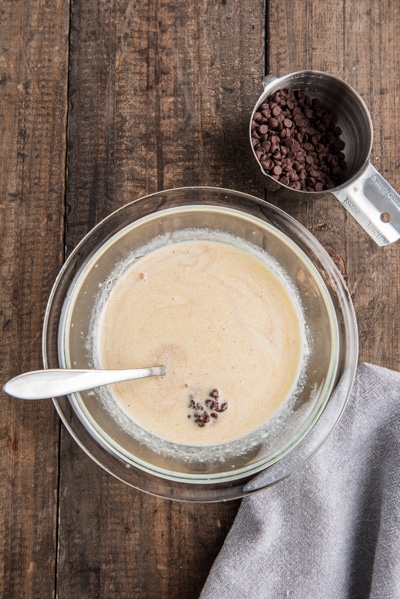 Cool the chocolate mixture for five minutes and then add the rest of the chips and stir.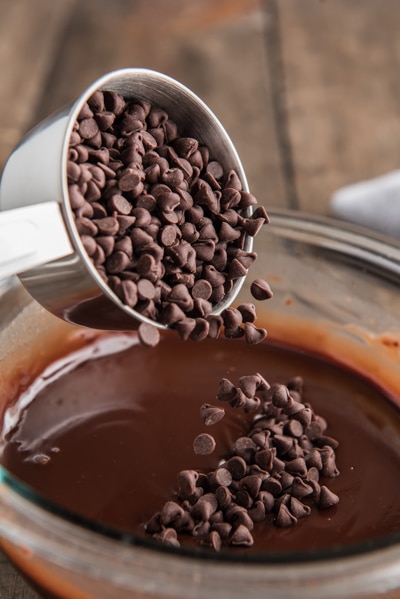 Pour heavy cream into the a mixing bowl. Whip it with the beaters until stiff peaks form,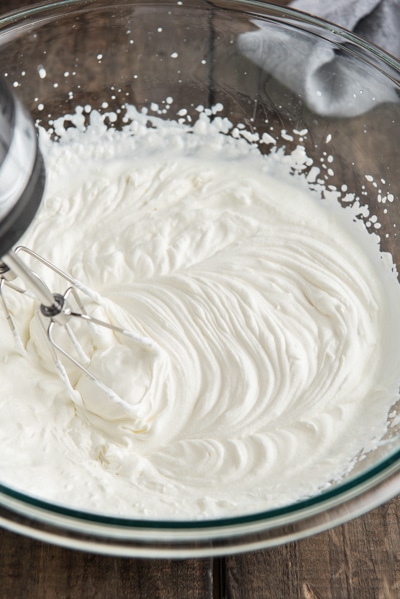 In a separate bowl, beat the cream cheese, sugar, and vanilla until smooth. Carefully fold the cream cheese mixture into the whipped cream until combined.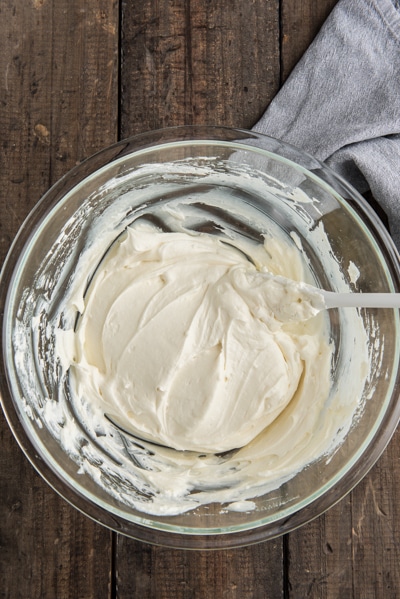 How to Assemble No Bake Cheesecake Parfait
You will need four medium to large glasses or if you prefer you can make smaller ones using 6-8 glasses. There are no rules, but this is how I like to layer the ingredients to make the parfaits: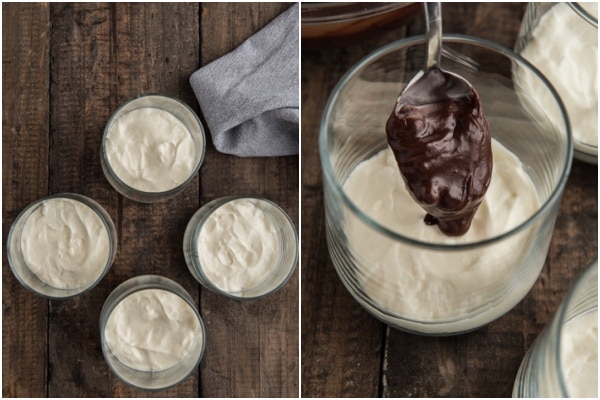 Spoon a couple tablespoons of the cheesecake filling in each glass.
Add some chocolate sauce and top it with some cubed brownies.
Add more cheesecake followed by more chocolate and brownies.
Sprinkle toasted coconut over the top.
Garnish with ground nuts and mini chocolate chips.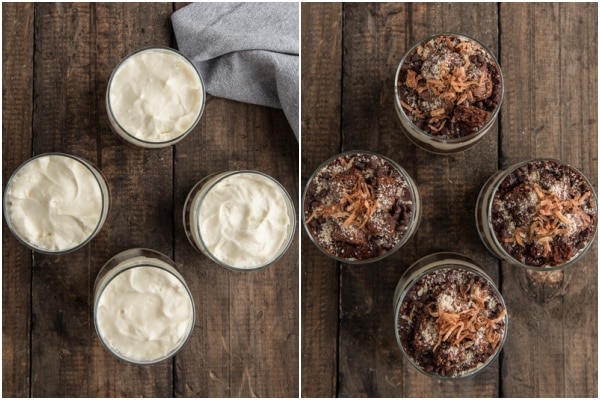 Refrigerate the cheesecake parfaits for three to four hours before serving.
An absolute, perfectly decadent dessert when combined with the creamy cheesecake filling and a homemade dark chocolate ganache, toasted coconut and ground nuts, oh yeah let's not forget some extra mini dark chocolate chips. Yup, it's gooood! Grab a spoon and enjoy!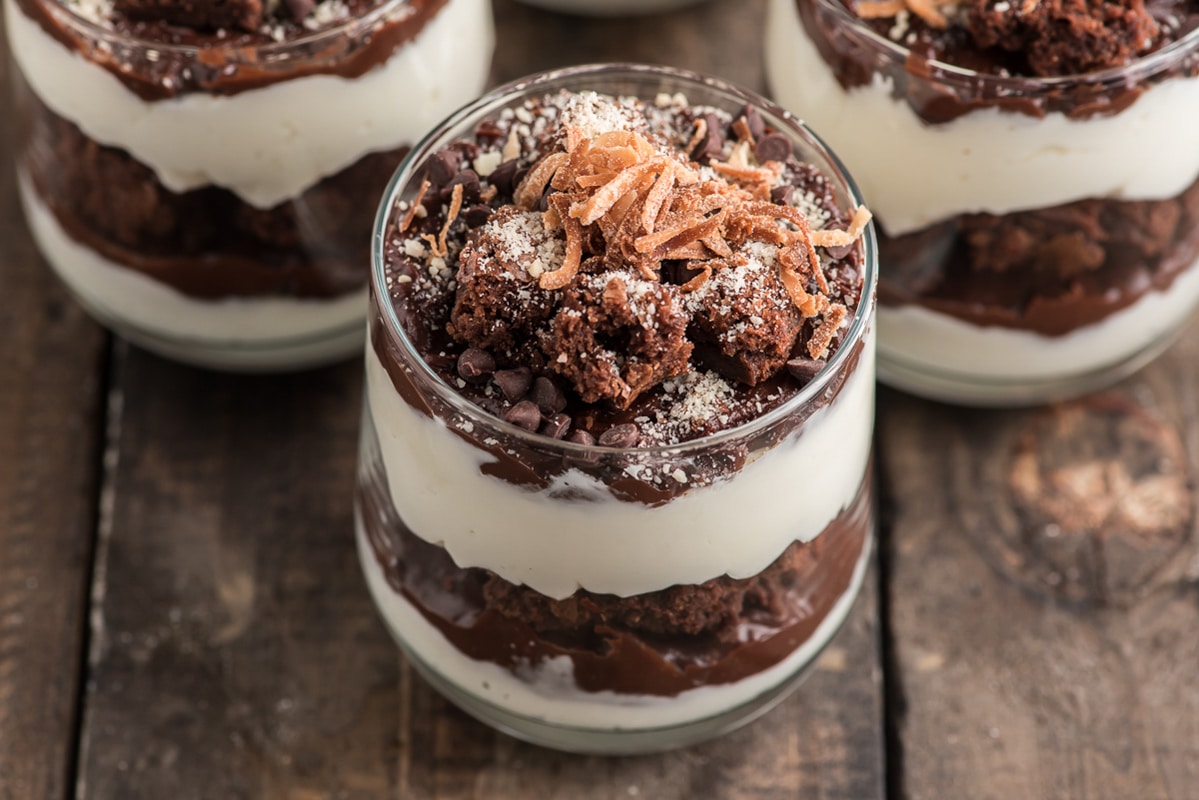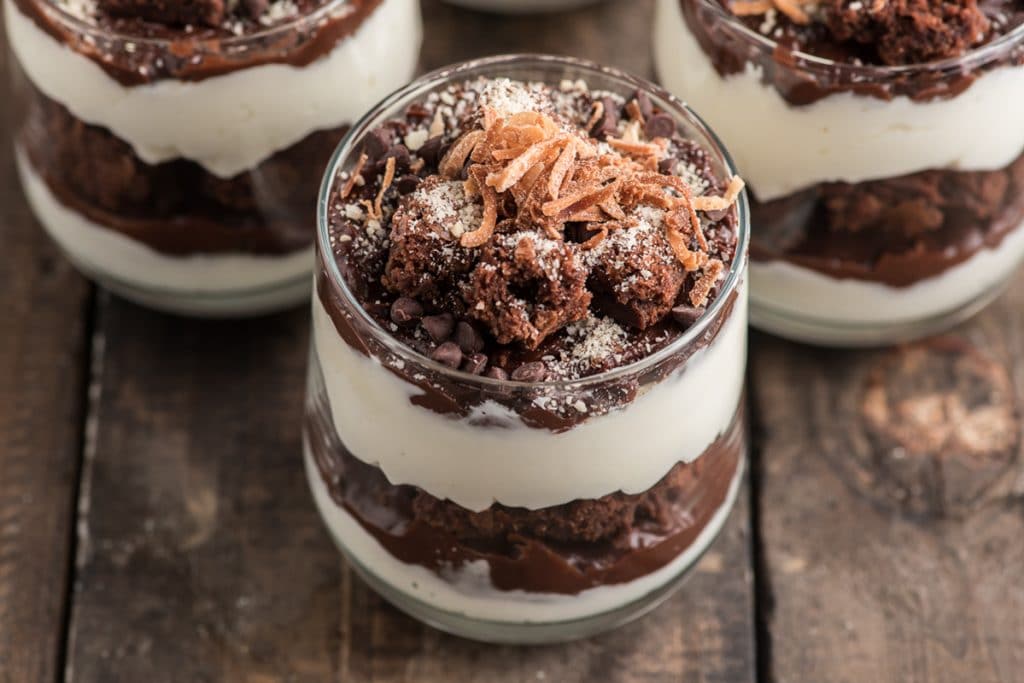 More No-Bake Desserts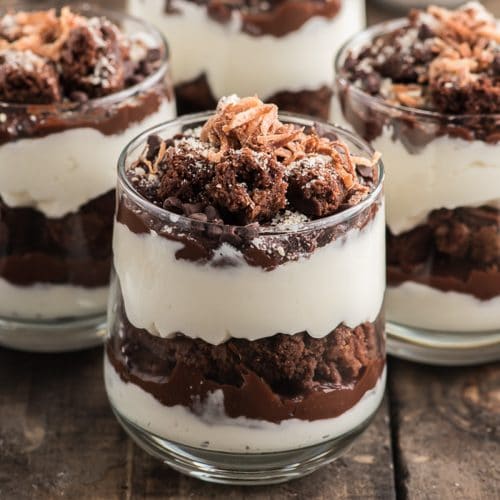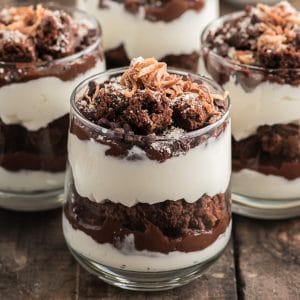 Easy No-Bake Brownie Cheesecake Parfait
No-Bake Brownie Cheesecake Parfait is a delicious decadent dessert. Layers of brownie bites, creamy cheesecake, chocolate glaze and more.
Ingredients
CHEESECAKE FILLING
8

ounces

cream cheese* softened

3/4

cup

granulated sugar

3/4

teaspoon

vanilla

1

cup

cream whole/whipping cream or heavy
* I used 3 ounces (85 grams) regular cream cheese and 5 ounces (140 grams) light cream cheese.
CHOCOLATE GANACHE
1/2

cup

whole / whipping cream

1/4

cup

butter

1 1/4

cups

mini chocolate chips (dark chocolate) divided
EXTRAS
1/4

cup

toasted coconut

1/4

cup

coarsely ground nuts

1/4

cup

mini chocolate chips (milk or semi sweet)

1

Store bought or homemade Brownie or Rich Chocolate Cake, cut into cubes
Instructions
CHOCOLATE GANACHE
Heat butter and cream until butter has melted, stir to combine, add 3/4 cup of the chips and stir until smooth, let cool about 5 minutes then stir in the remaining chips (1/2 cup) (you want some chips to stay whole) set aside.
CHEESECAKE FILLING
Remove beaters and bowl from freezer and beat cream until stiff. Set aside.

In a medium bowl beat cream cheese, sugar and vanilla until smooth. Fold cream cheese mixture into whipped cream and gently combine.
TOASTED COCONUT
Pre-heat oven to 350F (180C), place shredded coconut (I bought fresh coconut and shredded it myself) on a non stick cookie sheet and bake for approximately 5-10 minutes or until lightly golden, remove from the pan to a clean bowl to cool.
PUTTING PARFAITS TOGETHER
Using 4* medium to large glasses start with a couple of tablespoons of cheesecake filling, chocolate ganache, then a few brownie cubes, cheesecake filling, chocolate ganache, brownie cubes, a sprinkle of toasted coconut, nuts and chocolate chips. Refrigerate 3-5 hours or better over night. Enjoy!
* You could use smaller glasses and make 6-8.
Notes
If you have a hard time whipping the cream, then place a glass bowl

in the freezer for approximately 15-20 minutes before using.
The parfait will keep for up to 3-4 days in the fridge. Cover well with plastic wrap before refrigerating.
Nutrition
Calories:
957
kcal
Carbohydrates:
75
g
Protein:
8
g
Fat:
72
g
Saturated Fat:
43
g
Polyunsaturated Fat:
6
g
Monounsaturated Fat:
16
g
Trans Fat:
1
g
Cholesterol:
196
mg
Sodium:
420
mg
Potassium:
262
mg
Fiber:
1
g
Sugar:
67
g
Vitamin A:
1981
IU
Vitamin C:
1
mg
Calcium:
154
mg
Iron:
1
mg
Republished from June 3, 2016.