Baileys Mousse Pie is a fast and easy No Bake Dessert Recipe. A creamy filling tops a chocolate wafer base then a Chantilly Cream brings it all together!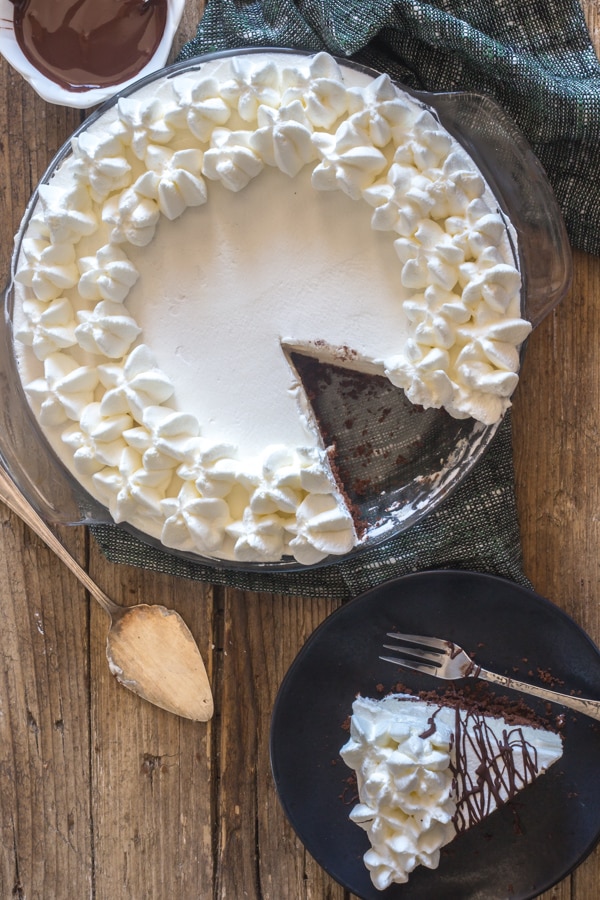 Baileys Mousse Pie
This month for my little get together with my three Blogger friends, we decided to share a Baileys or Guinness Recipe.
The perfect way to share my Irish Roots for the 17th!
Naturally my choice was Baileys! And since I wanted something quick and easy, which also means No Bake, I decided this Baileys Mousse Pie would be perfect!
If you like to taste the Baileys in your dessert then this is the Pie for you.
The Italian after the first forkful told me "Wow you can really taste the Baileys", I asked if he thought it was too much, "Nope I like it like this". Me too!
Does Mousse Contain Gelatine?
Not all Mousse Recipes contain gelatine, but I did use it in this Pie Recipe to help the mousse set.
You could always use Agar Agar as a one for one substitute if you prefer.
Who invented Baileys?
According to Wikipedia, Baileys Irish Cream was created by Tom Jago of Gilbeys of Ireland. Baileys was first introduced in 1974 as the first Irish cream on the market.
John Chesterman granted permission for the use of The Baileys name after Gilbeys asked to use the name. The name is from a restaurant that John Chesterman owned.
Baileys is produced in Dublin and Mallusk (Northern Ireland).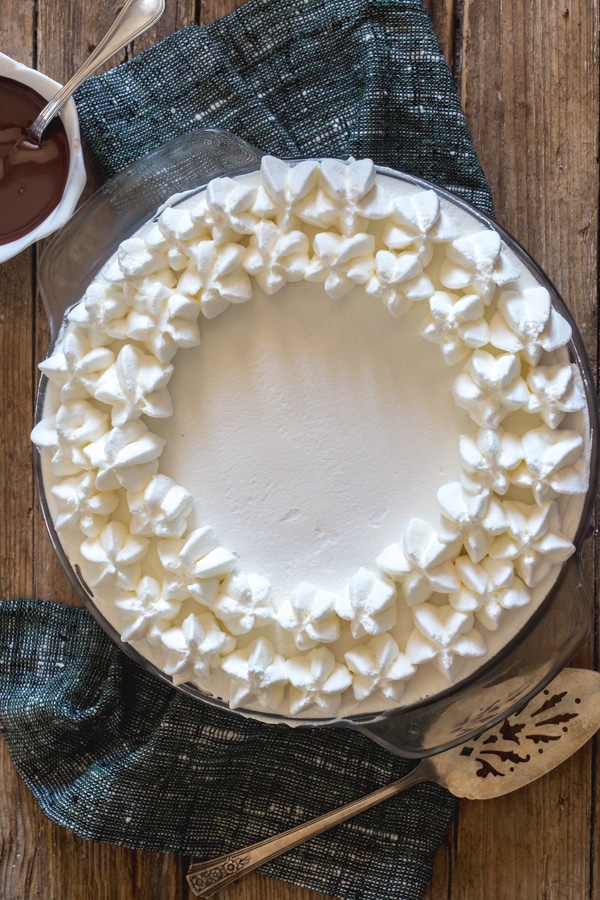 Helpful Tips to Make Baileys Mousse
Whisk together the sugar and flour, to remove any lumps.
Add the milk a little at a time, whisking as you add, helps keep the mixture smooth.
Let the mixture cool before adding the Baileys and then fold in the whipped cream.
Fold in a little of the Mousse mixture to the Gelatine and then add to the remaining Mousse mixture.
No Bake Pie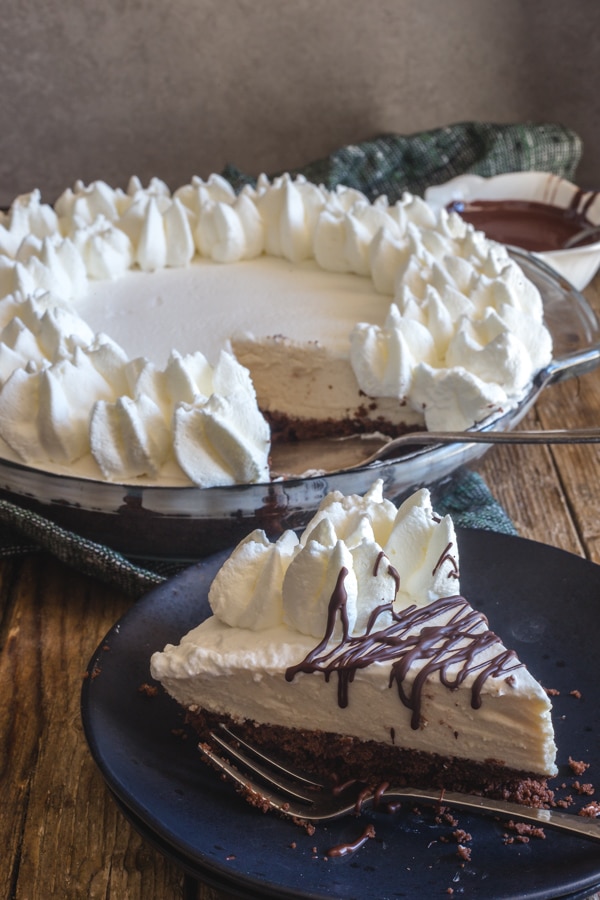 More Delicious Baileys Recipes
Baileys Thick Italian Hot Chocolate
Baileys Chocolate Chip No Churn Ice Cream
How long does Mousse Pie last?
The Mousse Pie will last up to 2-3 days, but make sure to cover the pie loosely in Plastic wrap and keep it refrigerated.
If you enjoy Baileys desserts, especially a No Bake Cream Pie, then I hope you give this a try and let me know. Enjoy!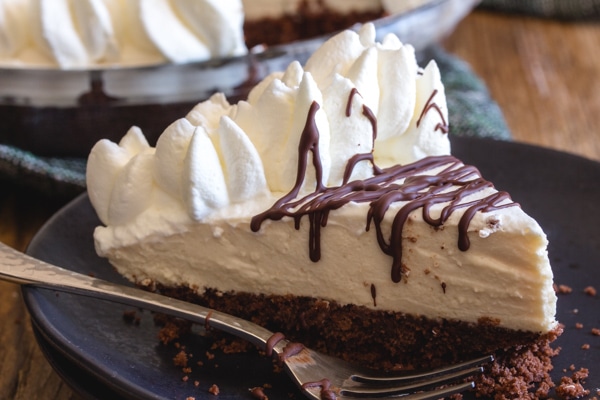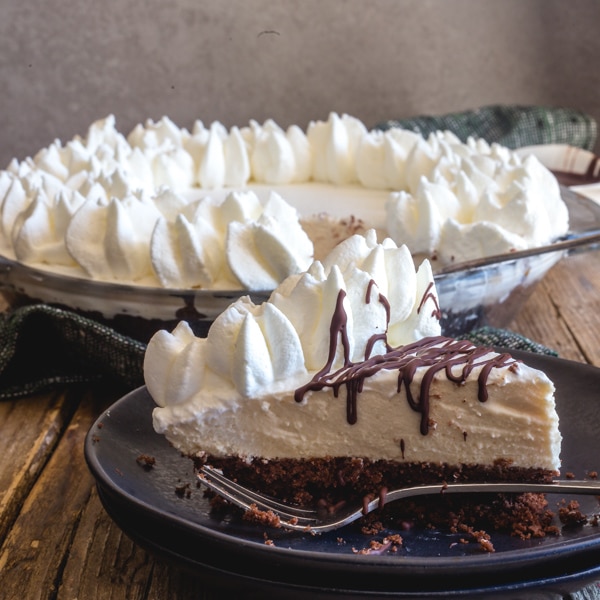 No Bake Baileys Mousse Pie
Baileys Mousse Pie a fast & easy No Bake Dessert. A creamy filling tops a chocolate wafer base, a Chantilly Cream brings it all together!
Ingredients
COOKIE BASE
1 3/4

cups

chocolate cookie crumbs

(205 grams)

1/3

cup

butter (melted)

(66 grams)
BAILEYS MOUSSE
3

tablespoons

granulated sugar

(40 grams)

1/4

cup

all purpose flour

(30 grams)

3/4

cup

whole milk

(200 ml)

1/4

cup

+ 3 tablespoons Baileys

(100 ml)

1

cup

whole / whipping cream

(240 ml)
GELATINE MIXTURE
1/4

cup

whole / whipping cream

(55 grams)

1

tablespoon

gelatine
CHANTILLY TOPPING
2.75

ounces

dark chocolate

(75 grams)

1 1/2

cups

whole / whipping cream

(330 grams)

1 1/2

tablespoons

powdered / icing sugar
Instructions
COOKIE BASE
Mix together the cookie crumbs and melted butter and press down in a lightly buttered 9 inch (23 cm) pie dish. Place in the refrigerator while you make the Mousse.
BAILEYS MOUSSE
In a medium pot whisk together the sugar and flour, then slowly add the milk, whisking as you add with the heat on low / medium until the mixture has become very thick, stirring constantly. Cover with plastic and set aside to cool.

Meanwhile whip the cream until stiff peaks form.

Once cool, whisk briskly to remove any lumps that may have occurred. Fold in the Baileys, then fold in the whipped cream.
GELATINE MIXTURE
In a small pot mix the gelatine and whipping cream, let sit for 5 minutes. Then heat on medium / low and stir just until the gelatine dissolves, do not boil. Add a couple of tablespoons of the Baileys Mousse and stir to combine. Then fold into the remaining bowl of Baileys Mousse until combined.

Remove crumb base from the fridge and pour the Baileys Mousse on top. Cover lightly with plastic and refrigerate 8 hours or overnight.
CHANTILLY CREAM
Just before serving beat the whole cream and powdered sugar, and decorate the set Mousse Pie*. Drizzle with melted chocolate if desired. Enjoy!
*I covered the pie with 1/3 of the cream, then added a simple flower tip around the border.
Nutrition
Calories:
476
kcal
Carbohydrates:
29
g
Protein:
5
g
Fat:
37
g
Saturated Fat:
22
g
Cholesterol:
108
mg
Sodium:
226
mg
Potassium:
170
mg
Fiber:
1
g
Sugar:
14
g
Vitamin A:
1180
IU
Vitamin C:
0.3
mg
Calcium:
77
mg
Iron:
1.9
mg
THE TASTE CREATIONS BLOG HOP HAPPENS ON THE 1ST MONDAY OF EVERY MONTH. EVERY MONTH, MYSELF AND 3-4 OTHER BLOGGERS CHALLENGE OURSELVES TO MAKE SOMETHING WITH A CHOSEN INGREDIENT. HOPE YOU WILL CHECK OUT THEIR DELICIOUS RECIPES TOO. AND HAVE A GREAT WEEK EVERYONE!
Terri at Our Good Life – Baileys Chocolate Cherry Pudding
Nikki at Tikkido – Baileys Frosting
Lauren at Mom Home Guide – Guinness Irish Beef Stew