Easy Italian Pear Cake, a simple moist dessert or Afternoon Tea Cake. Made with creamy mascarpone and fresh pears. Your new family light dessert favorite, Pear Cake.
Pear Cake
I remember every Sunday my Mom would make a delicious roast beef and potato dinner. My father of Irish decent was the typical meat and potatoes kind of guy, no pasta for him or at least not very often.
I think my sisters and I were more inclined to the Italian side. We couldn't wait for her amazing spaghetti and meatballs dinner night to arrive. My Dad not so much.
I discovered when I arrived in Italy, that Spaghetti and meatballs are a North American invention, and Italians would never serve their spaghetti with meatballs.
Spaghetti is a primo piatto and meatballs are a secondo (first and second plates). That was a hard one to get used to and one that I let slip in once in a while.
As an Amazon Associate I earn from qualifying purchases.
One thing that we all agreed on was dessert and that was always a chocolate cake with a mocha icing (I will have to make that one of these days!). My mother's best cake, and I have yet to taste one as good as hers!
I also discovered when I came to Italy was that Italian cakes, homemade-every-day-cakes were very rarely, if ever, frosted. But most of the times they were dusted with icing sugar or unsweetened cocoa.
Easy Italian Pear Cake
This cake and a my simple Yogurt cake  are perfect for anyone who loves a less sweet cake. I find this Pear Cake a perfect example of that.
It is one of those cakes that make the perfect breakfast cake. And don't we all love a delicious cake for breakfast? Besides who can refuse the tasty combination of mascarpone and pears? Enjoy!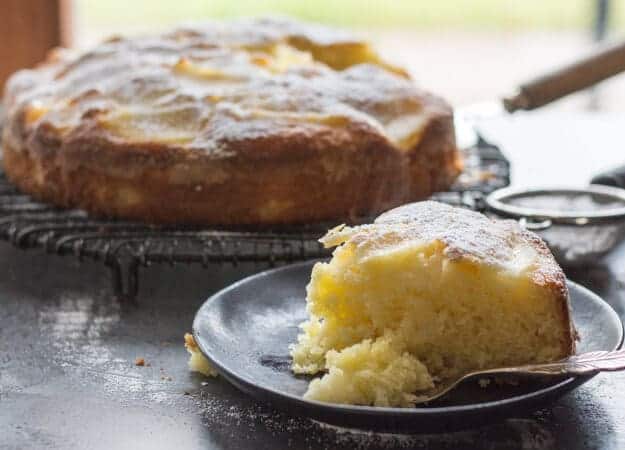 Easy Italian Pear Cake
The perfect Breakfast, Snack or Dessert Cake.
Follow me on Youtube!
Watch the videos and don't forget to subscribe on Youtube!
Ingredients
1 1/2

cups

all purpose flour

1/4

cup

+ 1 1/2 tablespoons cornstarch

1 1/2

teaspoons

teaspoon baking powder

1/4

teaspoon

baking soda

3/4

cup

sugar

3

large

eggs (room temperature)

1

cup

mascarpone (room temperature)

2 1/2

tablespoons

vegetable oil

1/4

teaspoon

salt

2

pears (room temperature)

(ripe but firm)
Room temperature - remove from fridge 30-45 minutes before using.
Instructions
Pre-heat oven to 340° (170° celsius). Lightly grease and flour a 9" (23 1/2 centimeter) cake pan ( I used a spring-form pan)

Clean and peel the pears, one pear chop into medium-sized cubes and the other pear thin slices, set aside.

In a medium bowl, at medium speed beat eggs and sugar until creamy, add mascarpone and continue beating until smooth.

In a medium bowl, whisk together flour, salt, corn starch, baking powder and baking soda.

Stir in with a wooden spoon the flour mixture into the creamed mixture, stir gently to combine, then add the oil and stir to combine.

Fold in the medium-sized cubed pear, spoon into prepared cake pan.

Top with sliced pears and sprinkle with 2 tablespoons (40 grams) sugar (granulated).

Bake approximately 45 - 60 minutes, or until toothpick comes out clean. Enjoy!
Nutrition
Calories:
387
kcal
|
Carbohydrates:
48
g
|
Protein:
6
g
|
Fat:
18
g
|
Saturated Fat:
12
g
|
Cholesterol:
89
mg
|
Sodium:
114
mg
|
Potassium:
250
mg
|
Fiber:
2
g
|
Sugar:
23
g
|
Vitamin A:
495
IU
|
Vitamin C:
1.9
mg
|
Calcium:
121
mg
|
Iron:
1.6
mg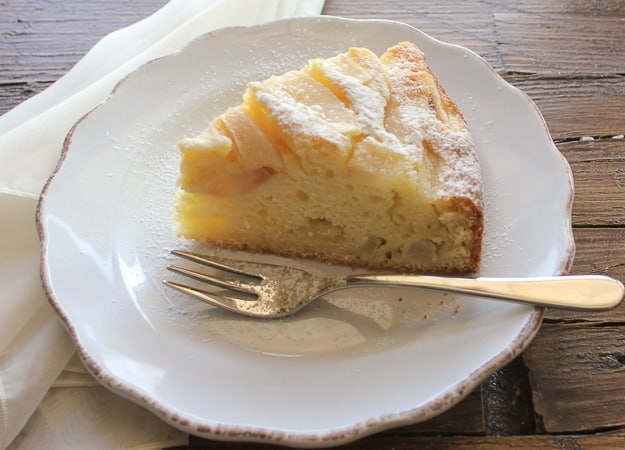 .
**Today (November 20,2016) I am adding an update to this recipe. I have remade this cake today and I am posting a video because I am convinced even more after making it again that it is one of the best cakes on this food blog. I am sorry if anyone is having a problem with it not baking but I urge you to double check to make sure that you are baking it at the proper temperature, whether Fahrenheit or Celsius. Thanks and Happy Sunday.