Creamy Double Chocolate Fruit Tart, an easy wild Berry White Chocolate Tart with a delicious Oreo crumb crust. The perfect Winter Dessert. Gorgeous and Delicious.
I cannot take all the credit for this Dessert. I have to give at least half to the Italian. And of course some to my youngest daughter, who let me know that if she hadn't placed the box of Oreo crumbs in the cart at the supermarket,  where would this recipe be now?
Not only do we have Apple trees but we also have a lot of Pomegranate trees. After my husband walked in with a bag full and with a couple of ideas in his head. We got to thinking.
I wanted to make something sweet and sour and delicious and pretty. He just wanted something Creamy Chocolaty and Decadent. And it worked! I know how good a Dark Chocolate base is with white chocolate so why not try it with some Oreo crumbs?
And a creamy White Chocolate ganache is so perfect and Christmassy. I decided to mix it up with the fruit. I found some Red Currants Berries (which by the way are called Ribes in Italian) and Raspberries at the supermarket.
Creamy Double Chocolate Fruit Tart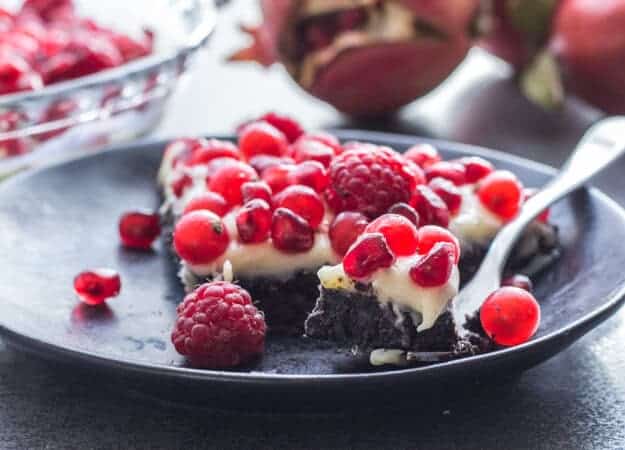 We mixed them up with some Pomegranate Arils (which I think most of us call seeds). I added no sugar, but I did place them on the Chocolate Fruit Tart just before serving.
It is actually best to make this dessert the night before and let it sit overnight in the refrigerator it sets better and firmer.
I have to say I received the best views ever on this dessert. The Italian replied "Optimo"  and my teenage taste tester, who also happens to be my youngest daughter's best friend, decided that this was "the best dessert yet"!
So there you go, I think the combinations of the chocolate crust, the creamy white chocolate filling and the burst of sweet and sour of the wild berries gives your taste buds a really good kick in the pants! Enjoy!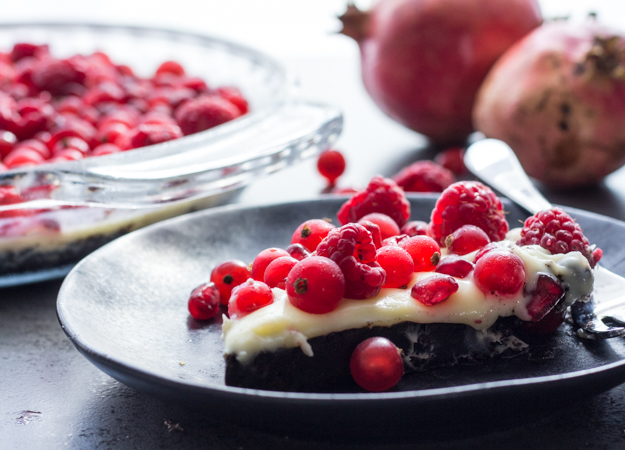 Creamy Double Chocolate Fruit Tart
A delicious Creamy Decadent Chocolate Dessert, topped with fresh berries.
Ingredients
COOKIE BASE
1 2/3

cups

oreo cookie crumbs (145 grams)

1/3

cup

butter melted (75 grams)
WHITE CHOCOLATE FILLING
6

ounces

white chocolate (broken into pieces) (170 grams)

2/3

cup

whole cream (153 grams)

2

tablespoons

butter room temperature (28 grams)
TOPPING
1 1/2 - 2

cups

red berries (raspberries, red currants, pomegranate seeds) (150-200 grams)
Instructions
Pre-heat oven to 350° (180° celsius). Lightly grease and flour a 9 inch (22-23 centimeter) oven proof Pie Dish.
COOKIE BASE
Combine oreo cookie crumbs with melted butter and add to prepared pie dish and flatten. Bake for approximately 5-8 minutes. Remove and let cool slightly before adding filling.
WHITE CHOCOLATE FILLING
Place chocolate pieces in a bowl. Heat cream until almost boiling, pour over chocolate, let stand one minute, add butter and whisk until smooth. Pour over cookie crust. Refrigerate at least 4 or 5 hours best overnight. Top with berries before serving. Enjoy!
Nutrition