Caramel Apple Cinnamon Cheesecake Tarts, the perfect way to welcome Fall. Creamy delicious Baked Apple Cinnamon Cheesecake Mini Pies, serve with a delicious homemade Caramel Sauce. Your new family favourite dessert.
If there is one holiday I miss since I came to Italy I have to say it is Thanksgiving and ok Halloween too. Probably because they both involve food and only food. Dinner and Dessert!
I did try to bring a little Halloween and Thanksgiving cheer to my home, but what can I say, not the same thing.
The kids liked it so I guess that was the main thing.When you move so far away from family and your Native Country the littlest things from home, a memory, a letter, a telephone call, anything, is so welcoming.
That's why when I go through my Mom's recipes and come across something that inspires me to share it makes me feel closer to home and to the people I love and miss.
So yes I found this recipe Apple Cinnamon Cheesecake Tarts, actually, it was a pie but I decided tarts were cuter, tucked into my mother's slew of recipes.
Caramel Apple Cinnamon Cheesecake Tarts
This is an easy comforting Fall Dessert. I would recommend making it early in the morning and letting it sit in the fridge until dinner.
The perfect dinner dessert. Especially if you top it with a delicious Easy Caramel Sauce Enjoy!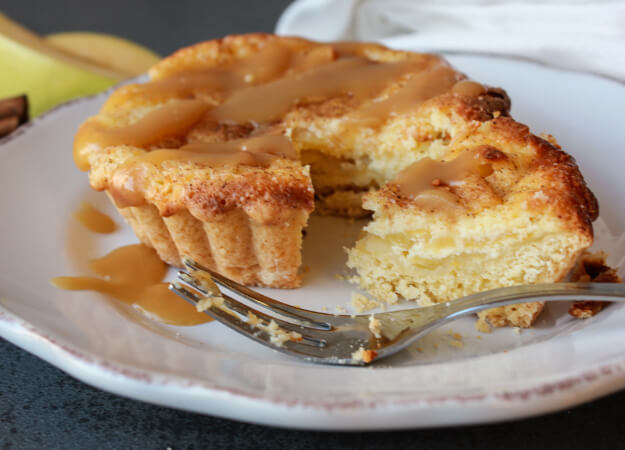 Caramel Apple Cheesecake Tarts
Apple Cinnamon Cheesecake Tarts, an easy delicious Fall Comfort dessert recipe. Drizzle with a little caramel sauce and its perfect. Enjoy
Follow me on Youtube!
Watch the videos and don't forget to subscribe on Youtube!
Ingredients
PASTRY DOUGH
1 ¾

cups

all purpose flour

½

cup

granulated sugar

1

teaspoon

baking powder

1

pinch

salt

1

egg

room temperature

1

egg yolk

room temperature

½

cup

+ 2 tablespoons butter (salted)

room temperature
CREAM CHEESE FILLING
½

cup

cream cheese

½

cup

sugar

2

eggs

2

tablespoons

cream (whole/heavy/whipping)

½

cup

greek yogurt

1-2

apples (yellow delicious/fuji/gala)
CINNAMON SUGAR TOPPING
2-3

tablespoons

sugar

1

teaspoon

cinnamon

combine well together
Instructions
PASTRY DOUGH
In a large bowl, gently whisk together flour, sugar, baking powder and salt create a well in the middle and add slightly beaten egg and yolk and butter cut into pieces. Mix together, at this point turn mixture onto a slightly floured surface and work the mixture to form a soft dough (this can also be made in a food processor or stand up mixer using the flat beater). Wrap in plastic and refrigerate for 30 minutes.

Remove from the fridge and knead the dough a couple of times to soften it up again on a lightly floured surface. Roll out to 1/8" thickness. Place cut out dough into lightly greased tart pans. Refrigerate until cream filling is ready.

Pre-heat oven to 350° (180C). Grease and flour 8 medium tart pans or 12 medium muffin tins.
CREAM CHEESE FILLING
In a medium bowl cream together cream cheese, sugar, eggs, cream and yogurt. Set aside.

Peel, thinly slice and chop (medium size pieces) the apples.

Divide apple pieces between tart pans (should almost fill to the top of the shell), Pour the cheese mixture over the apples. Sprinkle with Cinnamon Sugar Topping. Bake for approximately 30-35 minutes or until golden on top, let cool then refrigerate at least 8 hours or overnight. Before serving drizzle with your favourite caramel sauce if desired. Enjoy!

** This makes approximately 8 tarts, with the rest of the dough I made cut out cookies.
Nutrition
Calories:
410
kcal
|
Carbohydrates:
51
g
|
Protein:
8
g
|
Fat:
20
g
|
Saturated Fat:
12
g
|
Trans Fat:
1
g
|
Cholesterol:
138
mg
|
Sodium:
179
mg
|
Potassium:
150
mg
|
Fiber:
1
g
|
Sugar:
29
g
|
Vitamin A:
723
IU
|
Vitamin C:
1
mg
|
Calcium:
74
mg
|
Iron:
2
mg